Learning how to estimate is an important math skill. It allows us to make quick, general calculations and measurements, and to do a sense-check of more detailed calculations. Let's try!
Candy cane math estimating activity

In this activity, let's introduce our children to the concept of estimating. It allows them to:
:: develop the skill of subitizing: making a quick visual assessment of a small number of things without having to count them individually – so you can instantly see a jar has one, two or three canes
:: use visual skills to compare sizes and amounts – which jar has more? Does it have many more or just a few more?
:: begin to use comparison to work out approximate amounts – does this jar have twice as many? Three times as many? Ten times as many?
:: have the confidence to give an estimate – sometimes we're worried about not giving the correct answer. We need to know that estimating doesn't have to be perfect and to feel confident to offer an answer in class.
Candy cane estimation activity
Materials needed:
:: candy canes
:: glass or clear plastic jars
:: pen
::paper
Set out three or four glass jars with a different amount of candy canes in each. Perhaps a jar with two, a jar with five, a jar with fifteen. You can label the first two jars with the number of canes they contain, to give beginners a starting point for their estimating, or leave them all without numbers.
Invite your children to guess (estimate) how many candy canes are in each jar, without counting.
You can ask them to write down their estimates on a simple chart or grid.
You might collate the estimates of the class or work individually. Encourage your children to have a good guess, but don't single out anyone whose answer was far from the actual amount.
After everyone has estimated, count out the candy canes from each jar. Lay the candy canes out in a line, so you can clearly see how many were in each jar.
Chat about the lines of candy canes:
:: Can they see now which line is bigger?
:: Does it look twice as big, or only just a little bigger?
:: Give your children time to compare the lines of canes and begin to develop their visual discrimination skills.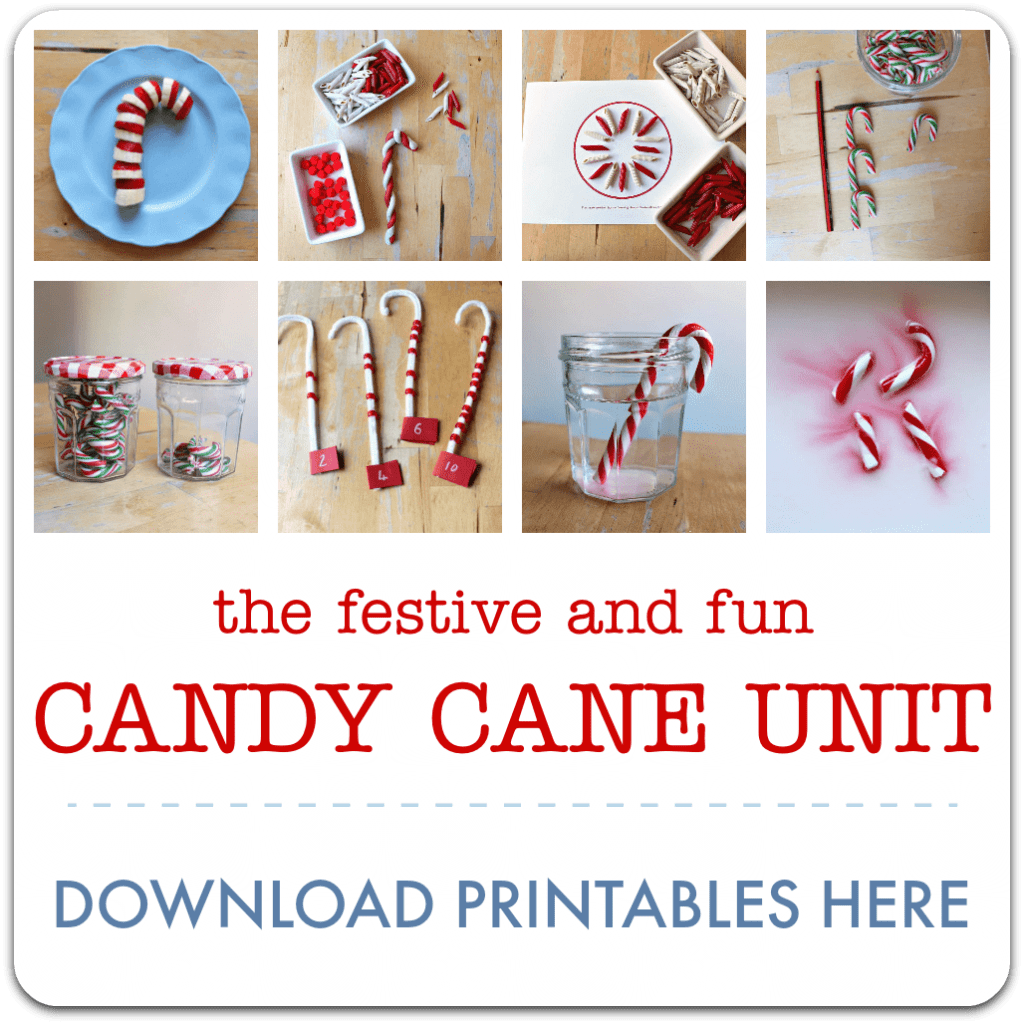 Download your complete Candy Cane Unit
A super fun and festive unit of learning! This kit gives you everything you need to teach an engaging program of activities all based around candy canes. With ideas for math, literacy, science, play, sensory, arts and crafts your children will love learning all through the holiday season.
:: over 60 pages of lessons, activities, and printables
:: a complete unit of candy cane themed math, science, literacy, arts and crafts, sensory, and play
:: materials lists and bonus printables make it so easy!
:: everything planned for you, so you can enjoy it as much as your children do
:: fun and festive, and packed with engaging learning
:: created with children aged 4 to 8 in mind
Click here to get your copy of the complete Candy Cane Unit.