Here's a super fun collection of alphabet activities for toddler and preschoolers that focus on learning through play.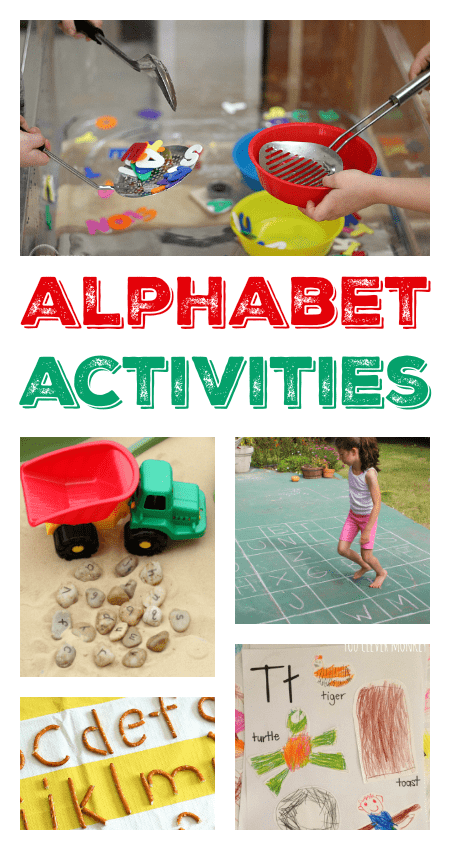 25 alphabet activities for toddlers and preschoolers
All learning for toddlers and preschoolers should be based around play. They are curious about the world and keen to learn new things and we can support this enthusiasm by providing lots of opportunities for them to use their bodies and senses to explore and discover.
All this is also true when we're introducing the alphabet. While I would never push young children to learn academics before they're ready, having a fun environment that includes letters, and numbers, gives the opportunity to meet letters slowly and gentle as part of their play.
They can see, feel and have fun with the letters, so that when the time comes later to learn in a more structured way, they're friends with letters already.
Here's a great collection of alphabet activities for toddlers and preschoolers, that include letters in sensory, imaginative and active play, and give them their first introduction in a fun way.
Fun alphabet activities
:: Rescue letters from a block of ice
:: Transport letters with your digger
:: Play a letter sorting water game
:: Make your own alphabet chart
:: Write letters in play dough
:: Drive your cars around an alphabet road
:: Explore letter and sounds sensory tubs
:: Hang the alphabet in your garden
:: Play a letter sounds matching game
:: Add shell letters and words to your sand pit
:: Play with these printable letter cards
:: Feed the bear his alphabet snacks
:: Eat your own edible alphabet
:: Play with an alphabet sensory tub
:: Park your cars in their letter parking spaces
:: Explore a letter stickers sensory pack
Get free resources for your children!
Did you know you can receive free weekly activity ideas, seasonal resources, free printables and extra bonuses from Nurturestore? You'll have creative learning ides for your children all year round!
Sign up in the box below and we'll send you your freebies!
---
* By subscribing, you consent to our use of your personal data as per our Privacy Policy, which includes agreeing to receiving interest-based email from us.
---