Please welcome Nicolette from Wilder Child who bring a glorious mud alphabet to our
ABCs and 123s series
today.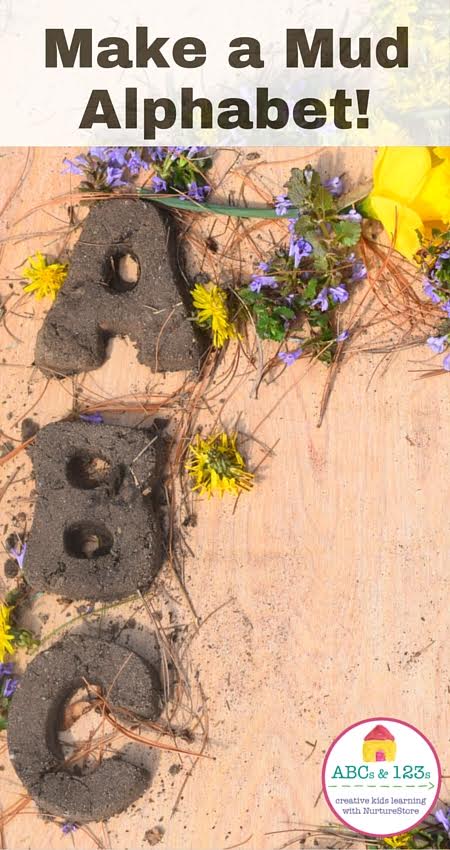 Make a mud alphabet!
Although she loves our read aloud time, my three year old hasn't shown much interest in expanding on her knowledge of the alphabet, creating words or sounding them out. I thought by providing her with an activity that was more sensory and play-based, she might enjoy it more. There wasn't any pressure either way (she's moving at her own pace), but I thought it might be fun to experiment with making a mud alphabet!
What you'll need for your outdoor alphabet
1. Alphabet Forms
These were originally for making alphabet soap, but of course I never got around to that. You don't really need these, you can just make letters with your hands. Here are the forms I used.
2. Dirt, water and flour
Whether you need flour or not will depend on your soil type.
3. Natural materials for decorating and experimenting
How to make your mud alphabet
1. Make the mud
This is what you will use to fill the alphabet forms (if you decide to use them). Mix the dirt and water together to make mud. I had to add some flour to mine to get it to stick together a bit more, but if you have clay in your soil it should be perfect.
2. Make the letters
Fill the alphabet forms with your mud and pop them out onto the ground or other surface. I did this step without my daughter because the letters can be frustrating to get out of the forms for little hands. To include your kids on this step, just skip the forms and instead encourage them to use the mud to shape letters with their hands.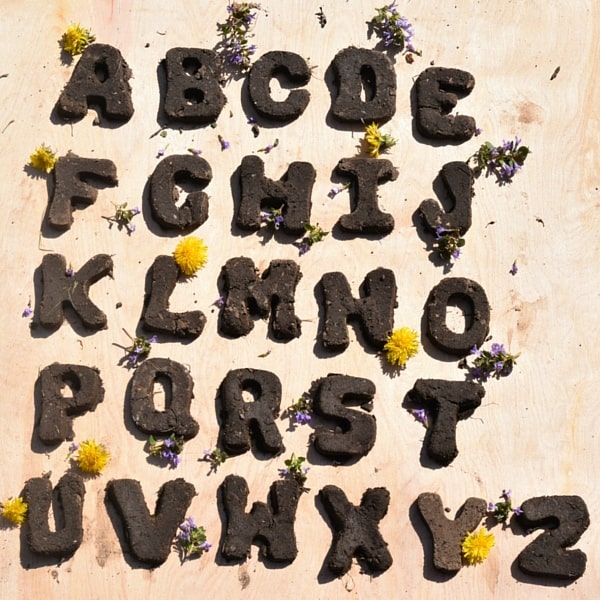 3. Collect natural materials
Give them a basket and send them off to collect natural materials that they are attracted to (sand, flowers, leaves etc.).
4. Make some words
This part is completely optional, I don't suggest pushing this unless your kids show an interest. My daughter wanted to spell out and decorate her name and "house" so we did.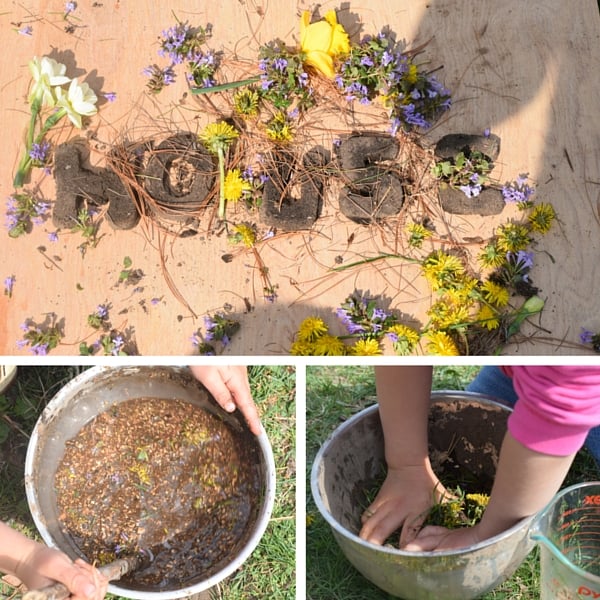 5. Alphabet soup
Time to get messy! We headed to the mud kitchen where she had a blast using the letters to make alphabet soup. My daughter loves to cook, so I brought the measuring cups and spoons outside and followed this recipe:
Ingredients
All the mud letters of your child's name
2 cups of water
1/2 cup of grass
3 tablespoons of natural materials that contain your favorite colors (i.e. violets for purple)
Directions
Mix all ingredients in a bowl
Stir them up with a stick and leave in the sun for two minutes to "cook"
Serve and enjoy
I have never seen my daughter more engaged in the alphabet than with this activity, and I hope your kids will have as much fun as we did!
More Fun With Mud: Designing An Outdoor Mud Kitchen
Nicolette Sowder has a passion for all things wild. As a mother, farmer in training and former teacher, she has worked with kids and their parents to reconnect with nature and get back outside. She shares thoughts, play-based ideas and nature-based inspiration at Wilder Child.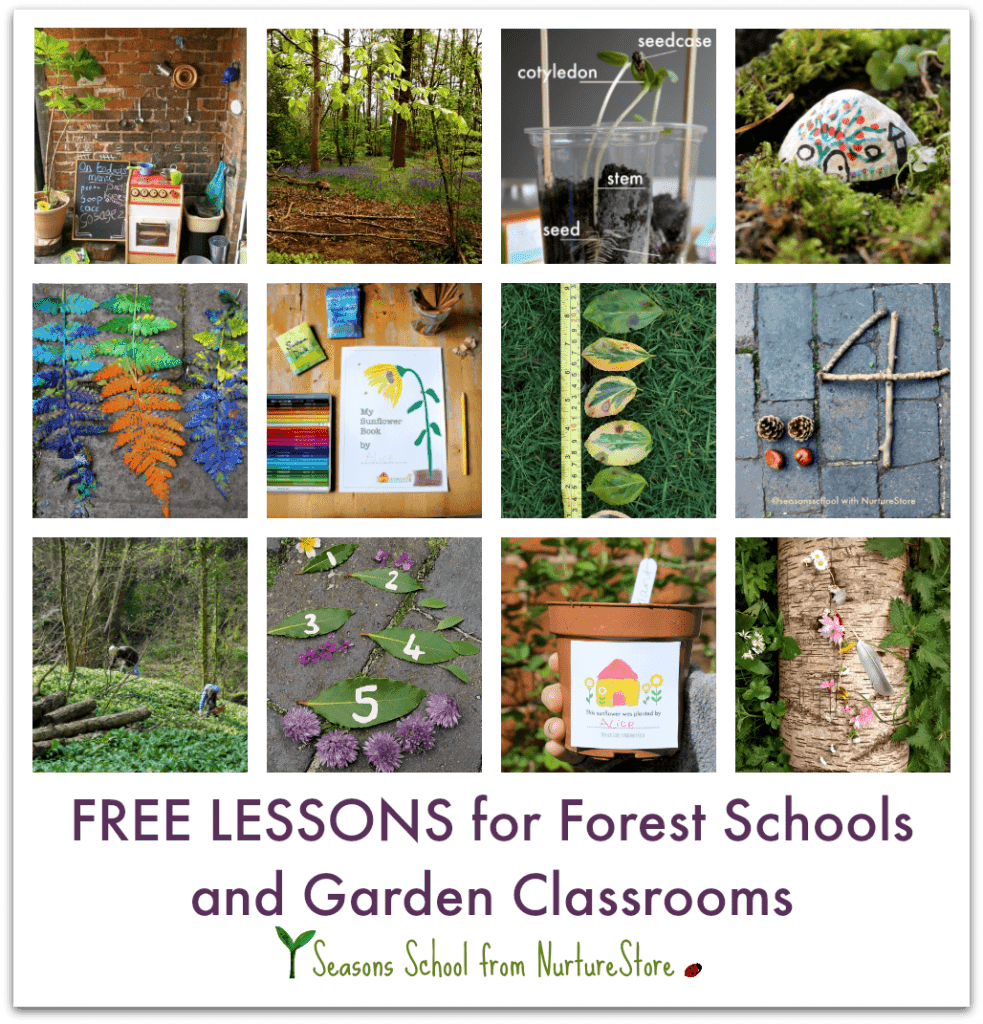 Free Forest School and Garden Classroom resources!
Join my weekly email service and I'll send you FREE printables, lesson plans, and activity ideas that you can use with your children in your forest school and garden classroom.
Seasons School is NurtureStore's year-round program of living and learning with nature. Our activities and resources focus on hands-on, nature-based learning that connects children with the natural environment.
If you're looking for nature study lessons, arts and craft projects, campfire recipes, foraging ideas, outdoor math and literacy activities, outdoor games, and ways to explore forests, gardens, and outdoor spaces - think of NurtureStore as your forest fairy godmother!
Whether you're in a forest school or outdoor classroom, running a school gardening club, bringing nature lessons into your class, home educating with nature, or wanting to connect with the great outdoors at the weekend, you will love the Seasons School ideas.
Pop your email address into the box below and I'll send you your free resources.
---
By subscribing, you consent to our use of your personal data as per our Privacy Policy, which includes agreeing to receiving interest-based email from us.
---