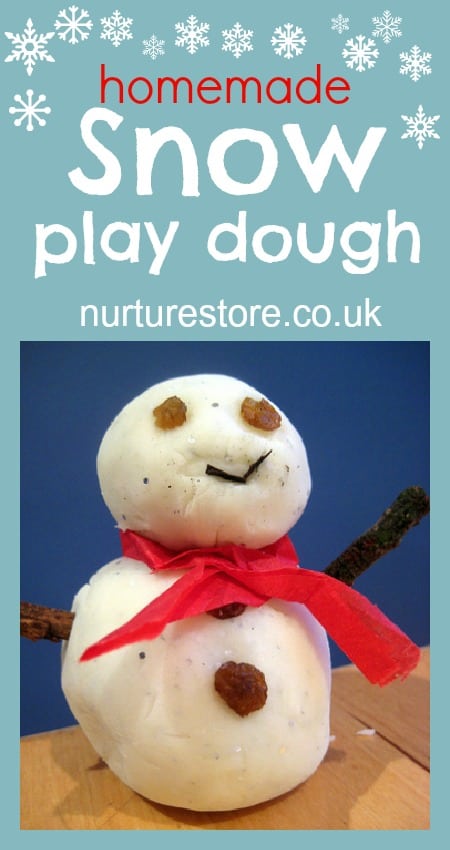 Winter's on the way – time to break out the snow playdough recipe.
Based our our favourite no cook play dough recipe, this snow version has one important variation: we use corn flour instead of regular flour, to get a much whiter dough. And of course we added lots of sliver glitter to give a frosty sparkle to the dough.
Snow playdough recipe

Here's the no cook snow play dough recipe:
2 cups corn flour (cornstarch in the US) I do find cornflour a little temperamental, so be prepared to add more flour if needed
1 cup salt
1 1/2 cups boiling water
2 tablespoons cream of tartar
2 tablespoons vegetable oil
silver glitter
Mix all the ingredients in a large bowl until your dough forms – then you're done and ready to play.
And what do you make with a snow playdough recipe? Snowmen  of course!

Twigs from the garden for arms.


Raisins or acorns for eyes. Red tissue paper for scarves.

Some of the playdough snowmen were so happy their smiles we this big.


And some were rather hair-raising.
Super Sensory Invitations to Play

Ready for a whole year of exploring through the senses? Super Sensory Invitations to Play is a delightful resource that encourages your children to explore the five senses through the year, using a wide variety of sensory materials. It includes 52 invitations to play, linked to the festivals and seasons of the year, and including water, ice, dough, rice, paints, sand, sensory tubs, and more.
They are easy, simple, and fun ideas that you can use right now to give a multi-sensory boost to your play and learning. It comes with a printable recipe book featuring all our favourite recipes for play. Come and see more here.