This simple Nativity printable helps you add reading, writing and storytelling to your Advent activities.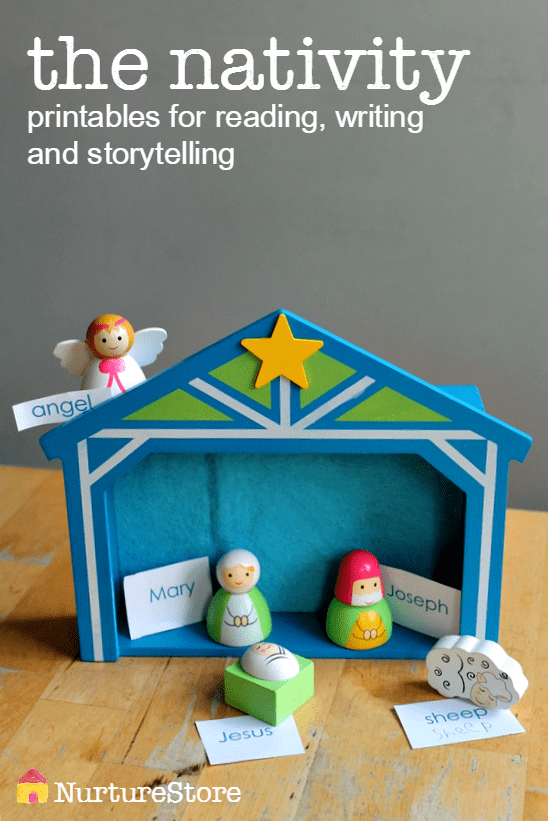 The Nativity printables for kids

I made a simple
Nativity printable
 (<-
click to print a set
) with a set of Nativity words for my daughter to use while she's enjoying playing with our little Nativity scene. Adding print into your play and learning environment is a gentle way to build your child's reading and writing skills.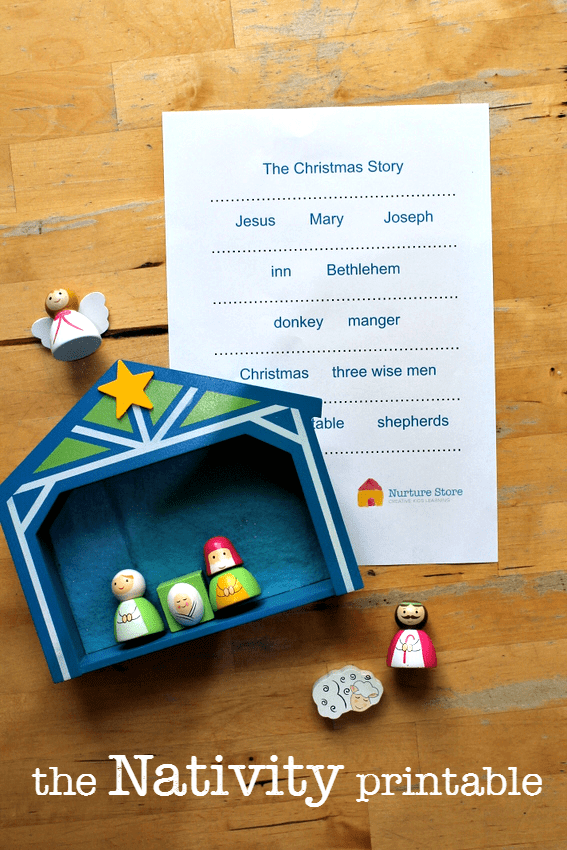 How to use the Nativity printable
How you use the Nativity printable will depend on your child and how they like to play and learn. You might like to try some structured literacy play, or simply have the words available as part of your play materials, but whichever you chose you're giving your child the opportunity to see, read and use written words.
Here's a selection of ideas you could use, if they seem right for your child.
:: Print the word sheet out on to card so it's ready for play. Take a look at the words with your child and read them together.
:: Invite your child to cut along the dotted lines to make some word cards, great for scissor skills.
:: Play a matching game with your Nativity set. Pair each word with the correct person or object in the story. You can play this with a toy nativity scene (ours was from Tesco) or use these Nativity printable puppets as your characters.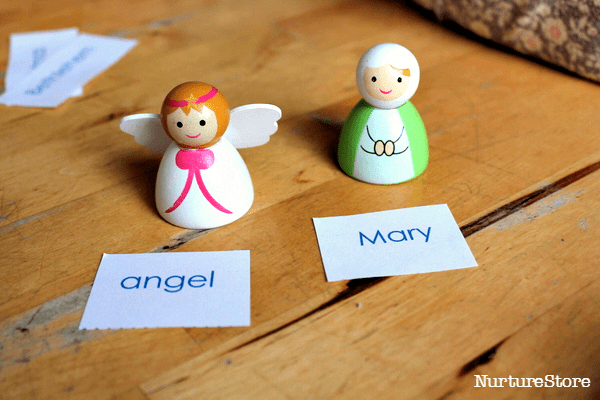 :: Practise writing by copying the words on the cards.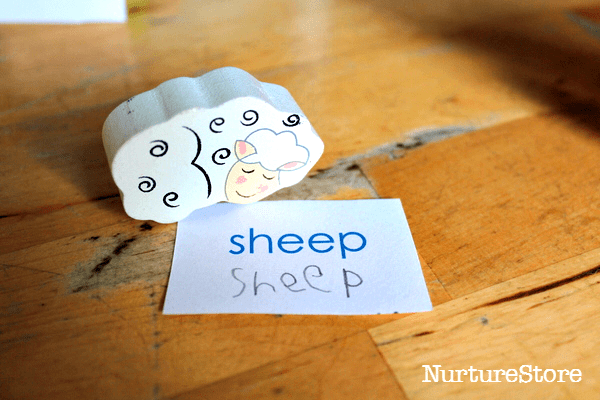 :: Re-tell the Christmas story aloud by using the word cards as prompts. This is good both as a one-to-one activity with your child or as part of a group activity or circle time. Hold up a card and ask 'What does the angel /Joseph / donkey do in our story?'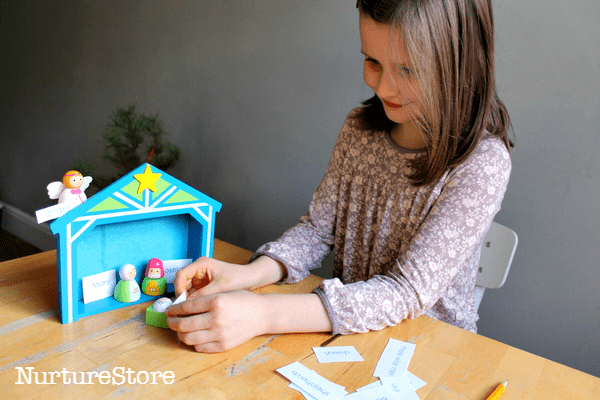 :: Use the cards to look a bit deeper at story telling. Talk about how most stories have a beginning, middle and end. See if you can lay out the words cards in the order that they appear in the Christmas story. Which characters and objects are most associated with the beginning, middle or end of the Nativity story?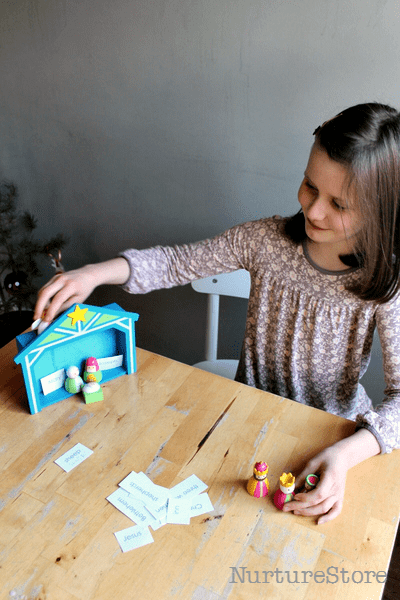 :: Use the character cards for a guessing game. Pick a card and give some clues about who you are and what happens to you in the story. Can the other players guess who you are?
:: Talk about your character and how they might have felt. What do they do that's important in the story. You could use this as a starting point for some writing.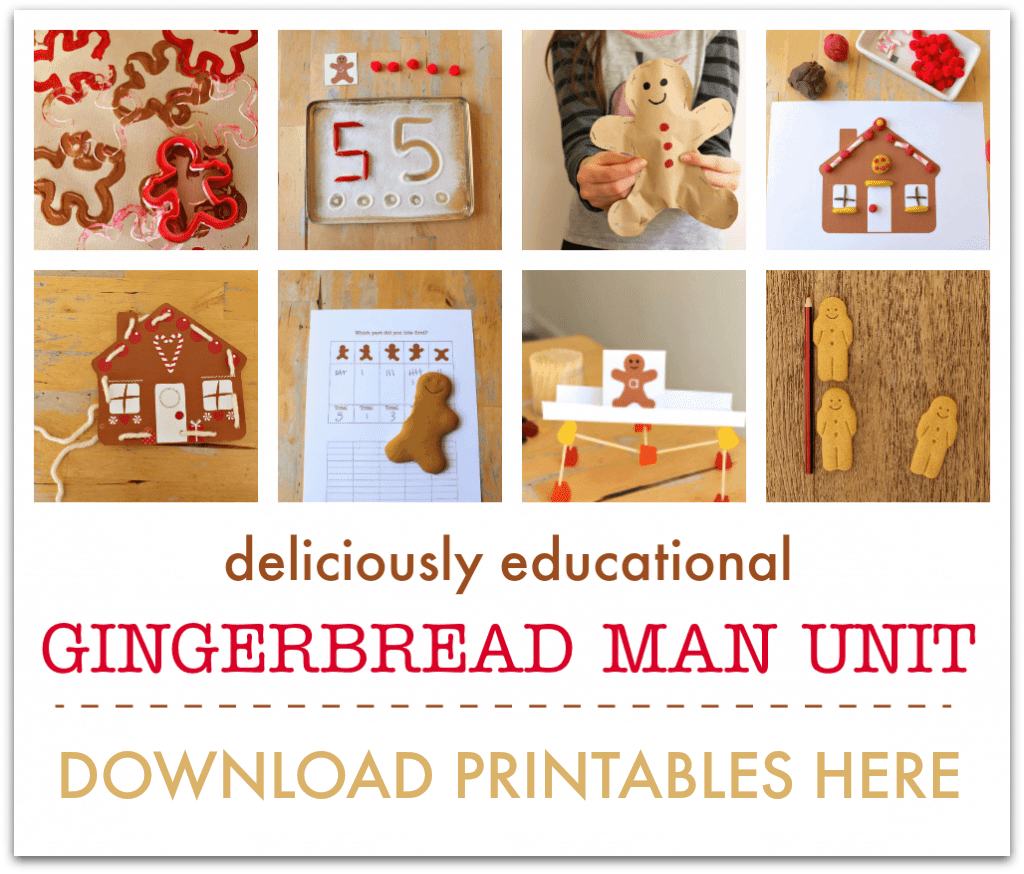 Download the complete Gingerbread Unit
A deliciously educational unit of learning! The Gingerbread Unit gives you everything you need to teach an engaging program of activities all based around The Gingerbread Man.
With ideas for math, literacy, science, play, sensory, arts and crafts your children will love learning through baking, play, and exploration.
:: over 45 pages of lessons, activities, and printables
:: a complete unit of gingerbread-themed math, science, literacy, arts and crafts, sensory, and play
:: materials lists and bonus printables make it so easy!
:: everything planned for you, so you can enjoy it as much as your children do
:: fun and delicious, and packed with engaging learning
Click here to get your complete Gingerbread Unit.