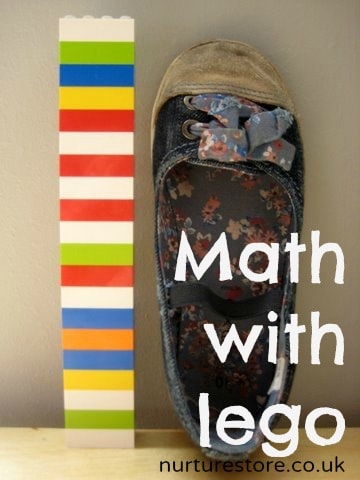 I've written before about taking a child's passion and using it as a way to explore different areas of play and learning. Here's an idea for mixing in some maths – which we're doing through the medium of Lego, but you can adapt it to suit whatever your child is interested in, be it cars, dinosaurs or shells.
Measuring with Lego
Select your experiment: what would you like to measure? The size of everyone's feet? The height of your sunflowers? The length of your dinosaurs?
Make an estimate: how many Lego blocks would it take to measure your foot? Mummy's foot? Daddy's foot? Let your child record their guesses on their clipboard. A group of children can interview each other and record everyone's estimates to see who comes closest.
Get measuring: counting out in Lego bricks is great for fine motor skills, numbers and for having a visual representation children can see and compare. Make a tower as long as each child's foot (or whatever you are measuring) – you could add a sticker so you know which tower belongs to each person. Then you can order the towers in ascending or descending order, and even transfer this to a bar chart graph if you want to.
Compare your results: compare your lego towers with your estimates and see how well you did.
Let your explorers loose: hand over the Lego and see what else they can measure.