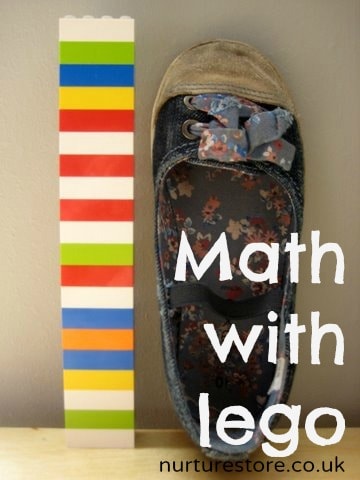 Up! from blocks to rockets
Download your copy of Up! here: 30+ hands-on projects that explore blocks, building, rockets, air planes, parachutes, pulleys and everything Up! Includes 100 printables
Measuring with LEGO®
Gather your investigation equipment: clipboard, pencil and some LEGO®
Select your experiment: what would you like to measure? The size of everyone's feet? The height of your sunflowers? The length of your dinosaurs?
Make an estimate: how many Lego blocks would it take to measure your foot? Mummy's foot? Daddy's foot? Let your child record their guesses on their clipboard. A group of children can interview each other and record everyone's estimates to see who comes closest.
Get measuring: counting out in Lego bricks is great for fine motor skills, numbers and for having a visual representation children can see and compare. Make a tower as long as each child's foot (or whatever you are measuring) – you could add a sticker so you know which tower belongs to each person. Then you can order the towers in ascending or descending order, and even transfer this to a bar chart graph if you want to.
Compare your results: compare your lego towers with your estimates and see how well you did.
Let your explorers loose: hand over the Lego and see what else they can measure.