I have a wonderful project to share with you today which combines literacy and art ideas to create magical Incy Wincy books.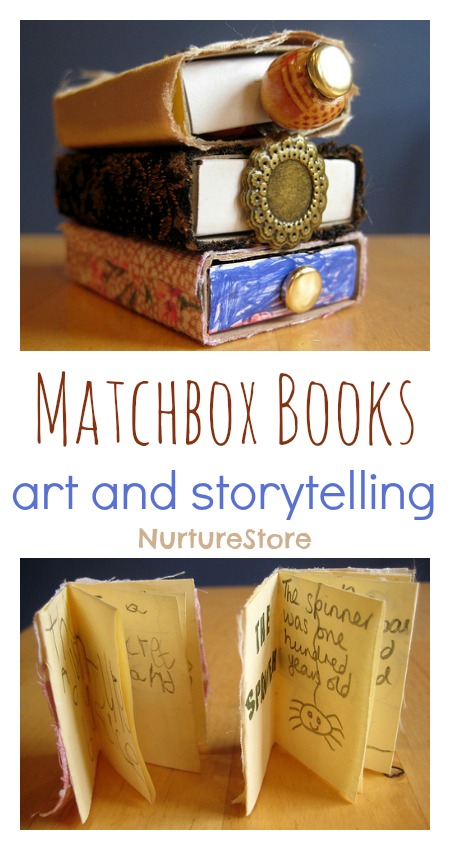 How to make an Incy Wincy book
We've been at the GobbleDEEbook Children's Literature Festival in Chester this week, having a fabulous time. One of the workshops we attended was run by Becky Adams, an artist who explores the links between narratives and textiles. She guided a room full of children and parents through the workshop, resulting in everyone producing their very own, unique Incy Wincy book.
Each of the matchboxes above contain a special Incy Wincy book, telling a tale with an extra secret inside.
We all began with a plain piece of paper 9.5cm x 12.5cm – the perfect size to make a book which fits inside a matchbox.
Becky showed everyone how to use a French fold to turn their piece of paper into an Incy Wincy book. (Follow that link for a great video showing you how to fold your paper.)

Becky asked everyone to think of a tiny main character for their book. We opened up our folded paper and drew our character on the inside page. Here's B's dragonfly. Every character was to have a super power. B's dragonfly can breath fire.

Once the book was re-folded our super-powered heroes were hidden inside the pages and only we knew they were there.
Then everyone began writing their stories. Becky had lots of ideas for adding interesting extras to the narrative, such as stamping some of the text, or using an old-fashioned typewriter.

B decided to add some fabric to her text, to show the colour of the fire.


The whole room was buzzing with creativity. Everyone seemed to know immediately how their story would be told. L has all of a sudden come  alive with writing and drawing and was very clear about how her butterfly was going to whiz off to a secret land and meet a fairy.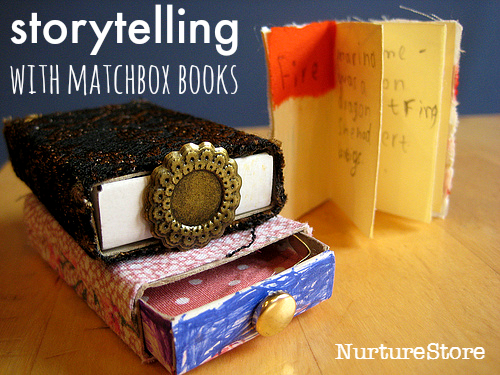 To complete the books we decorated our matchboxes, some with fabric, some with paper, some with musical scores. Handles were made using split pins, some plain, some decorative and some with added beads. Everyone left with a mini masterpiece in their pocket: a wonderful combination of literacy and art ideas.
Many thanks to Becky for so kindly letting me share her ideas with you all.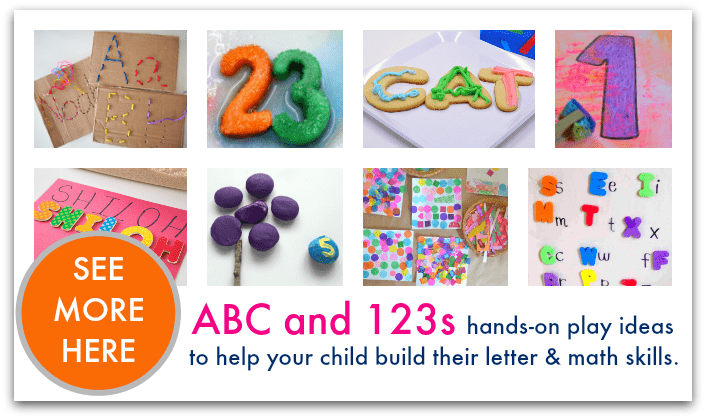 ABCs and 123s : fun learning activities for letters and math
All our favourite literacy  activities, all in one place :: download our ABCs and 123s guide here. 
Head this way to see all the ideas in our language activities archive – all indexed by activity and topic to make it easy for you to find just the right resources for your child.