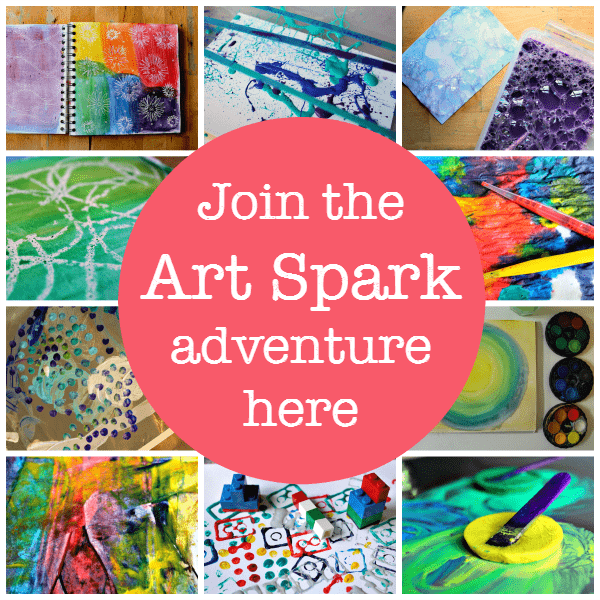 Connect your family through art
We all want to connect with our children and bring lots of creativity into their childhood.
We'd love to find some time to enjoy art ourselves.
But life is busy, and we have so many other things calling for our attention that all too often our intentions are set aside.
It doesn't have to be like this. You can enjoy lots of art with your children, without the stress and demands of having to think, plan, and organise it all yourself.
With this Art Spark course, I've done all the work for you. I have a wonderful program of engaging projects all ready and waiting for you.
Join the workshop and you'll have more art, creativity, and connection in your family – easily.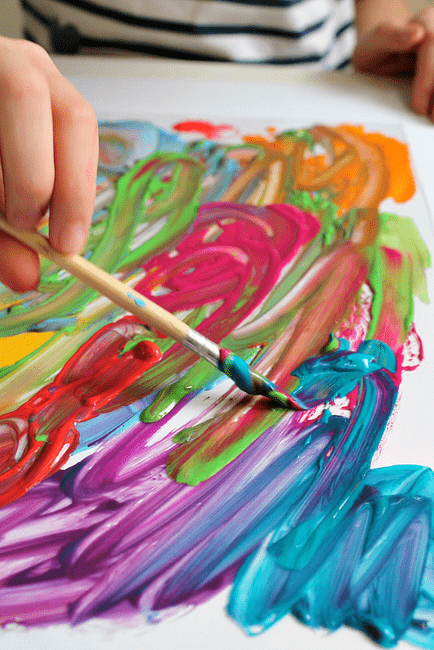 This Art Spark programme makes it easy for you to build strong family ties
:: easy and fun projects that use affordable art materials that you probably already have on your craft shelves
:: carefully structured programme to build skills, confidence, and explore creativity
:: a wide range of art projects to explore materials, techniques, and develop skills
:: projects that work for all ages, so the whole family can enjoy them
:: videos and famous art examples for your children to discover
:: thoughtful questions and discussion points to connect with your children and learn about how they think
:: strong educational programme. Your children will learn about art techniques, famous art, art history, growth mindset, creativity, confidence, verbal critical reasoning, and scientific exploration
:: interesting reads for you that will get you thinking about art, creativity, and education
It's the perfect way to explore creativity and really connect with your kids.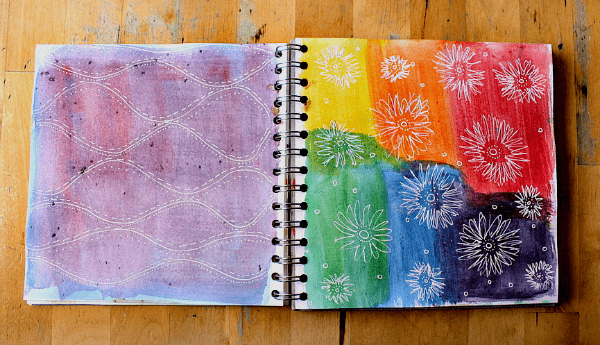 Here's what we'll be exploring through the Art Spark course:
Part One: Exploring Paint
* We'll begin by exploring colourful process art using paint. Projects to choose from include experiments using watercolors with salt, rice, plastic wrap, tissue paper, glue, pipettes, and even making your own paint. The projects are fun and include sensory, messy play and science explorations. They're good for indoors or outdoors, so you can join in whatever the weather.
* We'll meet some famous art works including pieces by Paul Klee, JWM Turner, Henri Matisse, and Franz Marc. And your kids will get a surprise when they see what one artist uses to paint with!
* There'll be interesting reads for you too. We'll look at how to talk with your children about art, and discover why NBC's ER holds the key to creativity. You'll also explore how to connect with and support your child using growth mindset techniques and visual thinking strategies.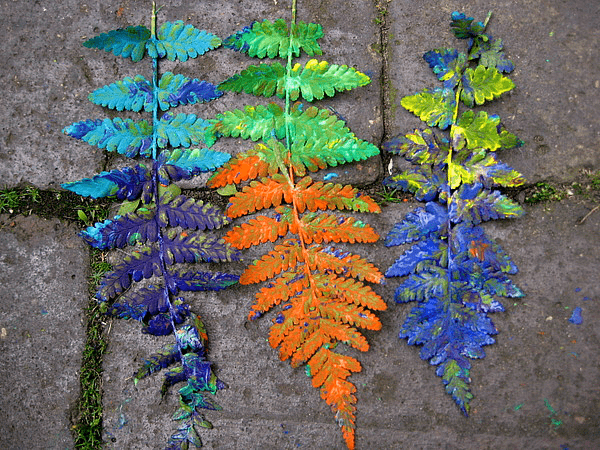 Part Two: Art That Doesn't Last
* This week we're going to try projects that are transient and ephemeral. It's a great week to try some art outdoors. Projects to choose from this week will include shaving foam paint, milk and dish soap art, painting with ice, marbling, land art, flower mandalas, shell art, stone cairns, and clay faces.
* Andy Goldsworthy will be our virtual mentor this week. There'll be videos to watch where you can hear his thoughts about art and see how he creates installations in rivers and forests. And you can try out his land art style of art yourself. I'll also show you some very cool snow art.
* We'll think about the value and interesting application of art to learning and life, and share ideas for how to document our art practice.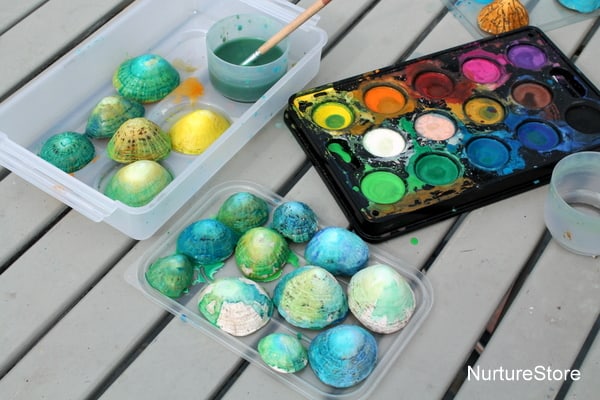 Part Three: No Paper, No Brushes
* This week we'll set aside paper and paint brushes and explore all the other things you can paint with and paint on. Projects to choose from include using foil, bubble wrap, sandpaper, the bathtub, tree bark, thick card, leaves, wooden boards, a tree trunk, a wall, pinecones, sticks, leaves, toy cars, toy dinosaurs, potato mashers, feathers, feet, hands… anything goes!
* I'll be sharing lots of ideas on how to set up your art space and how to source materials – both with a focus on creativity and affordability.
* Jackson Pollock will be our mentor of the week, along with a group of artists who make art using toys.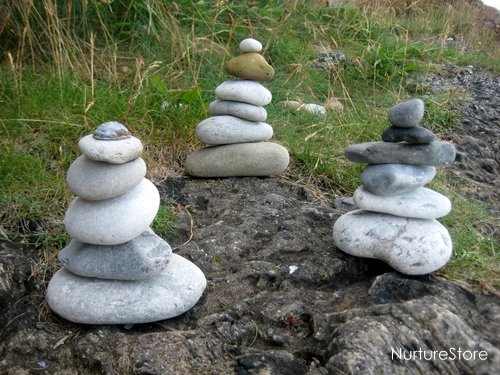 Part Four: Build It Up
* This week we'll extend our art explorations on from painting and try our hand at sculpture. Projects to choose from will include sculpting using sticks and a glue gun, kitchen foil, mobiles, air-drying clay, salt dough, LEGO or wooden blocks, pipe cleaners, junk modelling, drinking straws or toothpicks with playdough, and stones.
* Three artists and sculptors who all work in three dimensions, all in very different ways, will be our inspiration this week: Alexander Calder, Barbara Hepworth, Alberto Giacometti.
* We'll also talk about how we find inspiration for future projects. And there'll be an online/real-life field trip to an art gallery.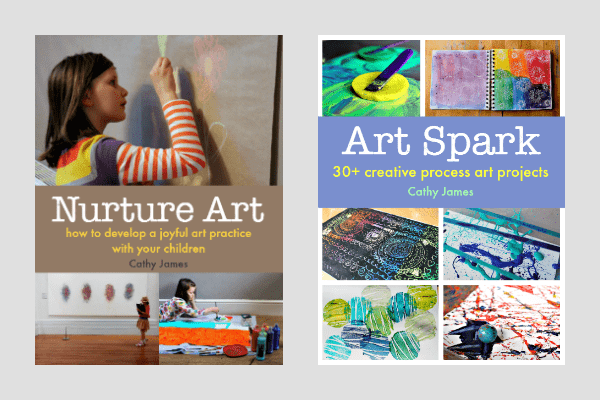 Receive two bonus ebooks!
Along with the guided programme you'll also receive:
:: my Nurture Art ebook, value $10. This ebook is full of ideas and practical tips that will get you easily set up and enjoying art. You'll develop skills to positively nurture your children's creativity, using supportive language, growth mindset techniques, and visual thinking strategies. And there'll be interesting personal development for you, as you think more about arts education and your own creativity.
:: my Art Spark ebook, value $14.99. This ebook is packed with gorgeous photographs and art ideas that you'll be excited to try with your children. It includes 30 art projects, with lots of extension ideas, that make it easy for you to explore creative techniques with your children – ideas you can keep using as your children grow.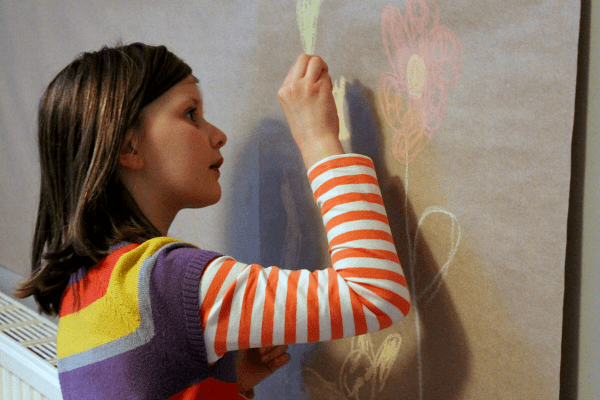 :: you'll also be invited to join the private Facebook group. You'll be able to connect with the other families taking part, and share projects. I'll be available in the group to answer any questions and help you get the most from the workshop.
:: and you can bring a friend for free. Making it half the price and double the fun! Click and register yourself, and then when you receive the email from me confirming your booking, just email me back with your friend's name and email address and I'll add them in to the workshop too.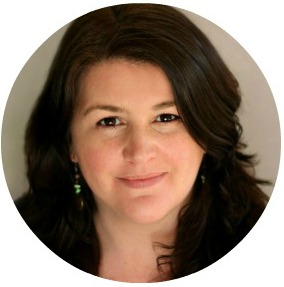 Meet Cathy
The Art Spark Workshop is run my me, Cathy James. I'm the creator of this NurtureStore website, and the author of several books including The Garden Classroom and Super Sensory Invitations to Play. I hold a Bachelor of Arts degree and have over twenty years experience working in the field of education. I've worked in a wide variety of settings and with all age groups: from babies, toddlers and preschoolers; through the school ages; to adult learners. I now homeschool my two daughters using my arts-based, child-centred curriculum. I'm really looking forward to hosting the Art Spark Workshop, and I welcome you to join us for a glorious, colorful exploration of art and community.


Frequently Asked Questions
What do course participants think of the Art Spark programme?
Here's the feedback from past Art Spark attendees.
"My kids actually enjoyed art for the first time. I have an 8 and a 6 year old. Usually when I put out art projects, I spend a lot of time setting up, and they are done in 2 minutes flat. But through this class I learned how to talk to them about the process and not encourage or discourage how they were taking part in the art process. Which was a VERY difficult challenge for this mom. But I did not even know I was doing that to my kids, until I took this class."
"Loved the introductions to famous artists – an entry into the mind and world of an artist."
"Having so much fun with this week! I feel like the unconventional projects are opening up my perfectionist to doing art without it needing to be 'right'."
"It was so nice and relaxing to spend time with my son and just create together."
"The boys are really into this! I'm so glad I signed up."
What age children is the Workshop suitable for?
The great thing about process art is that it is suitable for all ages. Toddlers through to adults can join in with the adventure and explore the projects in the ways that suit their experience and interests. This means this workshop is great for toddlers, preschoolers, elementary and middle school-aged children, even teens. Parents and teachers can engage with the workshop just as much as the children. Creative mamas and papas might even like to join just for themselves!
How much is the Art Spark Workshop?
The Art Spark Workshop costs $59.99. This includes four weeks of a guided online workshop, membership of the private Facebook community, two detailed resource ebooks which are yours to keep after the course ends, and daily support from Cathy throughout the four week adventure. Reserve your place here.
You can bring a friend for free. Click and register yourself, and then when you receive the email from me confirming your booking, just email me back with your friend's name and email address and I'll add them in to the camp too.
What previous art experience do I/my children need to join in?
No previous art experience is needed. If you have enjoyed art before you will find plenty of ideas for extending your practice and diving deeper. You can take a look inside the ebooks here.
Can I do the Workshop at home?
Yes, you can. The workshop can be done daily, after school, at the weekend, or as part of a homeschool programme.
Can I do the Workshop with my class / community group?
Yes, you can. All the projects have material lists to help you organise your art sessions. There are links to works by famous artists, so you can incorporate a deeper study of art and artists, and suggestions for including arts-based learning through the wider curriculum. You can also use the course for your own professional development as it will encourage you to think about how to best deliver an art-based programme in your classroom, using growth-mindset techniques and visual thinking strategies. You can make a group booking for you and your colleagues so you can work through the camp together. Email me ([email protected]) and I can arrange to invoice your school/community group directly.
Do I need any special art materials to join in?
The projects have been designed to use basic art supplies. It's likely that you will have many of the materials already on your craft shelves. All the projects come with supply lists, so you can get organised in advance. You will need watercolor paints and paper or a sketch book, and also your choice from a list of basic art supplies to fit the projects you decide to concentrate on.
How is the Workshop delivered?
The Workshop is delivered through the NurtureStore website. You can also choose to use the private Facebook group and Instagram. You will receive Joining Instructions and the two ebook downloads as soon as you purchase the camp and a daily email to access that day's materials.
When does the Workshop start?
Whenever you want to! Register today and you will receive your ebooks and joining instructions straight away. The course will then be delivered directly to you over the following four weeks. You can join the Facebook group at any time. Join now here.
Do I need to join the classes at a certain time of day?
No, you can do the Workshop to suit your own timetable. It has been designed to work throughout the time zones. You'll receive a daily email from Cathy, and she will be available through the workshop in the private Facebook group. You can use the daily materials to fit your own reading and projects to your personal timetable, joining in with the community on Facebook and Instagram whenever you want to.
How much time each week will I need to devote to the Workshop?
You can take part in as much of the Workshop as you want to. You might like to do an art project for an hour or so each day, Monday to Friday. You might devote an afternoon each week, or enjoy art time at the weekend. It's flexible so you can make it work with your plans, and dive as deep into the materials as you like.
What technology do I need to join in with the Workshop?
You will need a device and internet connection so that you can read emails and this, and other, websites. The video content is via YouTube and Vimeo. The Workshop community will be hosted on Facebook and Instagram. We recommend you use the free Adobe Acrobat Reader app to view your ebooks. Other PDF reader apps may work for you, but we have tested all our ebooks in Adobe Acrobat Reader.
Do I need to be on Facebook to join in?
No, but the community aspect of the Workshop will be hosted there so you will get the most out of the adventure if you join in with the private Facebook group.
Can I share the materials with my friend/colleague?
Your friends and colleagues are welcome to join us but they will need to purchase their own workshop registration. You can take advantage of the 'Bring a friend for free' offer: let us know the name and email address of one person you are bringing and we will add them to the workshop. All the materials are copyright protected and can not be shared with others. Access to the Facebook group, daily emails and passwords will only be given to people who have purchased the Workshop or been registered by a full fee-paying attendee as their 'friend'. Please email [email protected] if you would like to make a group booking for you and your colleagues as we can arrange for one invoice to be sent directly to your school.
Can I buy the ebooks separately?
Yes, you can get them here.
Any other questions?
Please email [email protected] and Cathy or Sean will be happy to help.
Important Information
By purchasing items from our website you consent to our Privacy Policy.
All ebooks and other digital products are subject to copyright and may not be shared or distributed in any way or form.
With the exception of the United Kingdom, this product is not available for purchase in the EU.