Please welcome Shaunna from Fantastic Fun and Learning. She is sharing a fantastic and fun straw and pom poms counting game.

Straw and Pom Poms Counting Game
---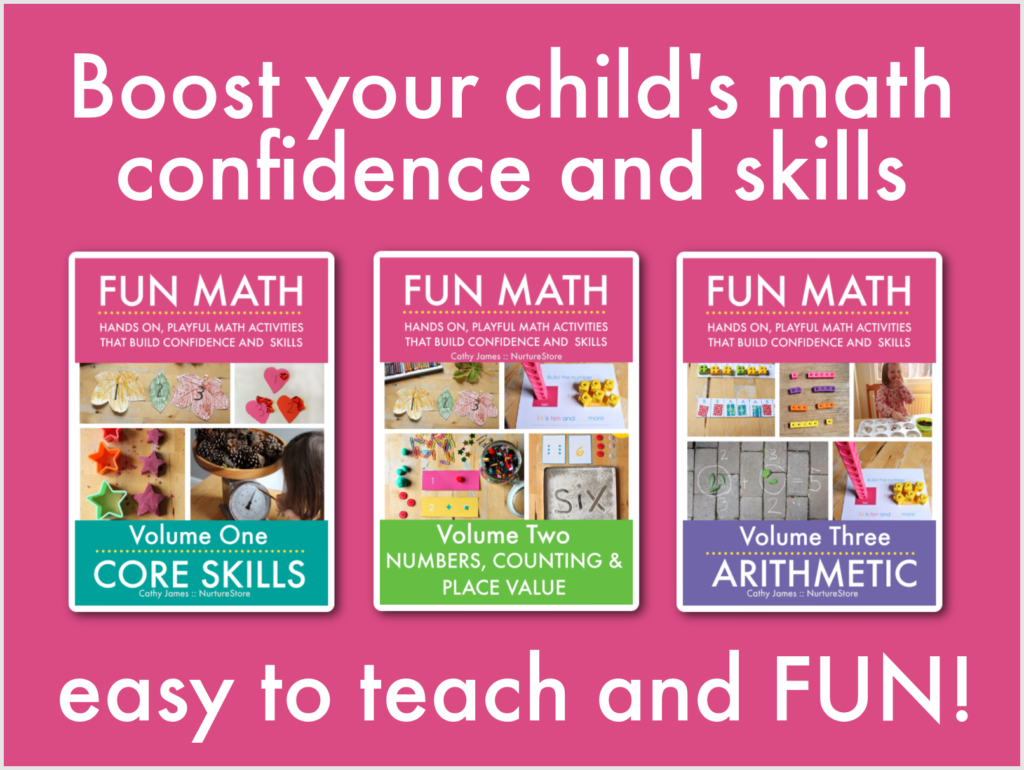 Magic Fun Math lessons!
Fun Math is an easy to teach, highly effective math curriculum based on play and hands-on learning.
All the lessons are designed to be fun and memorable, so children enjoy their lessons and feel confident.
The lessons are easy for teachers and parents to use, in class or at home.
These are the magic lessons where children really see, understand, and can apply math concepts. They are especially suited to children who don't like math, lack confidence, don't understand math the way they are currently being taught, or just want to play.
SEE MORE AND TRANSFORM YOUR MATH TEACHING HERE.
---
Hi there, NurtureStore family! I'm thrilled to be here sharing our Straw and Pom Poms Counting Game. Over at
Fantastic Fun and Learning
we love to share creative hands-on ways to learn through play. This pom pom game is a fun way to practice counting and number recognition, and kids love the challenge of trying to move their pom poms.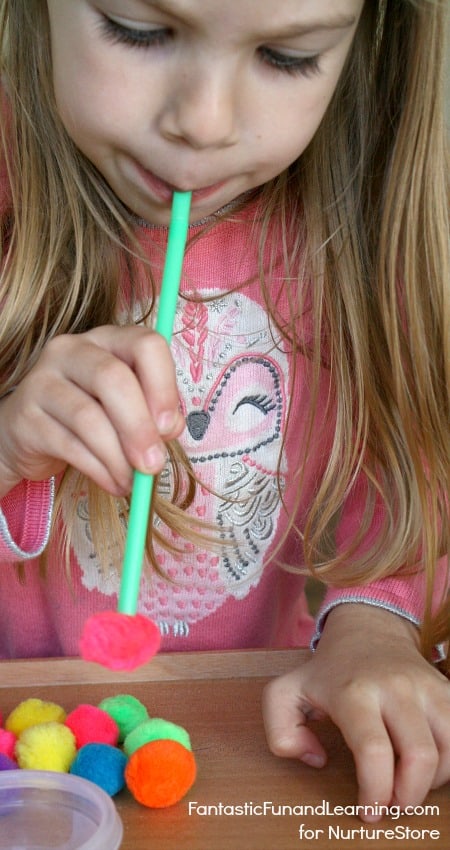 Counting game materials
---
This page contains affiliate links from which we earn commission.
As an Amazon Associate I earn from qualifying purchases.
---
For this game you'll need:
One clean straw per child
Large Pom Poms (too big to fit through the straw)
Shallow containers
Something to number the containers – we used dot stickers labeled with a marker.
To set up the game label the containers with the numbers you'd like to practice with your child. Then set the straw and pom poms nearby.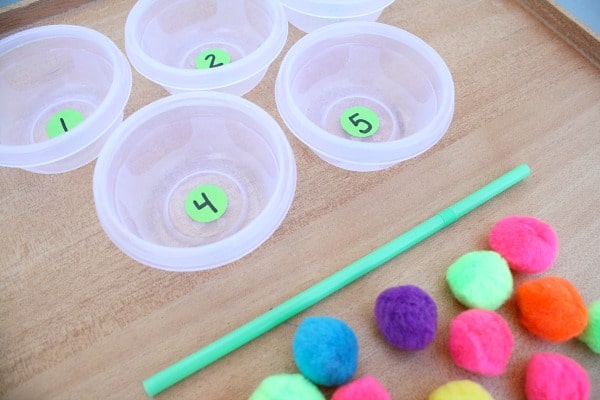 How to play
To play kids simply have to put the straw on a pom pom and suck in to pick it up. Then keep sucking as they move the pom pom over the top of the container.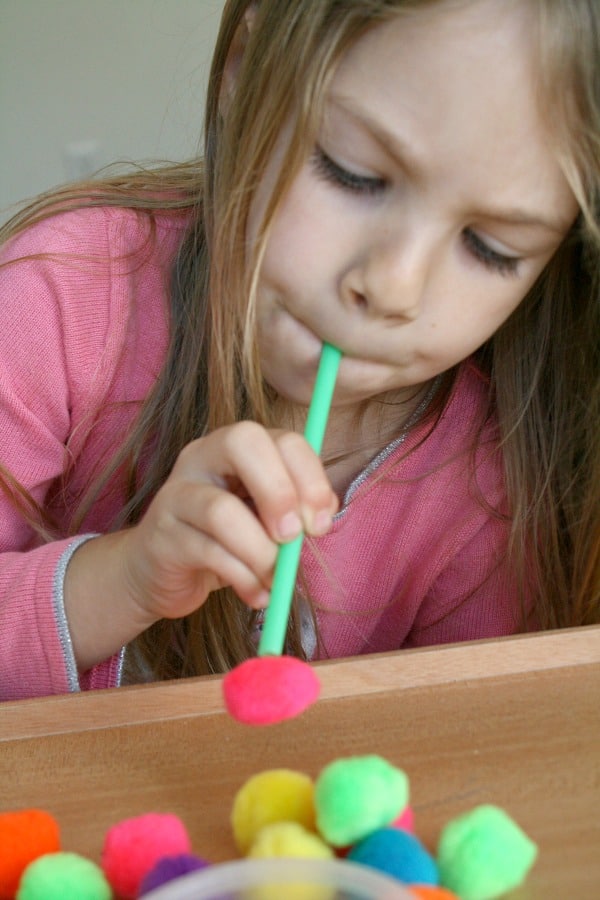 Finally breathe out to let the pom pom fall. Continue doing so until all of the containers have the correct number of pom poms.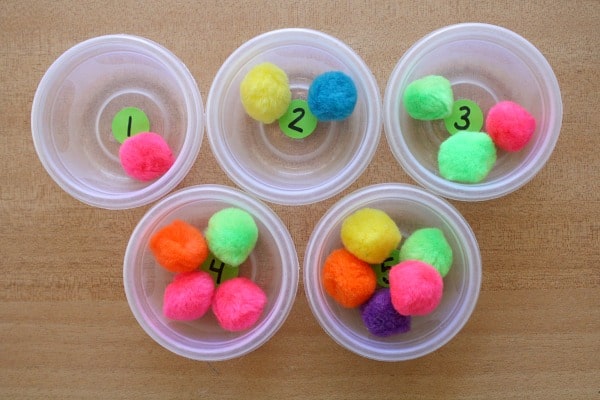 At first kids may have difficulty sucking hard enough to pick up the pom poms, but with a little practice they'll think it's really neat!
Extensions
As your child is moving the pom poms engage in math discussions like:
comparing which container has the most
which container has the least
how many more pom poms need to be added until the container has the correct number
how many more (or less) one container has than another
Variations
Add a little more excitement to this game by making it a race. Grab a timer and see how fast your child can fill the cups. Then repeat the activity to see if he or she can do it even faster the next time.
If moving the pom poms with the straw is too difficult try using clothespins, large tongs, or small tweezers (Amazon affiliate links) instead. These variations add in helpful fine motor practice.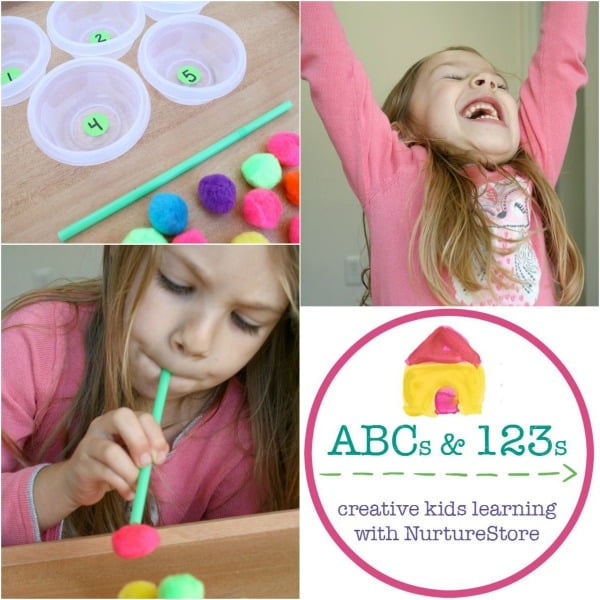 For more hands-on math fun try these activities
Rubber Duck Counting and Addition
Connect with Shaunna
Shaunna Evans is a mother of two with a masters degree in early childhood education. On FantasticFunandLearning.com she shares creative learning activities and fun things to do with kids. If you're teaching preschool at home, hop on over and join her Home Preschool Help Facebook community where you'll find tips, resources, and encouragement for your home preschool journey.

---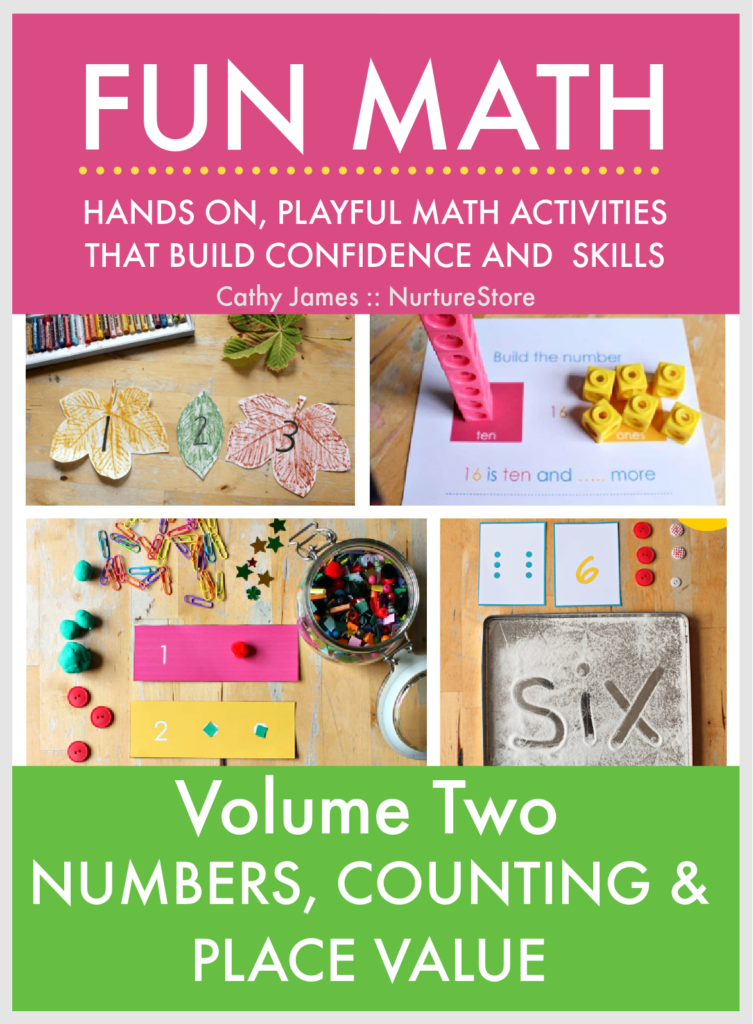 Transform your teaching with Fun Math
The Fun Math series gives you a math curriculum that is easy to teach and highly effective.
Children love these lessons because they are engaging and fun.
You'll have a clear set of ready-made math lessons and activities that are simple to lead using our step-by-step lesson guides, and which children really understand.
Be the best math teacher and boost your children's confidence and skills with Fun Math.
See more and transform your teaching here.
---