Join me for a guide to creative kids learning.
Pop your email address* in the box, tick both boxes, and I'll send you my guide to creative kids learning. It's free. It's useful. It's totally do-able. I think you'll love it!
---
* By subscribing, you are accepting our Privacy Policy, which includes agreeing to receiving interest-based email marketing messages from us. You can unsubscribe at any time.
---
NurtureStore's 5 principles
In six instalments, delivered by email over the course of one week, I'm going to share some of NurtureStore's best resources with you.
We're going to be looking at how we can easily and joyfully have daily play and learning that includes elements which are:
* more child-led
* more play
* more arts
* more outdoors
* more sensory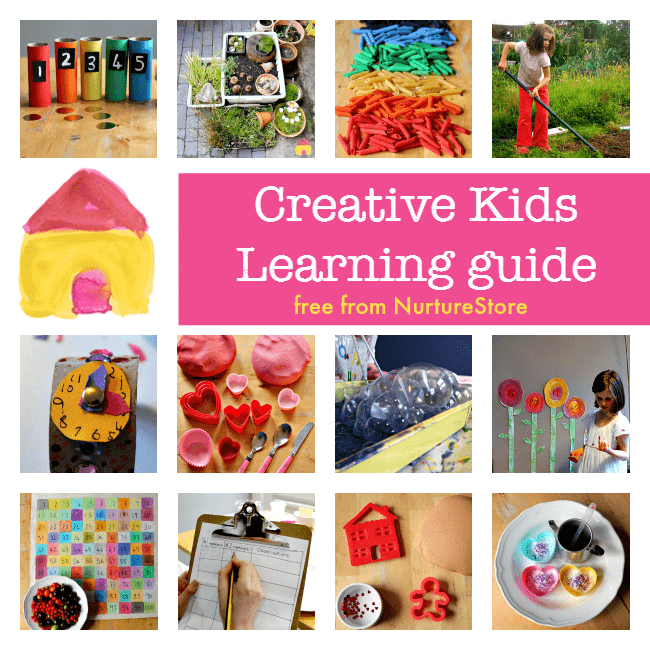 Let your child shine!
These are the five principles on which NurtureStore is founded, and they're designed to let your child shine. They mean your child will be happier and more enthusiastic, and their learning will be more successful. Sounds good, right?
Pop your email address in the box and over the next week you'll receive six emails from me that can inspire simple changes to your routines, to increase each of these five principles in your child's daily life.
My big focus on NurtureStore is sharing ideas that are 'do-able', not things that are complicated, unrealistic or time-consuming. So, expect ideas that are simple, effective, and that you can actually, really do with your children, with great results.
Add your details and I'll send you the guide.
Cathy