Use these spring creative writing prompts to encourage your children to journal their thoughts and feelings about the new season.

Spring Writing Prompts
---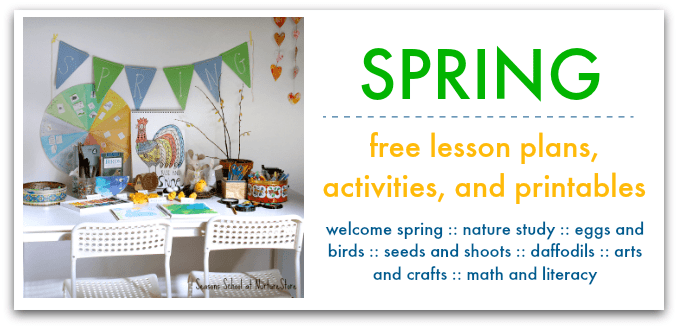 ---
This activity is part of my Spring Activities resources, which include an introduction to the season and complete units on Daffodils, Eggs, Seeds and Shoots, and running a Nature Study project. See our full resources and free printables here.
Creative writing prompts for spring
Try these spring-inspired writing prompts and add them to your nature journal. NurtureStore subscribers can get a free printable of all these prompts – see below.
:: Ten things I love about spring are…
:: What does spring sound like?
:: Imagine shrinking down to the size of a caterpillar. What would you do? What would you see? What would you eat?
:: Imagine you are a baby bird inside your egg. Describe coming out of your shell and seeing the world for the first time.
:: Twenty adjectives to describe an egg are:
:: Write a story about The Magic Egg.
:: Spring is / isn't my favourite season. Here are the reasons why:
:: Imagine talking a walk through a forest on a spring morning. What can you see, hear, feel, smell, taste?
How to download the spring writing prompts printable
Get ALL my free printables by joining the NurtureStore community and gaining instant access to my free resource library, including this printable.
Pop your email address in the box below, select both options, and you'll get instant access to all my free printables, lesson plans, activity ideas and a whole lot more!
Be sure to check your email for the confirmation email, and you will receive instant access to the whole Creative Kids Learning Library.
If you are already a NurtureStore subscriber: pop your email address in the box below to 'sign in' and you will be re-directed to the Creative Kids Library where you will find all our free printables.