Here's a fun simple sewing project for a child: how to sew a simple doll.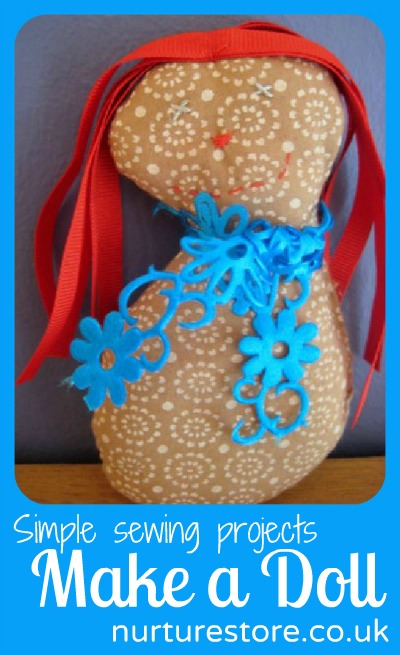 Simple sewing projects: how to sew a doll
<<< click here to JOIN THE free FIVE DAY ART ADVENTURE >>>
We were inspired by Megan and her daughter over at Sorta Crunchy to have a go at a simple sewing project this week, to see if we could make a doll.
We've tried embroidery before and made some stitched bookmarks but this was a little more adventurous for us – and I think it turned out great! (She's called Ruby by the way.)
Megan made some wonderful toys with her daughter – do hop over and see how they made theirs as their technique is great for capturing some kid's art as well as sewing. But my girls did not want to do any sketching – they wanted to get straight to the material! So here's what we did to make a doll.
This was a spontaneous 'what shall we do today' project, so we used the materials we had available: fabric from a now too small skirt and some cottonwool for stuffing. I just about persuaded B to draw out a doll shape, rather than free styling with the scissors straight on the material, so she drew an outline on some paper, which became our pattern. She cut it out and I helped her to stitch a face.
We placed the right (patterned) sides together and used the simplest running stitch to sew round the edge. B told me it's hard work to sew with little tiny stitches but I think this is a great lesson that taking things slowly with attention to detail is sometimes what's needed. We left a little gap, turned the doll right side out and filled her with some cottonwool. After stitching up the final gap,  and adding some ribbon hair, she was done. And isn't she pretty!
L wanted to make something too of course and decided to made Ruby a pillow. She was very keen to do everything herself, so she drew the pattern, pinned it on and cut it out all by herself. She found the stitching a bit hard so had a little help with this and then she was back in charge for the stuffing. I did suggest turning the pillow inside out, to give a neat edge to our finished pillow – but that suggestion was whole-heartedly rejected by the Girl In Charge.
I'm so pleased with this project. The girls are just beginners at sewing, and I'm not very much better either, but I think the doll turned out so well – and the girls are so pleased that they did each step and managed to make a doll and pillow for themselves.

Five Day Art Adventure – free art classes for your child!
Join my free Five Day Art Adventure and you will receive:
:: five art project guides you can use at home or in class, with children of all ages. Our focus is on fun art explorations that use simple materials – everyone can join in!
The Art Adventure is free to join, delivered via email, and you can join in at any time.
To join the Art Adventure, pop your email address in the box below and I'll send you your free Five Day Art Adventure resources. It's as easy as that!
---
* Your data is safe with us. Learn how we hold, use and protect it.
---