My oldest daughter loves crafts (would you have guessed?) so, when she was 7 earlier in the year, we wanted to get her a birthday present that would encourage her creativity. We have paint, card, glitter and crayons galore so I was stuck for what to get her. And then I saw an idea over at maya *made on embroidery for children and knew a sewing and embroidery basket would be the perfect present for Big. I bought a woven basket and filled it with some of the things suggested by maya to give Big all she needed to get started. (You should pop over to read maya's post for a great guide on what to include and how to get started.)
This weekend she tried it for the first time, and here are the results. Do you like them? I threaded the needle for her as the thread was quite thick and also tied a knot to get her started – everything else is all her own work.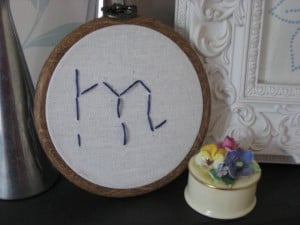 That 'm' is for Mummy – she's a sweetie.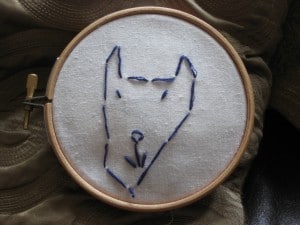 And this is a portrait of our cat, drawn first with a pencil and then stiched on top.
She's so pleased with what she's made and has plans to make lots more to give away as gifts.

Want more happy handmade crafts?
Our Happy Handmade resource is bursting with colourful and imaginative crafts and DIY toys that are designed to add even more colour and creativity to your home. With easy-to-follow tutorials and free patterns and printables, you can read, make, and start playing today! See more of Happy Handmade here.