Use this free Ramadan placemat printable to decorate your iftar table or as part of our unit Learning About Ramadan.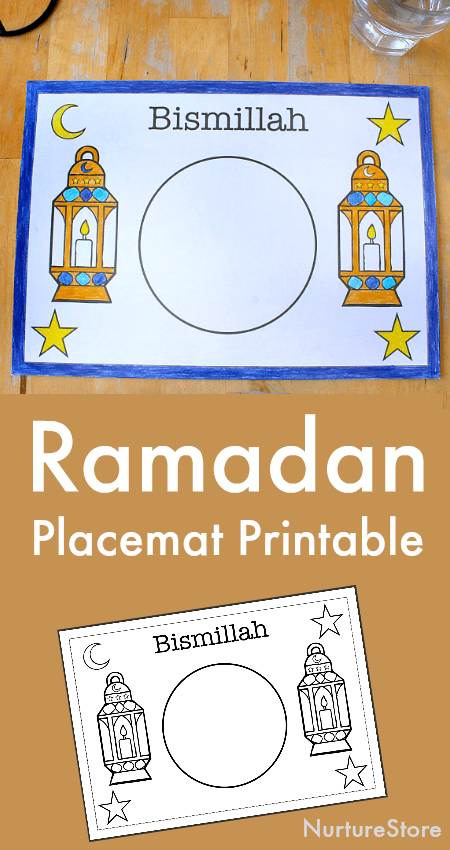 Ramadan placemat printable
Food is a central aspect of the Muslim celebration of Ramadan.
During the holy month of Ramadan most Muslims are fasting during the daylight hours. They do this show their devotion to Allah and to experience some of the suffering of others, so they can feel more empathy and compassion.
Once the sun sets it is traditional to break the fast by eating dates and then to enjoy a special meal with family, friends, and community. Many families have traditional recipes that they prepare every Ramadan.
At the end of the month of Ramadan, the annual festival of Eid-al-fitr is celebrated with prayer and feasting.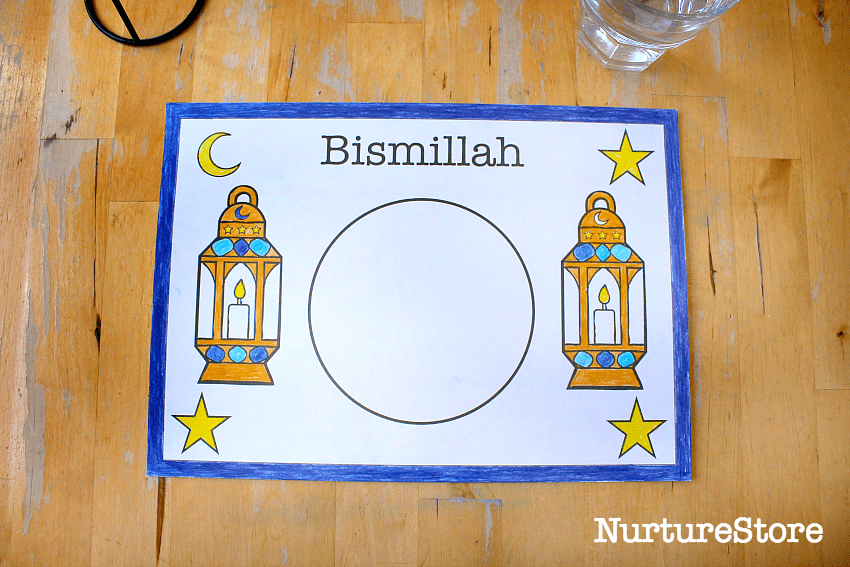 If you are a Muslim family you might like to include this placemat in your mealtimes. Decorating for a meal helps to make it extra special, and this colour-in placemat can add a fun element to the celebration for your children. It might also help to keep them occupied while they wait for the sun to set.
If you're not a Muslim family but are learning about Ramadan, trying some traditional food is a great way for your children to connect with the celebration. Most festivals, from all cultures and countries, have special foods associated with them so trying dates and other Ramadan foods is a way for your children to see what's different and what's familiar about how families around the world celebrate their beliefs.
Bismillah means "In the name of God". It is the first word of the Quran and used in prayer. It is also used in everyday life, including being said before beginning a meal, as an act of devotion and to receive a blessing from Allah.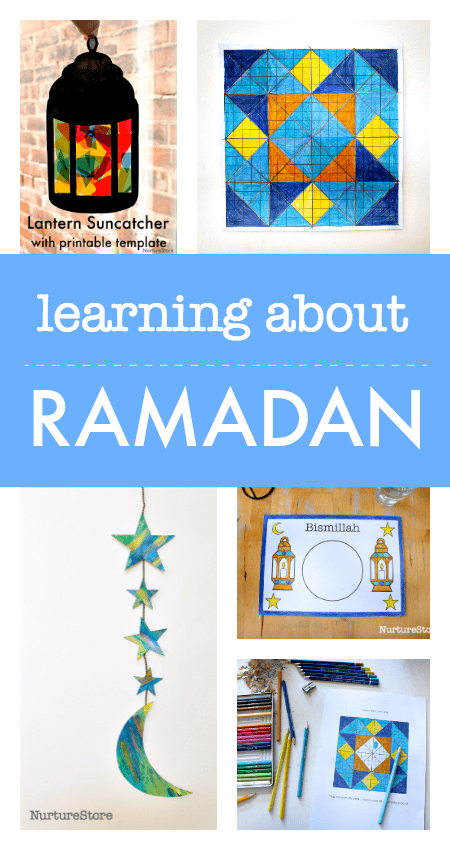 More resources for Ramadan
You can find more resources for learning about Ramadan here.
How to get your free copy of the Ramadan placemat
Get access to ALL my free printables by subscribing to my email list.
To download my free printables, you'll need to visit the NurtureStore Printables Library, which is available to all subscribers to my email list, and of course to Play Academy members.
Pop your email address in the form below and you'll get access to all my free printables, lesson plans, activity ideas, weekly newsletter, and a whole lot more!
After subscribing, be sure to check for the confirmation email. After you confirm your email subscription, we'll send you a welcome email which includes instructions for downloading our free printables.
If you're already subscribed to our email newsletter: check your email for the latest edition of the newsletter where you'll find a link to access our free printables library - the link is usually at the bottom of the email.
For help accessing our printables, click here.
---
* By subscribing, you consent to our use of your personal data as per our Privacy Policy, which includes agreeing to receiving interest-based email from us.
---