This pretend play farm is easy to set up and gives children lots of opportunities to add their own ideas to the imaginary play. It includes lots of interesting textures, so it's great for sensory play too.

Pretend play farm :: multi sensory play

Our pretend play farm was set up by borrowing in lots of elements that we are using elsewhere. We started off with some rectangles of card, in different colours and sizes, to make a patchwork of fields. Post-it notes are useful here, as they are easy to place and re-arrange. (you can more fun post-it note activities here) We used some small world characters and animals.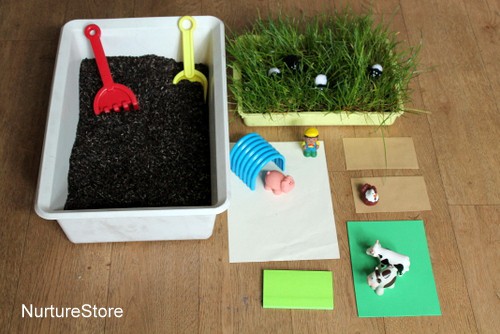 We used our
indoor meadow
as a field too, with a cute flock of sheep (from Tesco). This introduces a new texture to the play, along with a fresh grass scent.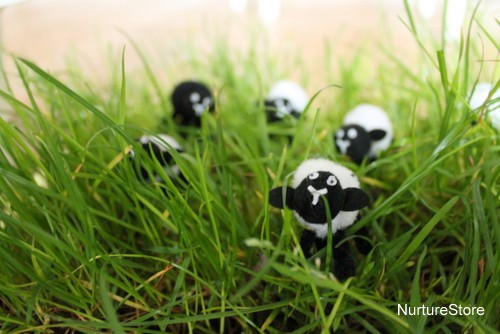 The dyed rice from our
spring sensory tub
gave us another field – this time to plant crops in. The carrots are from our
spring sorting game
.
As the farm is set up in small tubs and pieces of card, it's very easy for the children to move them around and make changes to the farm set-up as they play.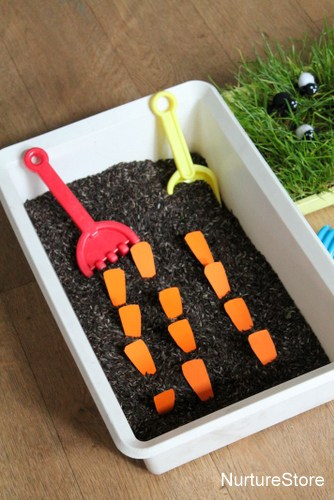 If you provide some extra pieces of paper and card, along with some scissors and pencils, the children can draw extra elements of the farm, such as rows of vegetables, or perhaps cut out a pond.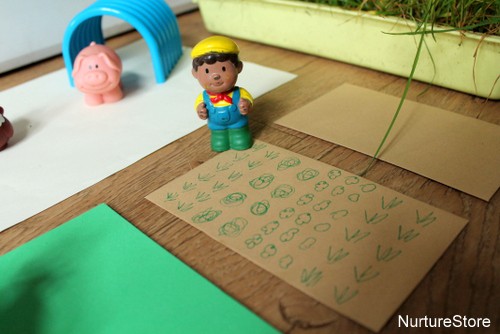 Or use the scissors to mow the field!