We have the great pleasure of having another guest post today. Please welcome Maggie from Red Ted Art with ideas for combining nature and art…
Over at Red Ted Art, my son (Red Ted (2)) and I (Maggy (old)) do lots of crafts projects. Sometimes Pip Squeak (0) joins us. Usually I am inspired by books that we read (the tagline from another crafty mum being – story + art = great stART). This time however, we were Inspired by Nature as well as the Arts! (come visit "Get Crafty" for a host of nature related ideas):
The V&A is running a World Beach Project with artist Sue Lawty. This is a project involving sculptures and pictures made from stones. Check out the V&A website for more info. Here is Sue Lawty's project.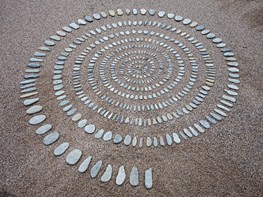 We couldn't get to a beach, but still wanted to "take part", so friends of ours brought us some Brighton Beach stones and we got Inspired by Nature at home… we have 6 BIG stones and lots of pebbles from the garden.
*** PLEASE TAKE CARE WITH THE PEBBLES AND SMALL CHILDREN – DO NOT LEAVE THEM ALONE – CHOKING HAZARD***
This is what we got up to:
Whilst playing with the stones we learnt lots of things: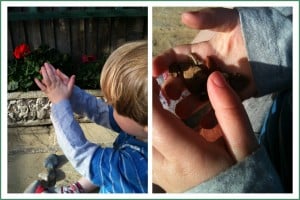 "Just Feeling" – enjoying nature and playing with the pebbles. They feel nice, don't they?!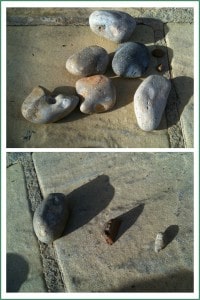 Lots here:
Big & Little. Which is the biggest? Which is the smallest?
Counting 1-6.
Shapes – e.g.  Triangle.
Heavy. Red Ted told me that some were "heavy"…
Warm & Cold. He also pointed out to me, that after we had left the m in the garden overnight that they were cold ("Brrrrr, mummy, brrr") and could I warm them up (beep beep beep – I am ashamed to admit, that that means the microwave).
And finally! Some "artwork" and some playing (Red Ted did the flower pattern when I had turned my back).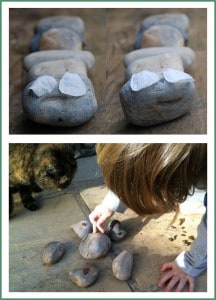 Happy & Sad! We made a stone caterpillar with petals for eyes. Turn the stone one way and he is sad ("hungry mummy"), turn the stone the other way and he is happy!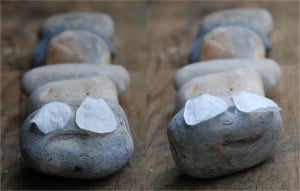 Hurray for Brighton Beach stone (and pebbles from the garden)!
If you enjoyed this post, do pop over to Red Ted Art and see what we get up to on a regular basis – Get Inspired by Nature in Nature Get Crafty or just visit for Wednesday Crafts!! We look forward to meeting you!
Maggy & Red Ted (& sometimes Pip Squeak)