For hot and cranky kids these homemade ice lollies are just the thing to cool down, and to make sure they're getting enough fluids in hot weather. It's great to have a batch ready for when they get home from school and they're feeling frazzled.
You can use fruit to make your own juices, or use cartons of bought fruit juice.  If you're using shop bought juice it's worth checking the ingredients label if you want to avoid added sugar. We went with apple and mango juices, but the choice is yours.
To make multi-coloured layer lollies: Part fill your lolly containers with a fruit juice. Pop in the freezer until frozen.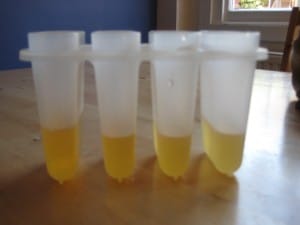 Top up with a different juice…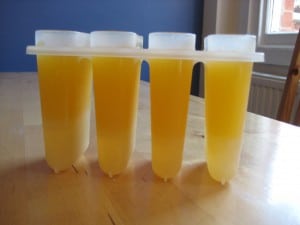 Then put your lolly sticks on top. Pop them back in the freezer until they're all frozen and you have them ready and waiting for the next lot of sunshine.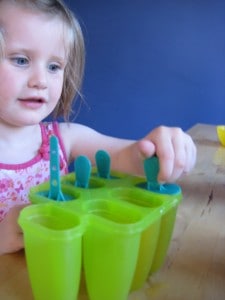 Happily shared with Works For Me Wednesday