This night sky sensory tub is great for sensory play and comes with ideas for hands-on math games.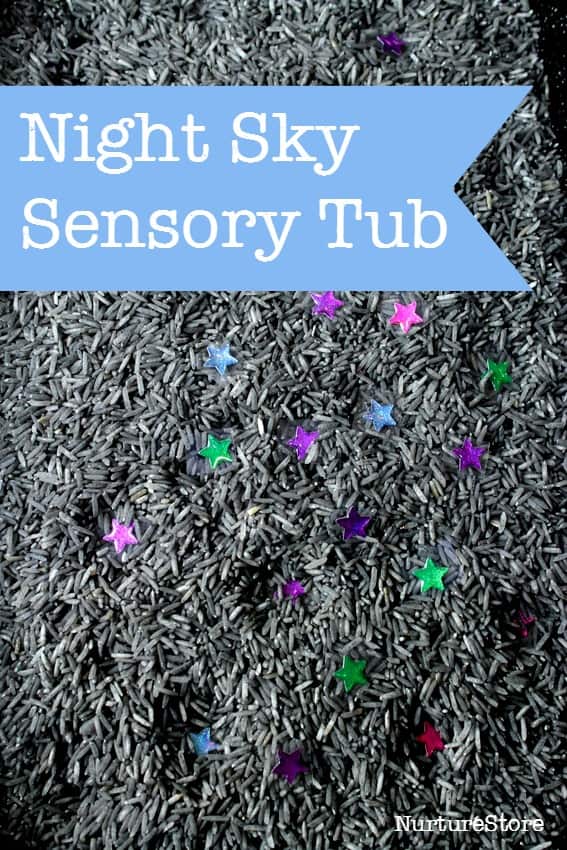 Night sky sensory tub
There are many ways you can make a sensory tub but today's version is based on rice. Uncooked rice has a nice texture for children to explore and if you store it away after play it will keep for months – if not years – so one pack of rice can be used again and again for many play times. It's also very easy to dye rice, so you can add some colour to your sensory play.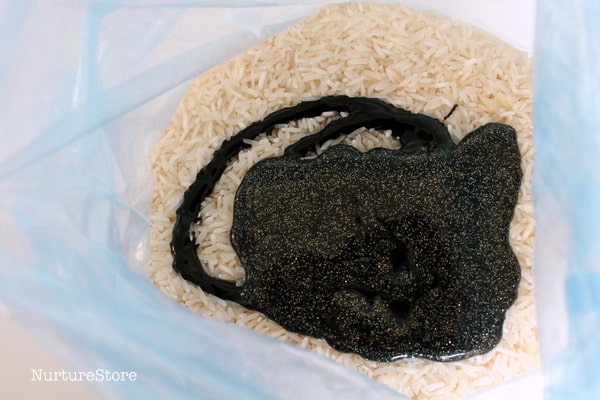 To add colour, place some of your rice in a strong plastic food bag, or a tub with a lid.
Add a few drops of food colouring, or a squirt of paint. Today we're using black glitter paint.
Fasten up the bag or tub securely and shake, shake, shake until the colour has covered all the rice.
Then place your rice out on a sheet of baking parchment, or in a tray, and leave for a few hours, or overnight, until it is completely dry.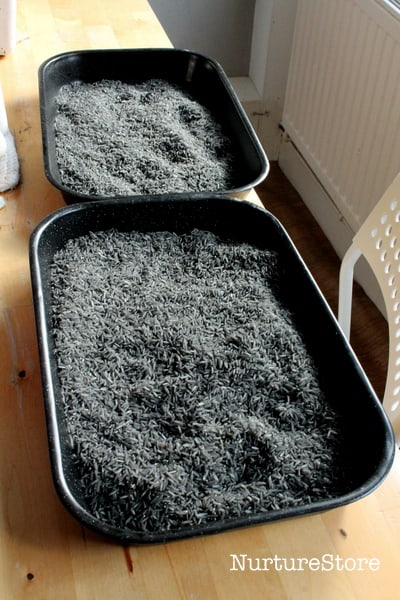 To our night sky sensory tub I'm adding some stars. I cut up a sheet of stickers, leaving the stars still on the plastic film. They're nice and sparkly, and hunting for them in the tub and picking them up with your fingers is a really great workout for fine motor skills.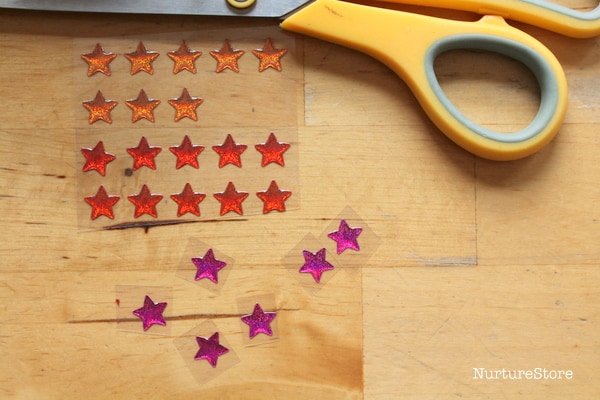 How to play with your sensory tub
The simplest idea is to hand over the tub to your child and let them enjoy exploring the textures. You can add scoops and spoons, or enhance the space theme by adding a moon, planets or a toy rocket. Let them lead and see what ideas they have to play with the tub.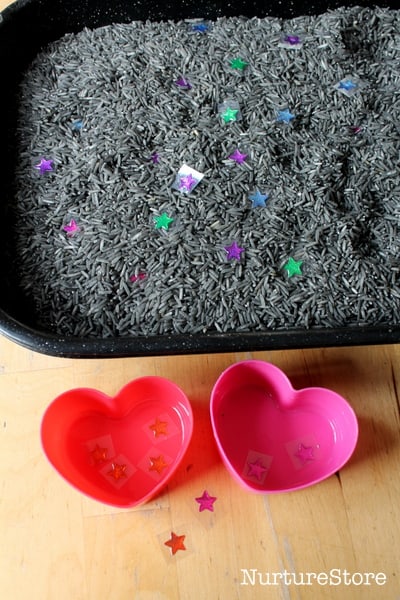 You might invite them to pick out all the stars and sort them into different colours.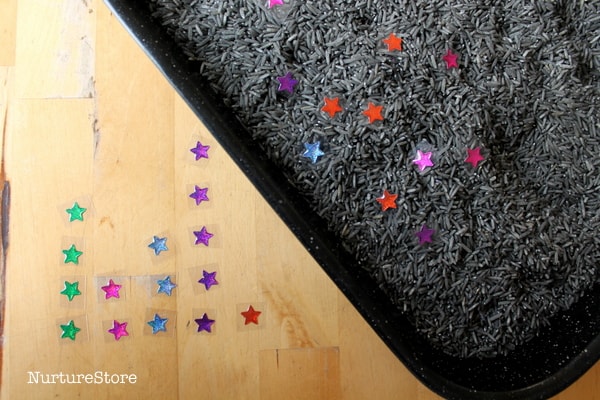 Or count the stars they can find, and line up the different colours to make a graph. Chat about the stars using lots of math vocabulary: have they got more blue stars or pink stars? Which colour do they have the least of? Which line is the biggest?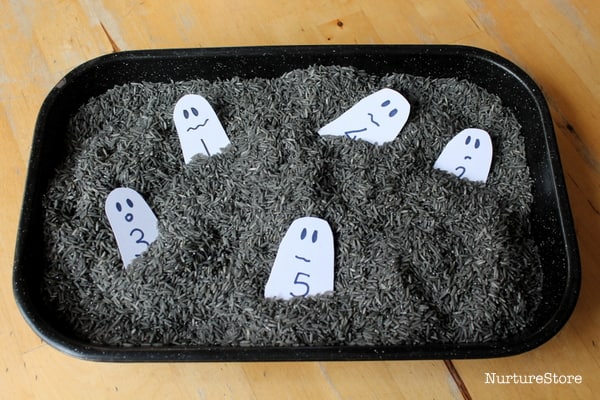 You can also give the sensory tub a Halloween theme. Cut out some little ghosts from white card or craft foam, and add a number on each. Hide the ghosts in the tub and use them for some more math games.
:: how many ghosts are in the sky?
:: can you find ghost number 5?
:: can you line up all the ghosts from smallest number to biggest number?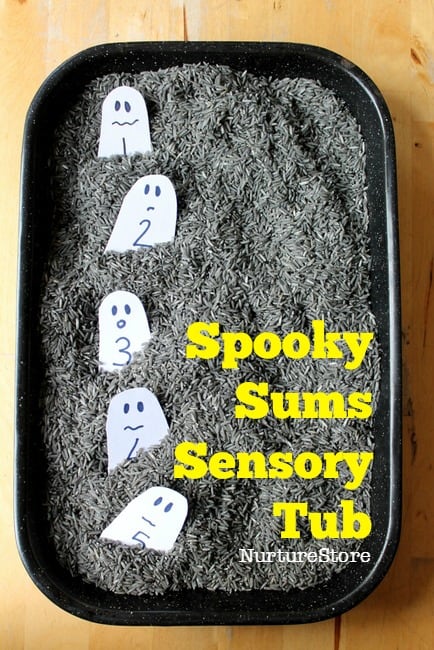 :: can you find the ghost that matches your age?
:: can you pick two ghosts and add up their numbers?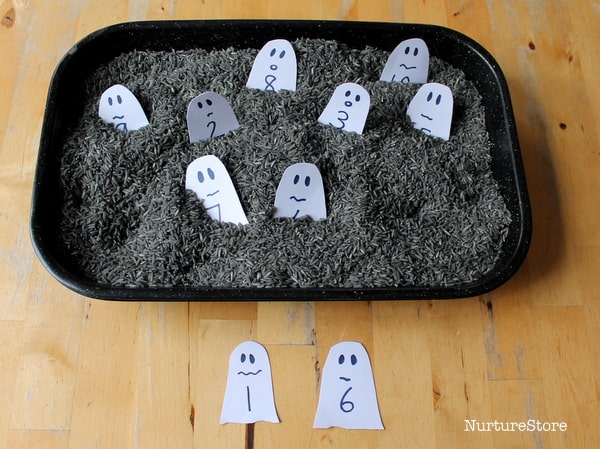 Super Sensory Invitations to Play

Ready for a whole year of exploring through the senses? Super Sensory Invitations to Play is a delightful resource that encourages your children to explore the five senses through the year, using a wide variety of sensory materials. It includes 52 invitations to play, linked to the festivals and seasons of the year, and including water, ice, dough, rice, paints, sand, sensory tubs, and more.
They are easy, simple, and fun ideas that you can use right now to give a multi-sensory boost to your play and learning. It comes with a printable recipe book featuring all our favourite recipes for play. Come and see more here.