Use this free printable spinner to learn about the months of the year.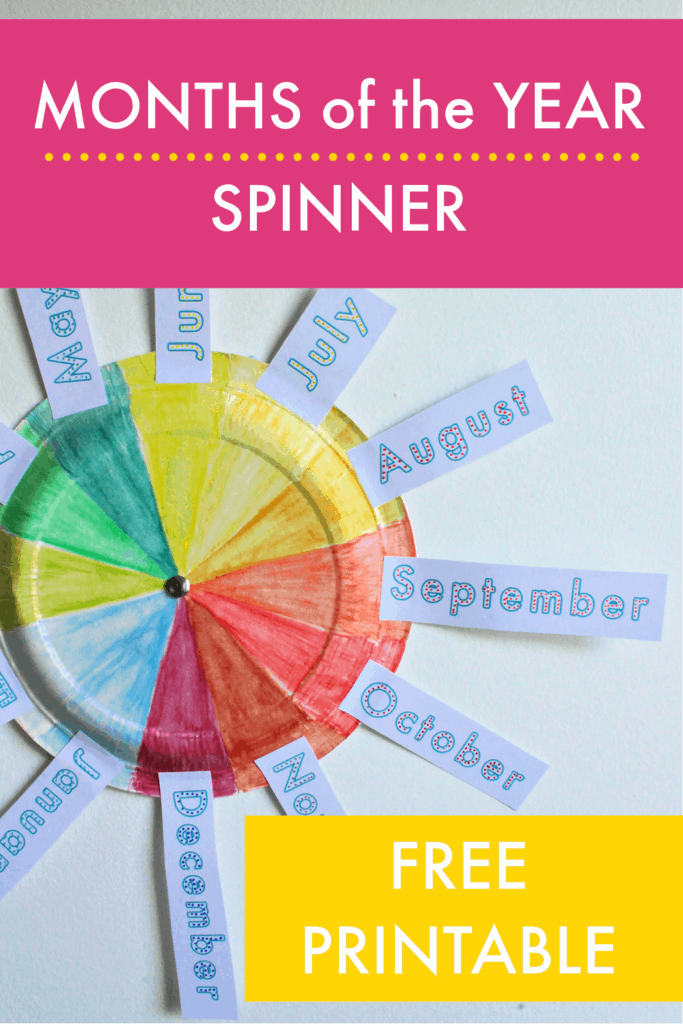 Free months of the year spinner printable
---
Magic Fun Math lessons!
Fun Math is an easy to teach, highly effective math curriculum based on play and hands-on learning.
All the lessons are designed to be fun and memorable, so children enjoy their lessons and feel confident.
The lessons are easy for teachers and parents to use, in class or at home.
These are the magic lessons where children really see, understand, and can apply math concepts. They are especially suited to children who don't like math, lack confidence, don't understand math the way they are currently being taught, or just want to play.
SEE MORE AND TRANSFORM YOUR MATH TEACHING HERE.
---
NurtureStore always provides you with the fun, creative lessons to help your children learn in effective, hands-on ways. Alongside our Time Unit, you can make this Months of the Year spinner to add to your learning space, giving your children a clear visual representation of the passing of the year.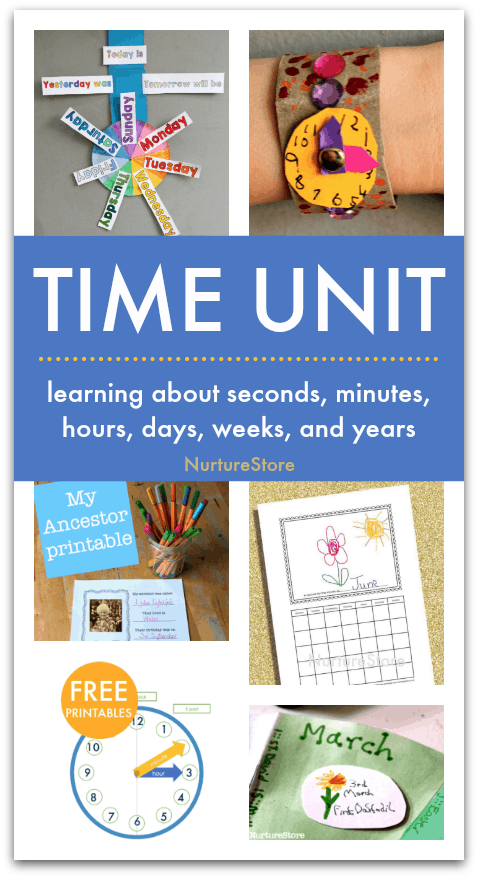 Our Time Unit is part of our year-round unit study-based Homeschool Curriculum. This unit is also available as a pack you can download and print out. You'll get all the lessons, activities and all the printables. Click here to download a copy for free (Play Academy members only – to become a Play Academy member click here).
Alternatively, if you're not a Play Academy member, you can purchase this unit as a stand alone item here.
Materials needed
:: Months of the Year Spinner printable (see below for how to print this from the Maths Printables section of NurtureStore's Free Printables Library)
:: scissors
:: coloured pencils, pens or paint
:: paper plate or circle of thick card
:: glue stick
:: split pin
:: large piece of card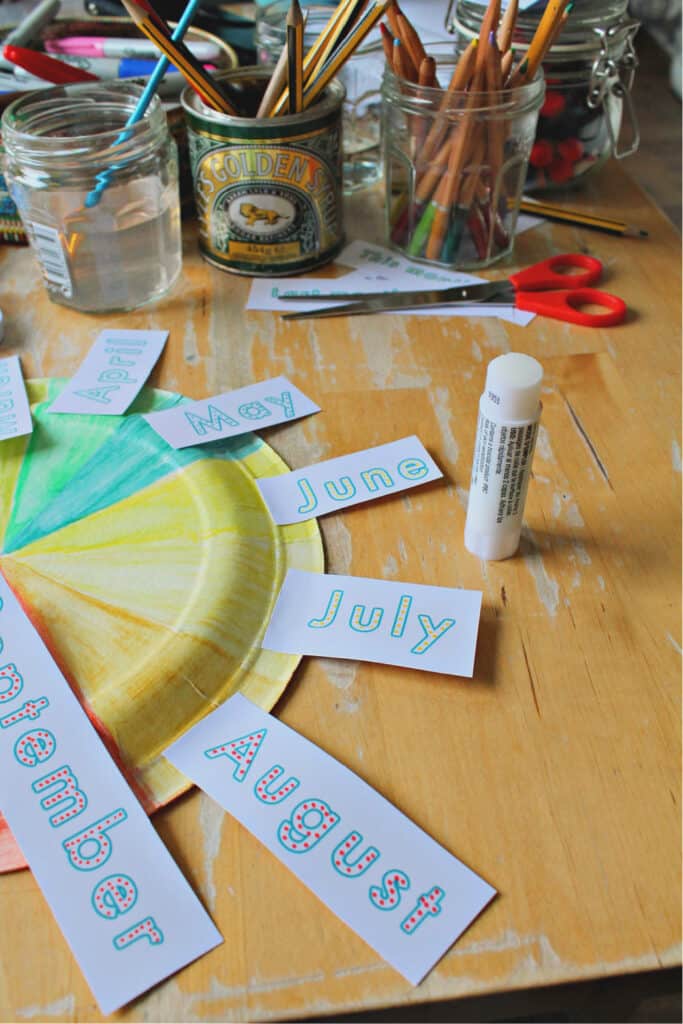 How to make the Months of the Year Spinner
Print the free Months of the Year Spinner from the Maths Printables section of NurtureStore's Free Printables Library (see below).
Cut out the months of the year labels and the three heading sections.
Use colours pens and pencils to colour in the names of the months. Dots are a fun and quick way to colour them in. Each child can make their own or you can work together to make one spinner for your classroom wall.
Divide your paper plate (or circle of thick card) into twelve sections (30° each, but you don't have to be completely precise).
Use coloured pens, pencils or paint to colour each of these sections to make the twelve months of the year. You might like to use cold colours (blues) for the winter months and warm colours (yellow and orange) for the summer months. Spring months can be green and autumn months can be red-brown.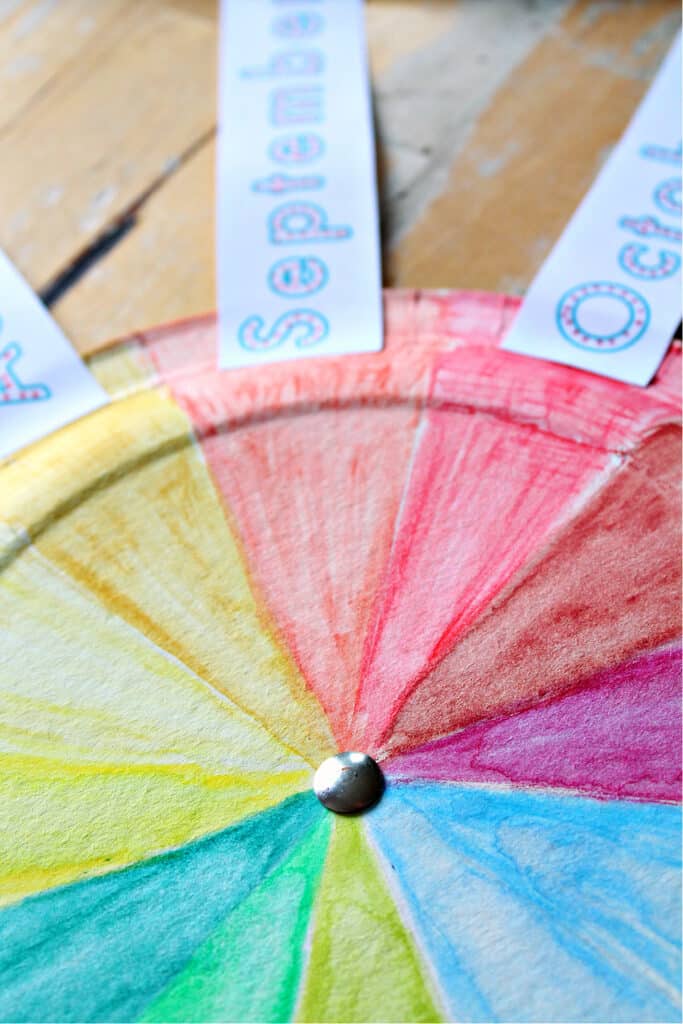 Lay out the months name labels in order. Use a glue stick to fix the months name labels to the right section of the paper plate.
To animate your spinner, use a split pin the the centre of the paper plate to fasten the spinner to a large piece of card. You can stick the "This month is…", "Last month was…" and "Next month is…" labels at the top. Now you can spin the months' wheel as you follow time through the year.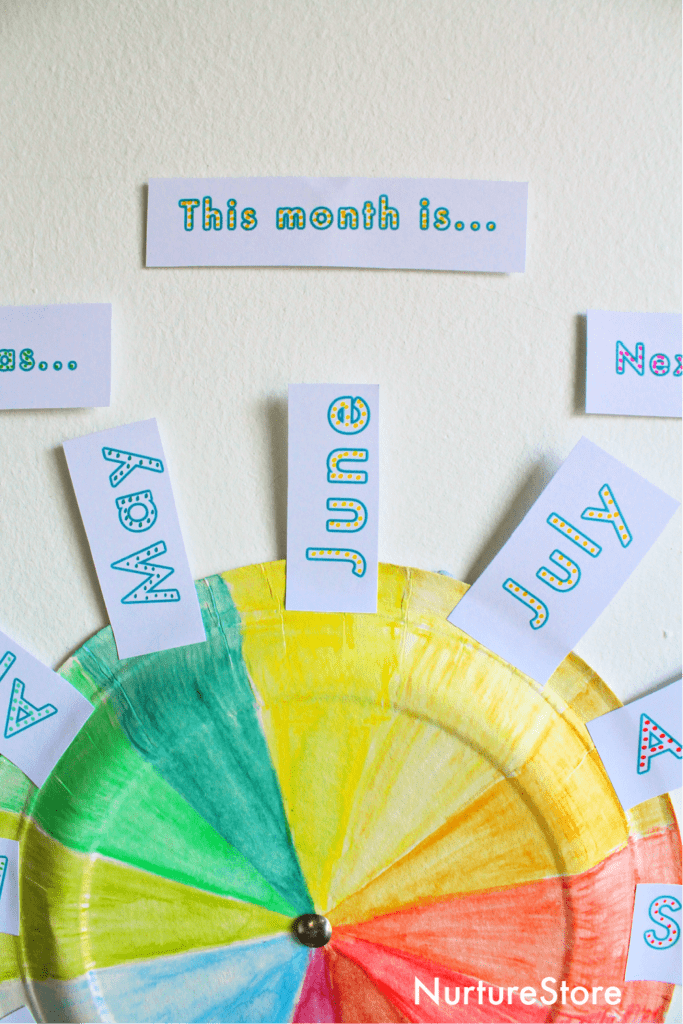 How to use the Months of the Year Spinner
Chat with your children about the twelve months of the year, how they fall into seasons, and how things change through the year.
:: What's the weather like in January?
:: What grows in their garden in July?
:: What do they celebrate in October?
:: What do they like to eat in December?
You can use the spinner, along with my Days of the Week spinner, in your morning circle time to talk about where you are in the week and the year.
Use the spinner as a visual aid when you are chanting the months of the year, to learn all the names in order.
Cut our photos of your children's faces and stick them to the month section where their birthday falls.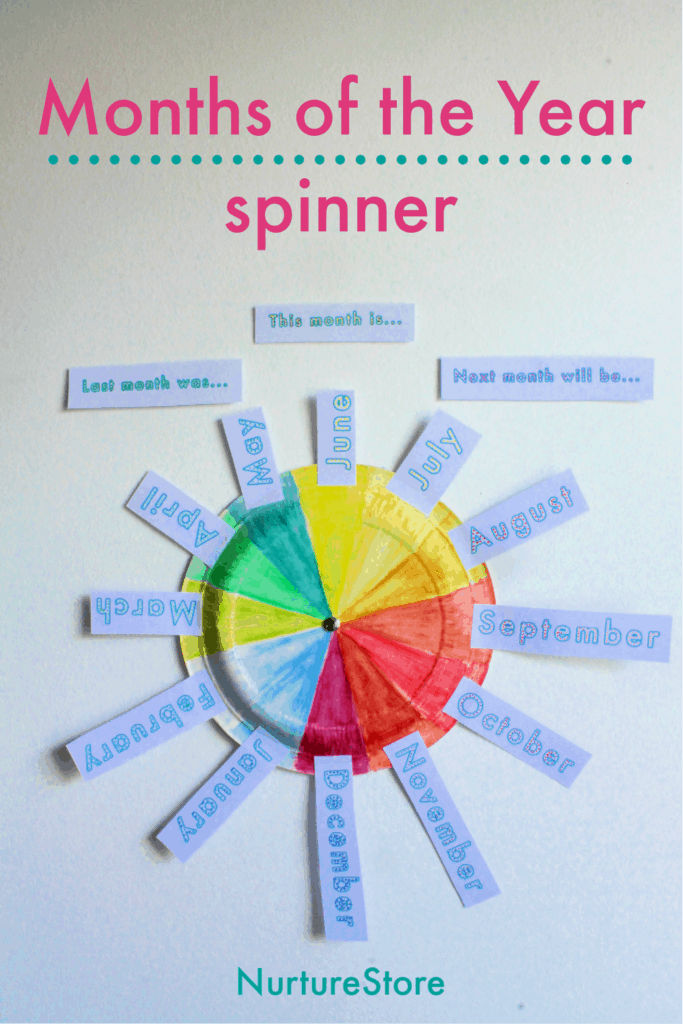 How to get our free printables
To download my free printables, you'll need to visit the NurtureStore Printables Library, which is available to all subscribers to my email list, and of course to Play Academy members.
Pop your email address in the form below and you'll get access to all my free printables, lesson plans, activity ideas, weekly newsletter, and a whole lot more!
After subscribing, be sure to check for the confirmation email. After you confirm your email subscription, we'll send you a welcome email which includes instructions for downloading our free printables.
If you're already subscribed to our email newsletter: check your email for the latest edition of the newsletter where you'll find a link to access our free printables library - the link is usually at the bottom of the email.
For help accessing our printables, click here.
---
By subscribing, you consent to our use of your personal data as per our Privacy Policy, which includes agreeing to receiving interest-based email from us.
---
---
Transform your teaching with Fun Math
The Fun Math series gives you a math curriculum that is easy to teach and highly effective.
Children love these lessons because they are engaging and fun.
You'll have a clear set of ready-made math lessons and activities that are simple to lead using our step-by-step lesson guides, and which children really understand.
Be the best math teacher and boost your children's confidence and skills with Fun Math.
See more and transform your teaching here.
---