Let's make art with geometric shapes and primary colours in the style of the famous artist Piet Mondrian.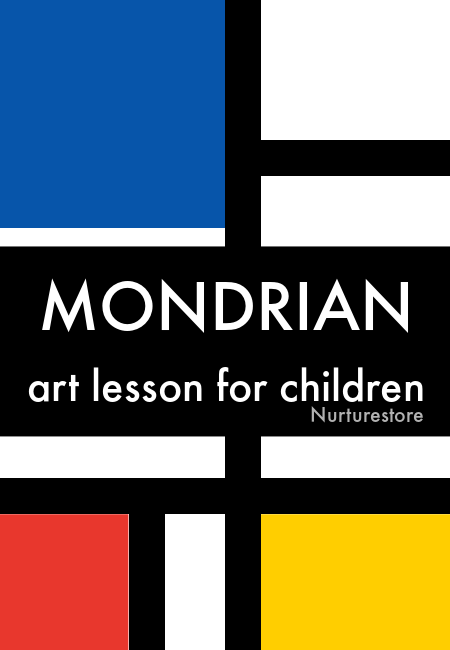 Mondrian art lesson for children
In this famous art lesson for children we are learning about the Dutch artist, Piet Mondrian, and creating abstract art inspired by him in primary colours and geometric shapes.
This project is part of our art lessons about famous artists.
In this article you can:
:: learn about the famous artist Piet Mondrian and see examples of his art
:: learn about De Stijl art and create your own art project inspired by it
:: learn about primary colours, composition, geometric shapes, and horizontal and vertical lines
:: find links to more famous art lessons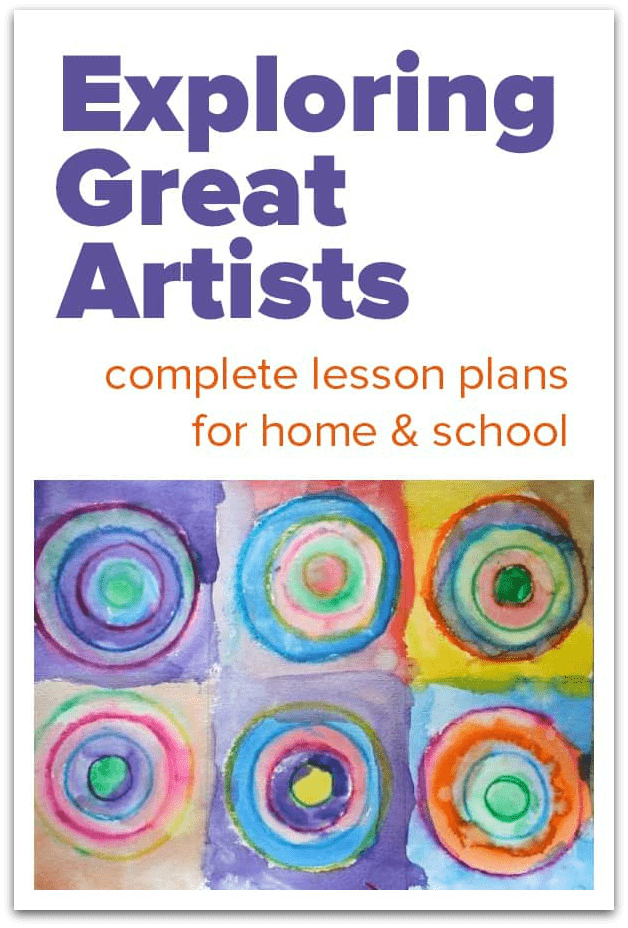 Ready-made famous art lessons for children
Use our ready-made art lesson plans to make art with Picasso, Miro, O'Keefe, Van Gogh and many more.
Our Exploring Great Artists curriculum gives you everything you need to teach an exciting art program inspired by the great artists of the world. You'll have profiles of each artist, materials lists, lesson plans, and creative, hands-on art projects for every featured artist, so you can easily deliver the best art lessons around.
See more details and choose your first famous art lesson here.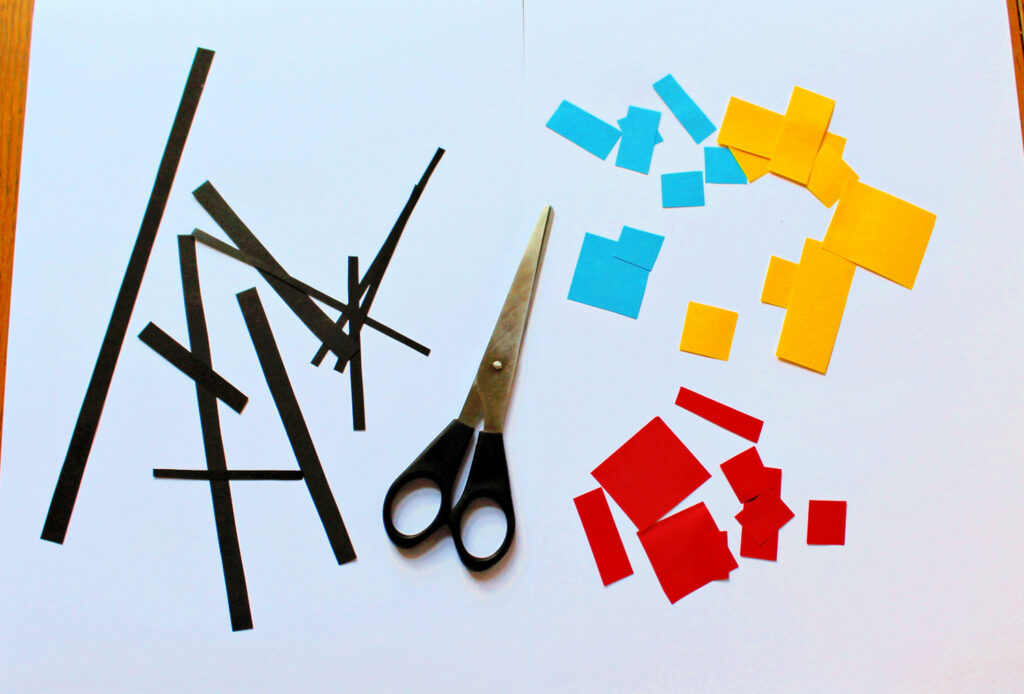 Materials needed
:: white card
:: black card or black paint
:: ruler
:: paint, markers or paper in primary colours of red, yellow and blue
:: Christmas Bauble printable, if you are joining this lesson as part of NurtureStore's Ten Days of Christmas Art Baubles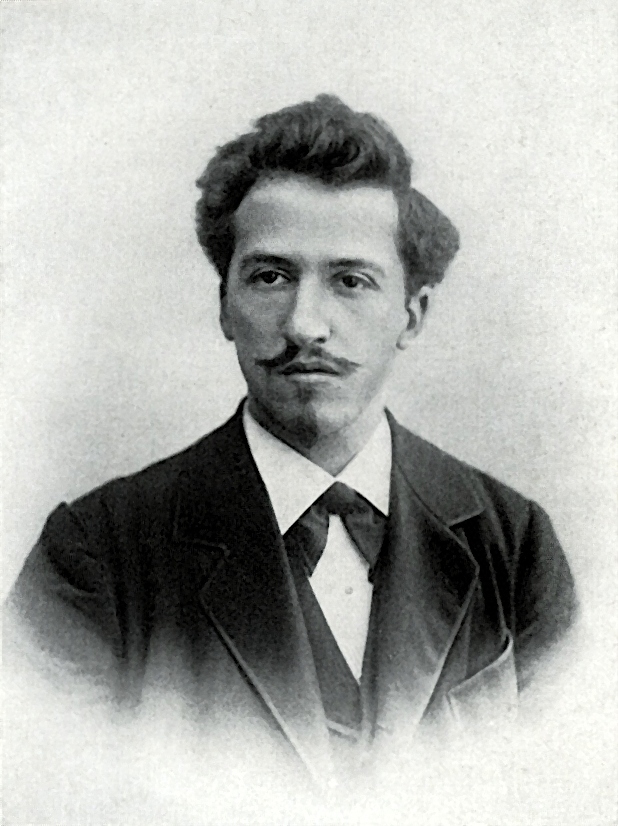 Meet famous artist Piet Mondrian
Piet Mondrian was a Dutch artist. He was born in Amersfoort, Netherlands in 1872 and died in New York city in 1944. He was a member of the De Stijl art group.
He is famous for his abstract art paintings. Abstract art is art that does not try to show realistic or recognisable pictures, such as of people or flowers or buildings. Abstract art uses shapes, colours and textures to make art.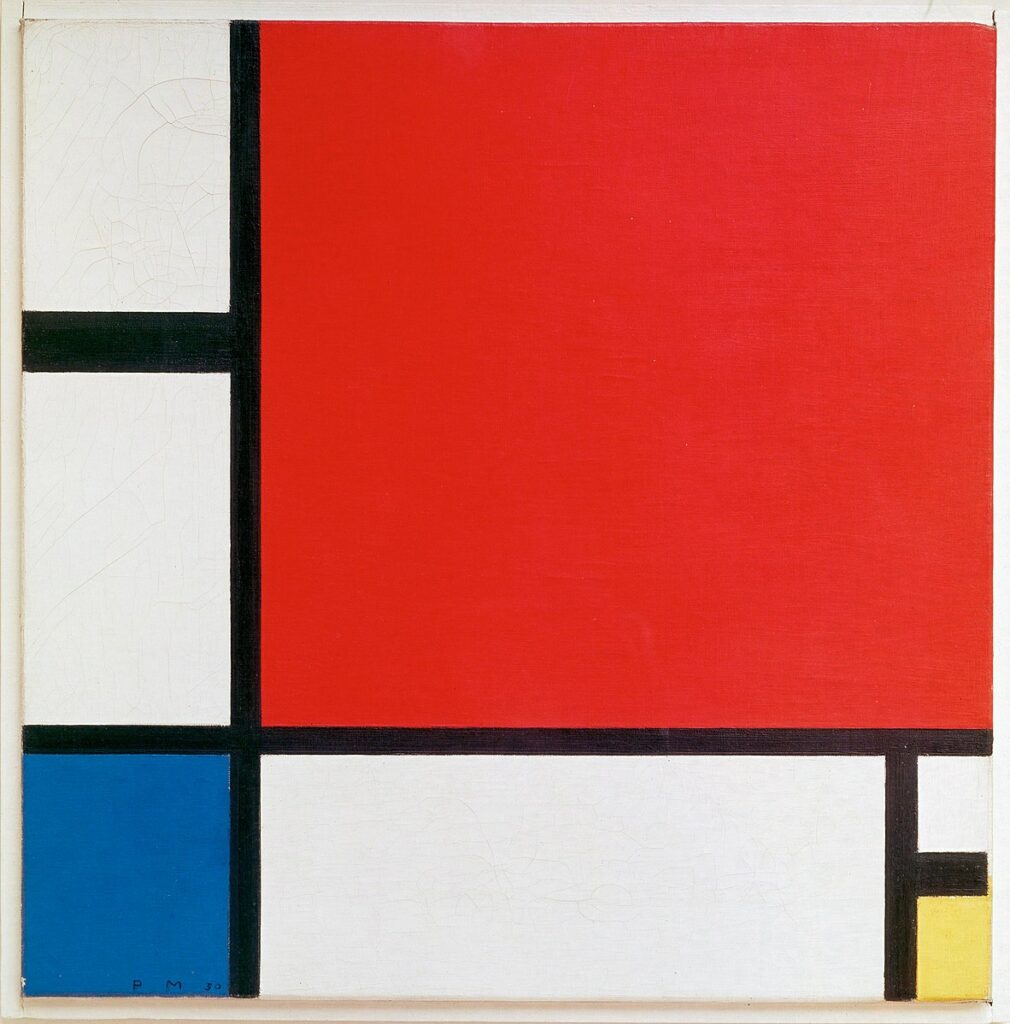 Mondrian's art used straight, horizontal and vertical black lines on a white background, and rectangles and squares of primary colours (red, yellow and blue).
He always mixed his own colours of paint, never just using the paint straight from the tube, and he never used a ruler to measure out his lines.
He was careful about the composition of his paintings. Composition means the arrangement of shapes and images an artist chooses. Mondrian thought carefully where to place the lines and colour blocks in his paintings, often placing the colour blocks at edges, not at the centre, of his work.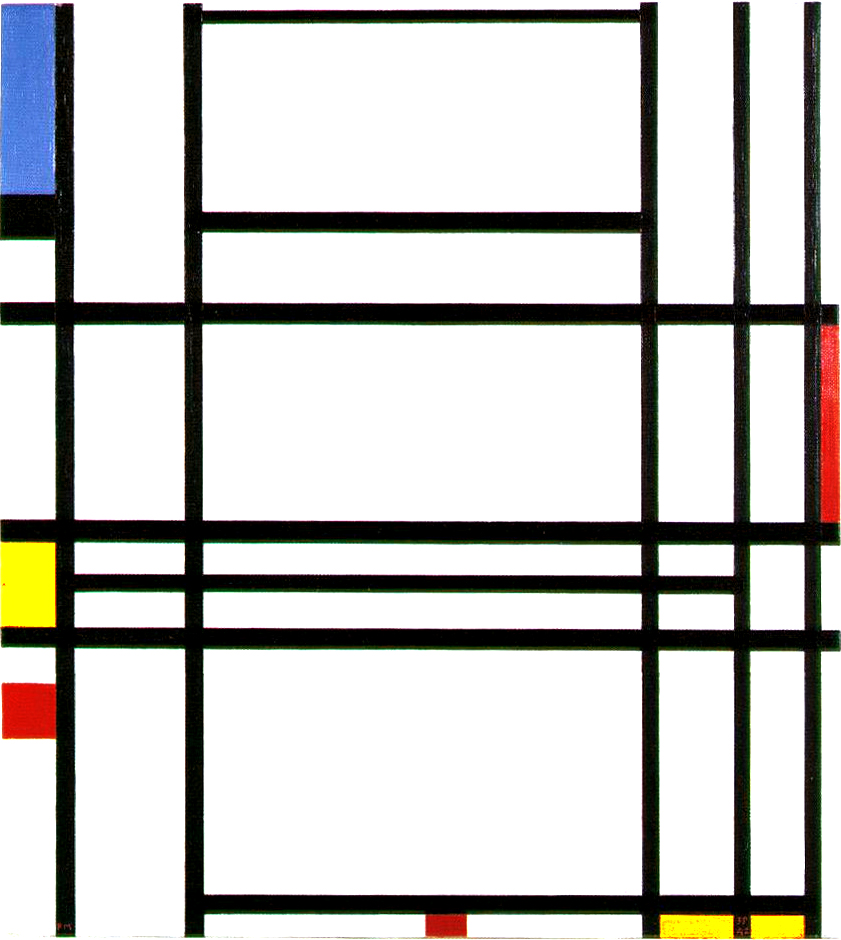 Examples of Piet Mondrian's art
Take a look at these examples of Piet Mondrian's art. As you look at them, answer these questions:
:: What can you see?
:: What shapes can you see?
:: What colours can you see?
:: What does the painting make you think of?
No. VI / Composition No.II, 1920
Composition II in Red, Blue, and Yellow, 1930
Composition B (No.II) with Red, 1935
Composition with Yellow, Blue and Red, 1937–42
How to make art in Piet Mondrian style
Our art project inspired by Piet Mondrian will be using the three main motifs of his style:

:: we will create our piece on a white background
:: we will be using straight, black lines that are horizontal and vertical
:: we will be adding geometric blocks of primary colours: red, yellow and blue in rectangle and square shapes
Depending on the age of your children and the techniques you wish to explore, there are three variations of this project.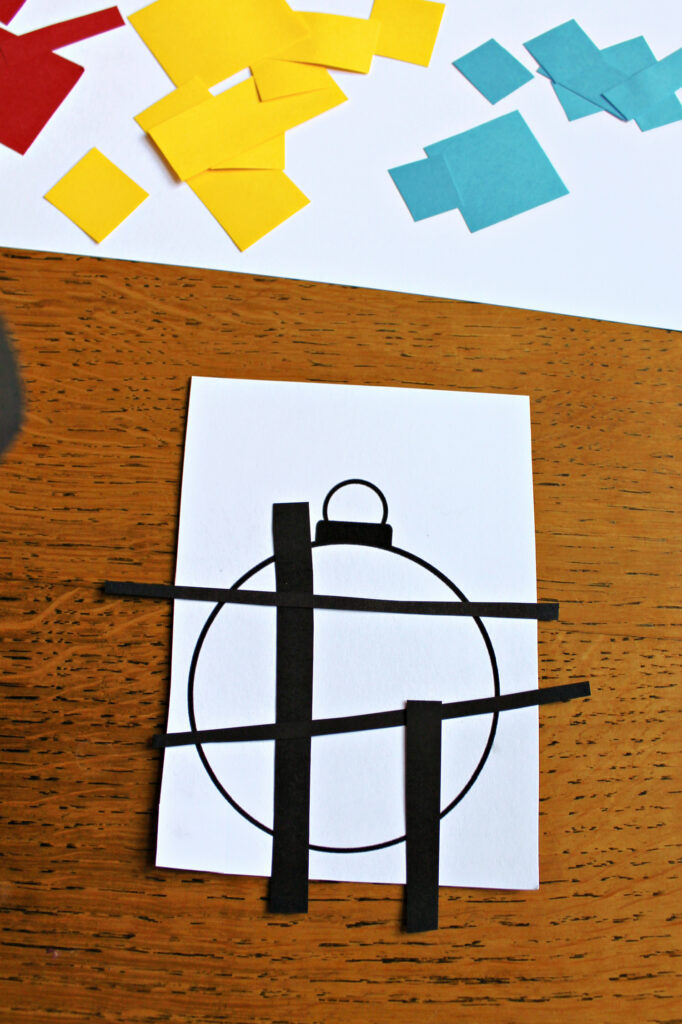 Piet Mondrian collage project
To create collage art inspired by Piet Mondrian you will need a white piece of card.
Begin by laying out a grid of black lines on your white card. You may like to prepare strips of black card for your children to use or invite them to cut out their own strips.
Once your children are happy with their arrangement of black lines they can stick them in place with glue. Glue sticks are a mess-free option here.
Then your children can add a few blocks of primary-coloured card to their design. Again, you might like to prepare rectangles and squares of card in yellow, red and blue, or invite your children to cut out their own. These blocks of colour can be stuck down using glue.
Variation: use black strips and primary-coloured rectangles and squares of cellophane on a light table or over-head projector.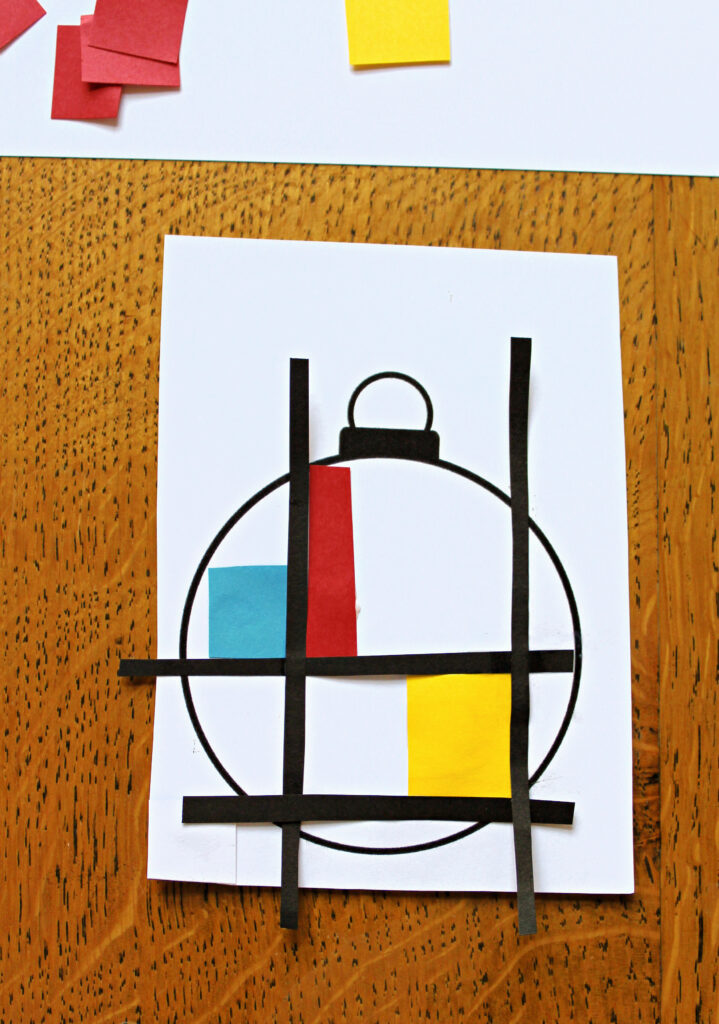 Piet Mondrian colour project
If you would prefer, you can create a Piet Mondrian art project using paint or marker pens.
Use a white piece of card.
Use a ruler to draw overlapping, horizontal and vertical, straight lines, using a black marker pen or a paintbrush with black paint, to create a grid.
Select a few rectangle or square spaces in the grid and colour them with red, yellow or blue marker pens or paint.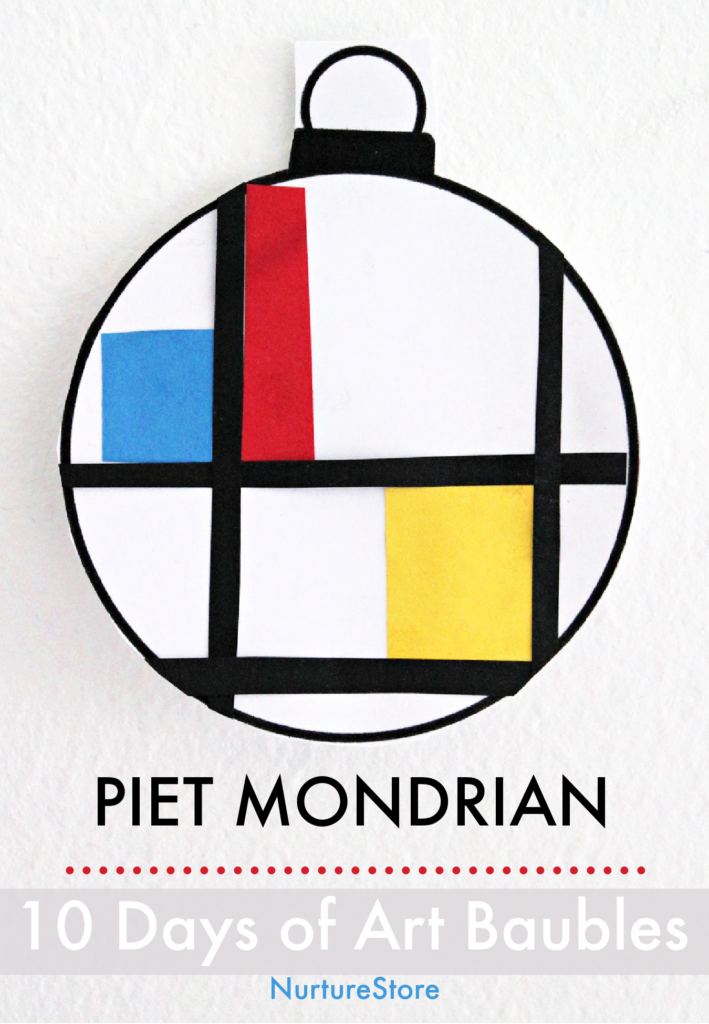 Piet Mondrian Christmas bauble craft
Join our Ten Days of Christmas Art Baubles and create a Piet Mondrian bauble!
Use our Christmas bauble printables in place of a piece white card to create your art.
Paint, draw or collage black, vertical and horizontal lines on the bauble.
Add a few squares or rectangles of pen, paint or card in the primary colours of red, blue and yellow.
Cut out the bauble from the printable and hang it up on the wall or Christmas tree as part of your Christmas art decorations.
>>> NurtureStore is hosting ten days of art lessons making Christmas art baubles, with ten different designs inspired by famous art and interesting process art techniques. We're learning about Piet Mondrian, Wassily Kandinsky, Yayoi Kusama, Georges Seurat, and Alma Woodsey Thomas, plus exploring marbling, wax resist, squeegee art, printing and collage techniques.
See all the Ten Days of Christmas Art Baubles lessons and get your free bauble printables.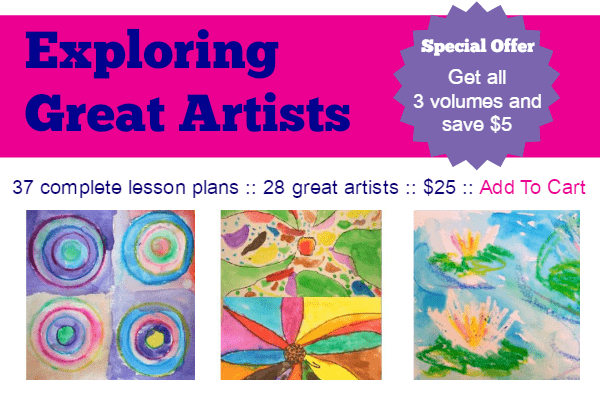 More ready-made art lessons about famous artists
Use our Exploring Great Artists lesson plans to teach a full programme of art lessons based on famous artists. Your children can learn art history while making their own art inspired by the famous artists of the world. All the projects use simple materials, introduce children to interesting art techniques, and can be done in school or at home. See more details and get your copy of Exploring Great Artists here.
Plus, enrich to your art lessons with our Diversify Your Art Curriculum resources, featuring ready-made lessons on contemporary artists of colour from four continents. Great projects your children will love! See more details and get your copy of Diversify Your Art Curriculum here.