Here's a kids art idea that you can try at home using recycled items that you'd otherwise throw away – we're up-cycling and exploring texture to make touchy feeling patchwork pictures.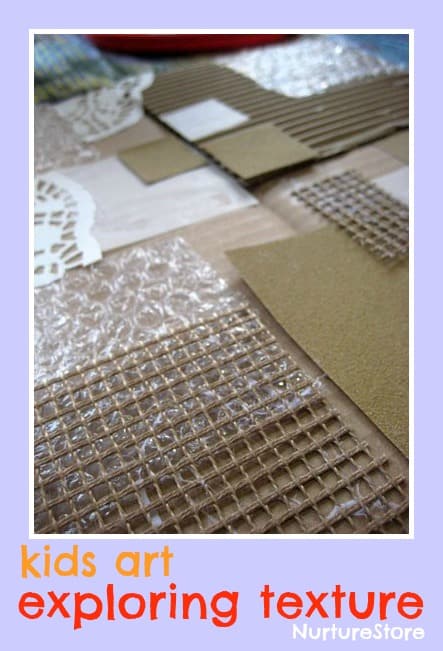 Kids art : exploring texture
We started off with some big pieces of strong card, packaging from a book delivery. It's really nice sometimes to have a big space to use and as we're going to be painting over the texture pictures I wanted the children to have enough room to make big, wide strokes over the textured surface.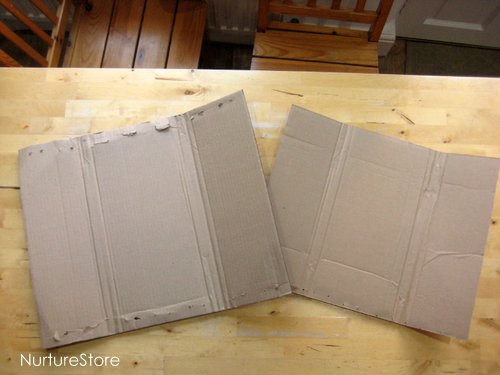 Then we hunted out some materials that had all sorts of different textures. Most of this came from our junk model box and collage papers, all recycled materials that we collect – a free supply of art materials!
We found corrugated card, tracing paper, wire mesh, bubble wrap, polystyrene pizza bases, sand paper, doilies, and plain paper.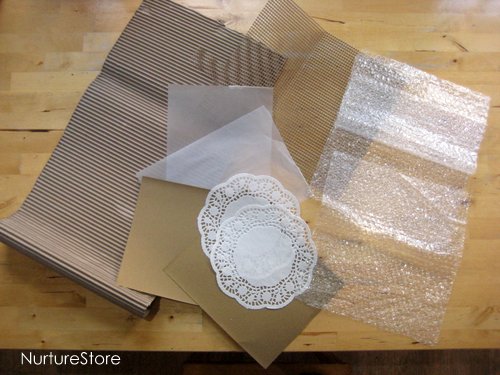 It's great to find materials that have a strong contrast in texture, like the corrugated card and bubble wrap, but also interesting to include things with a close difference in texture, such as fine and course sandpaper. The children can handle all the materials and explore them with their fingers.

Then we started to cut out patchwork shapes to cover our boards…

and stick them on. We use glue sticks, which were strong enough to hold the materials in place without being so liquid that they distorted any of the finer papers. It also dried quickly, so we could add paint.
It's interested to see the children decide which shapes to cut out and where to place them on their card. There's lots of mathematical language that can be encouraged if you chat about shapes, sizes, in the middle, at the top, behind, at the front…

We overlapped some of the materials to build up layers.

and the finished art was a glorious mix of textures that was as interesting for the fingers to explore as for the eyes.

Come back later this week and I'll show you want happened when we added paint.