Reviving a traditional English craft, here's how to make a corn dolly craft, perfect as a harvest celebration activity for children.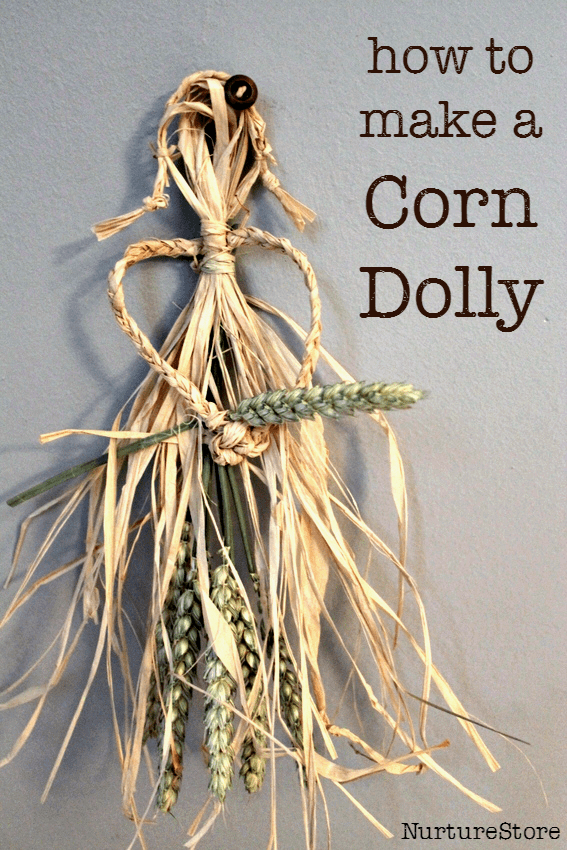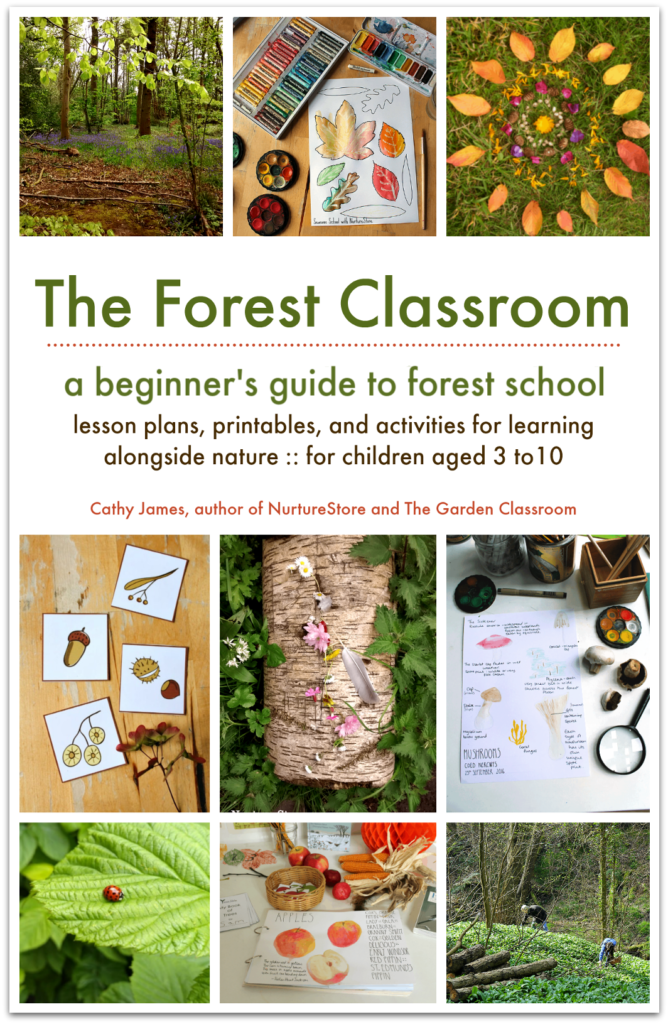 Ready-made forest school lesson plans
Have you got your copy of The Forest Classroom yet? It is the perfect beginner's guide to running a successful forest school. Download your forest school guide here.
A forest classroom is a place of adventure, discovery, and imagination. It can also be a wonderful place to learn about math and science, explore art and crafts, and develop language and social skills.
The Forest Classroom is a practical guide which will show you how to engage your children in fun and educational forest-school activities.
These ready-made forest school lesson plans are suitable for forest school leaders, teachers, childcarers and parents with children aged 4 to 10, to learn in a forest, school nature area, local park or your own backyard.
Get your copy of The Forest Classroom here and you'll be ready to head straight outdoors and enjoy teaching, using our ready-made lesson plans.
---
How to make a corn dolly craft for a harvest celebration
I remember making corn dollies as a child for our school harvest festival. They are a traditional English craft (and across Europe), made using wheat, oats, rye or barley, and are associated with a celebration of the harvest.
They were thought to give the Spirit of the Corn a home to live in over the winter, as the corn in the fields was harvested, and are used as decorations in harvest festivals.
There are many different traditional designs, but here are three simple ideas that you can use to make corn dollies with children.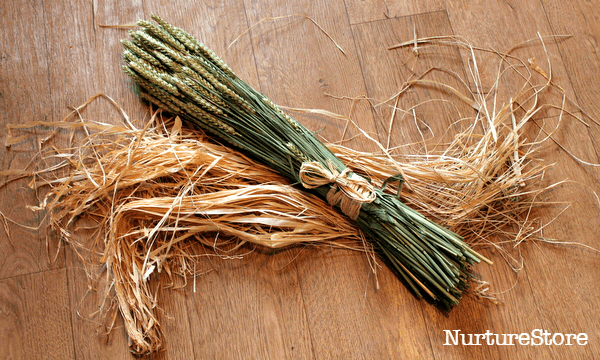 We used wheat and raffia for our corn dollies. You can find online suppliers on both Amazon and eBay.
They are lovely natural materials to use. The children really enjoyed working with them, and were interested to see flour in its original form.
We have wheat fields near to us but this was the first time they had seen the crop close up.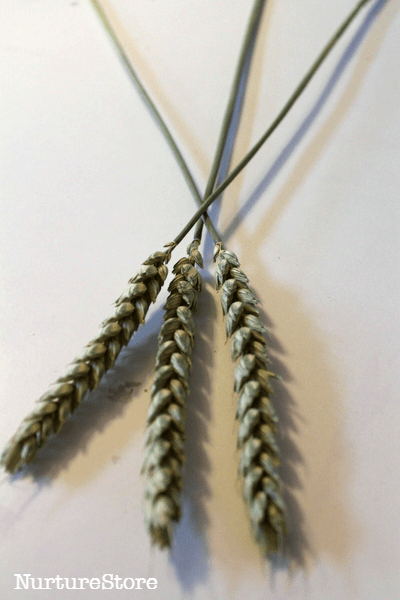 A simple corn dolly craft
For our first simple corn dolly design, we used a plait. This is an easy way to make a corn dolly, so perhaps the best project for younger children. If you can plait (braid), you can make this. It's a great workout for fine motor skills too.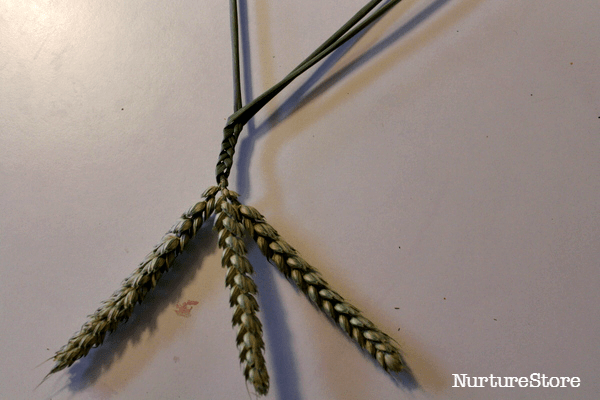 Take three pieces of wheat and cross them as shown in the photograph. (Soaking the wheat in water for a while before you begin your craft can help them have more suppleness, making them easier to work with.)
Then plait your wheat in the same way you would plait hair, bending the wheat stems over each other to make your braid.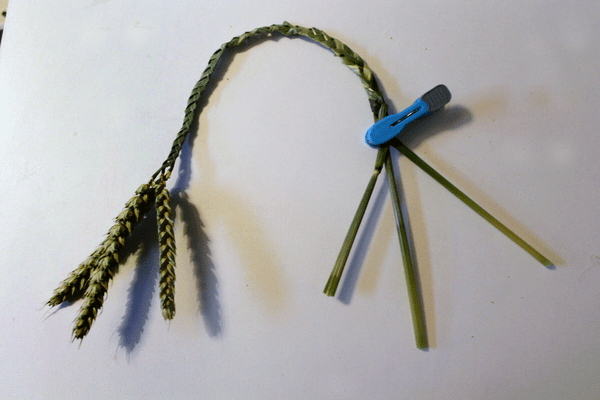 Keep plaiting along your wheat, leaving a section of each stem at the end so you will be able to tie your corn dolly. Top tip: you can use a clothes peg to hold your plait in place while you gather your materials to fasten it.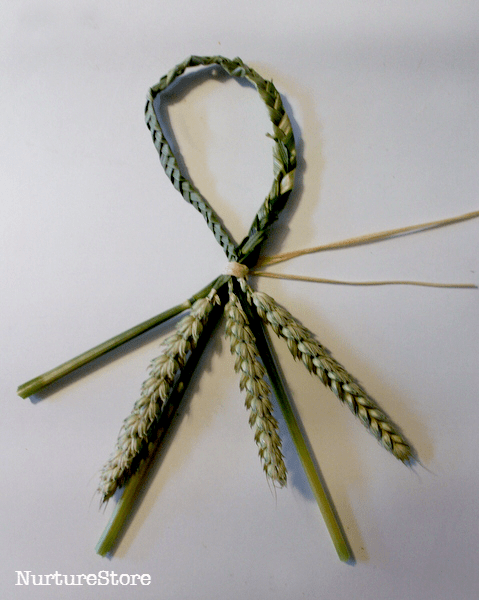 Curl your plait around, and use a piece of raffia (or string) to tie it in place. Cut the plain ends of your wheat to neaten them and then add a ribbon to decorate your corn dolly.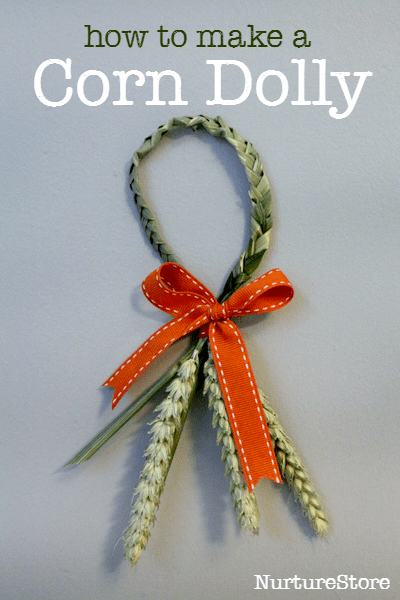 Heart-shaped corn dolly design
As a variation, you can use this same plaited technique to make a heart shaped corn dolly. Use six pieces of corn rather than three, and split them into two groups of three.
Plait each group of three to make two braids.
Bend each braid to form the two halves of a heart, and tie them in place with raffia as with the simple corn dolly above. You'll see in the photograph below that one of the ends of corn stalk is tied into the bottom point of the heart shape. This helps to hold the heart design in place.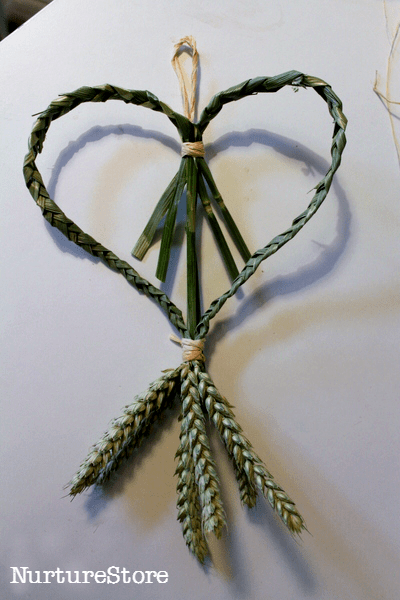 A corn dolly doll
To make a corn dolly that looks like a figure, use raffia to make the head and body. Looping over the raffia creates the head, tied in place with an extra piece of raffia.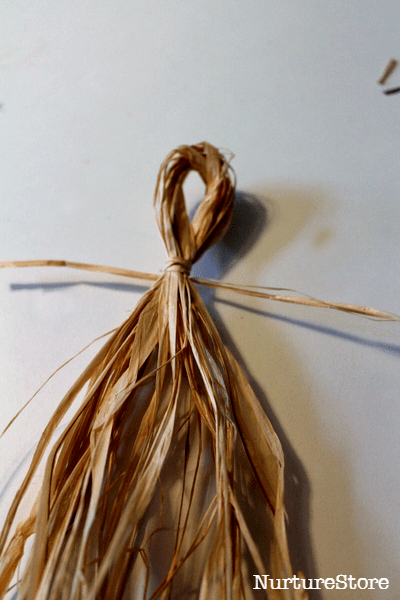 A braid of raffia can be used to make arms, and then you can play around with the design and have fun adding hair, and other accessories: a button hair clip, some ears of wheat to add detail to her dress, or a piece of wheat for your dolly to hold to symbolise the harvest.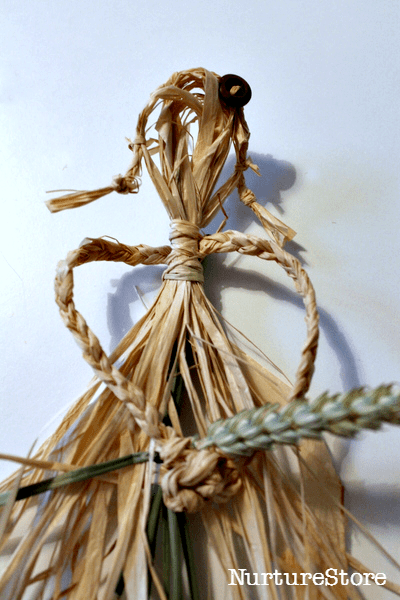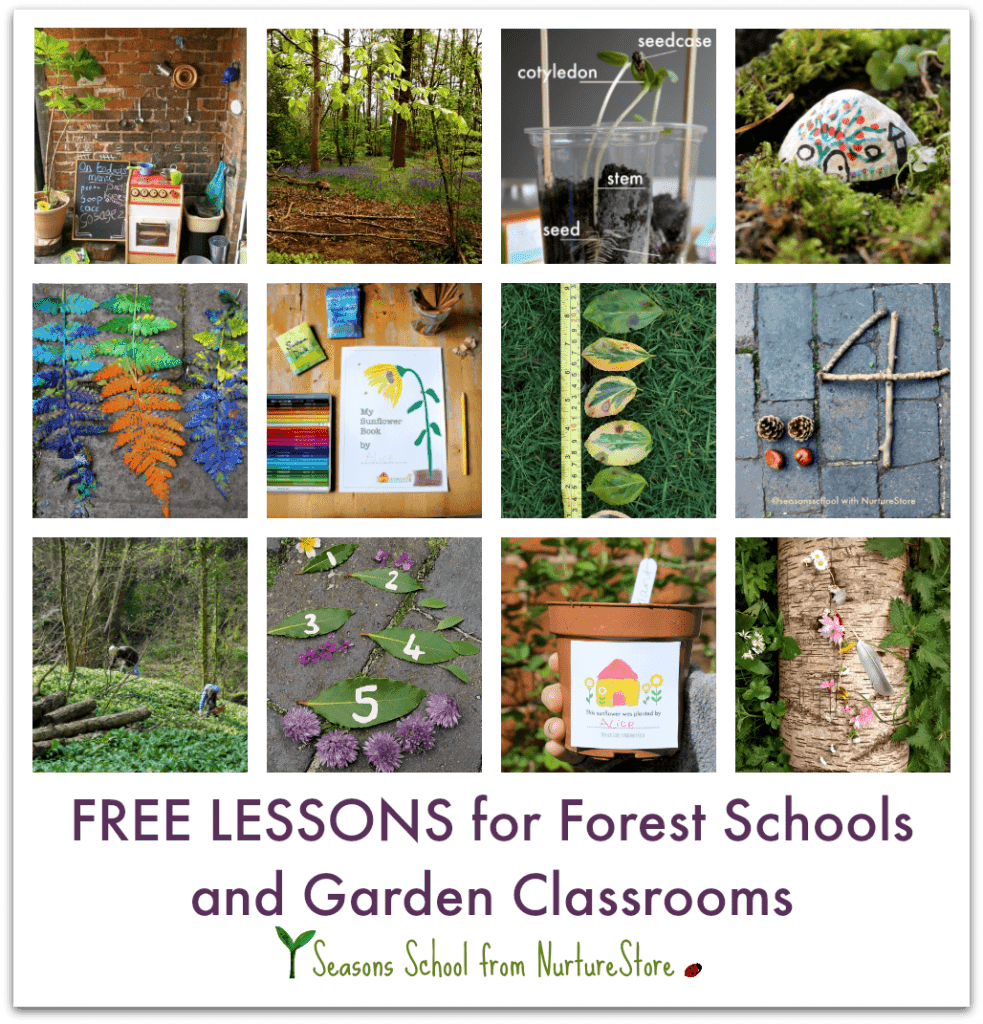 Free Forest School and Garden Classroom resources!
Join my weekly email service and I'll send you FREE printables, lesson plans, and activity ideas that you can use with your children in your forest school and garden classroom.
Seasons School is NurtureStore's year-round program of living and learning with nature. Our activities and resources focus on hands-on, nature-based learning that connects children with the natural environment.
If you're looking for nature study lessons, arts and craft projects, campfire recipes, foraging ideas, outdoor math and literacy activities, outdoor games, and ways to explore forests, gardens, and outdoor spaces - think of NurtureStore as your forest fairy godmother!
Whether you're in a forest school or outdoor classroom, running a school gardening club, bringing nature lessons into your class, home educating with nature, or wanting to connect with the great outdoors at the weekend, you will love the Seasons School ideas.
Pop your email address into the box below and I'll send you your free resources.
---
By subscribing, you consent to our use of your personal data as per our Privacy Policy, which includes agreeing to receiving interest-based email from us.
---