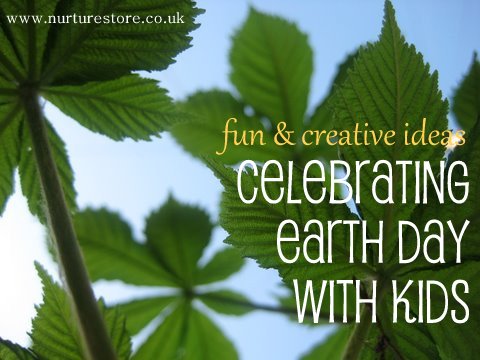 Are you celebrating Earth Day with your children this Friday 22nd April? It's a great opportunity to review your family life and see what changes you can make to go green. Here are some ideas for an eco-audit of your play.
REDUCE
How many toys do you really need? Instead of a house full of more and more plastic, concentrate on a small selection of 'open-ended' toys that can be used in lots of different ways: wooden blocks, stacking cups, small world people & animals.
Borrow rather than buy new things. In addition to borrowing books from your local library how about borrowing from your nearest toy library too? The USA Toy Library Association or the  National Association of Toy and Leisure Libraries in the UK can help you find your nearest branch.
You could also start a toy swap amongst your friends to pass on items as your children grow or lose interest in particular toys.
RE-USE
How about re-purposing items around the house and garden for your children to play with? My girls love playing with clothes pegs, shoe boxes, fircones, pebbles and other un-toys… Zero airmiles, zero packaging, free and full of opportunities for creative play.
In the UK you could access Scrapstore, a charity which collects safe business waste for re-use as craft and play supplies.
You can promote 'going green' in your children's pretend play too. I love it when my girls are playing shops and I hear them saying 'I don't need a plastic bag thank you, I've brought my own'.
RECYCLE
Saving yoghurt pots and egg boxes to make a craft box is an essential in a crafty home, and gives your household waste a second life. How about including tin foil, old wrapping paper and chocolate wrappers too.
You can collect all the off-cut bits of paper and cardboard after a craft session and save them in a special 'collage' box to use in future projects instead of sweeping them straight into the bin.
If you're anything like us you'll have a constant demand for paper to draw on. You can open up cereal boxes and use the reverse-side of letters instead of always buying new.
For more ideas to celebrate Earth Day with your children, come back tomorrow when we'll be sharing our favourite junk modelling ideas. You can also find some wonderful ideas for environmentally-friendly story books over at Playing by the Book and Good Books for Kids (but remember to borrow them from the library rather than buying them new!)
What other things do you do to promote Earth-friendly play? I'd love to hear your ideas.
happily shared with Share your Sunday best and  we teach and  Friday's nature table