This week's Go Play! showcase features Anna from The Imagination Tree. Anna is a regular contributor to our Play Academy idea swap and blogs some wonderful ideas for babies and toddlers. Here she is to tell you more about The Imagination Tree.
Tell us about yourself.
My name is Anna Ranson and I'm an Early Years specialist teacher from the UK. I taught Reception classes for many years  at a large city school, co-ordinating the Early Years team and helping to transform our department into one of the best in the borough by having a child-centred, play-based approach to teaching and learning. I then left work to start the hardest job I've had to date i.e. looking after my own children at home! I started The Imagination Tree blog as a creative outlet and a way to share some of the ideas and activities we were getting up to together. I have been amazed by the plethora of fantastic ideas on other websites working with young children. The internet is a fabulous resource! I have worked for a long time with a good friend and excellent early years teacher Sue Rogers, who is soon going to be co-authoring the blog. She is now an Early Years consultant and has a wealth of teaching experience and a wonderful understanding of how young children learn. The blog is going to continue to be about activities for babies and small children, but there will also be a resource bank of planning and teaching ideas for early years educators to dip into. I'm very excited about this next stage of the project!
What's your play philosophy?
Play should be fun, creative, child-centred, open-ended, imaginative and relevant to each child's level of experience in the world. It does not need to be planned or dictated, but parents and educators do need to make sure that there are a wealth of resources and materials for children to use that will enhance rather than limit their play experiences. More often than not these are simple, everyday, junk materials that can be turned into absolutely anything, using the power of imagination. When a child is bored of something, it should be left and new ideas pursued, starting with the child's current interests and abilities. Play should happen both inside and outside as there is powerful research to suggest that most children's most meaningful play experiences and memories are created in the outdoor environment. We used to have these quotations framed in our classroom: "Imagination is more important than knowledge." (Albert Einstein) and "You don't stop playing because you grow old, you grow old because you stop playing." (George Bernard Shaw) They are just brilliant and sum it up perfectly!
Inspire us!
It was hard to choose what to share here because there are so many different things to choose from and we have enjoyed so many of them! But these are a few of our favourites: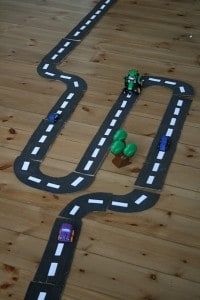 This DIY roadway was made using an old cardboard box and paint. I loved this because it shows what you can make from cheap materials and that will facilitate a child in a healthy dose of imaginary play.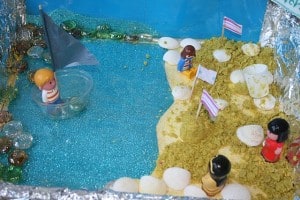 This is one example of the small world play scenes that we make for imaginary play. I absolutely LOVE making these and I think they are such a fantastic resource, especially in learning environments. Here is our small world beach scene: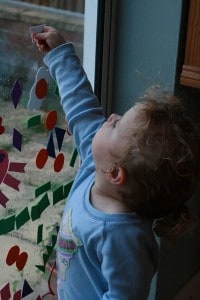 This one combines a craft and play and was very easy and lots of fun.
There are lots more ideas to explore over at The Imagination Tree so please do pop over to visit.
******Would you like to be featured in the Go Play! Showcase?******
If you blog about play and early learning, or have a site you think our readers would love, drop me a line at cathy (at) nurturestore.co.uk