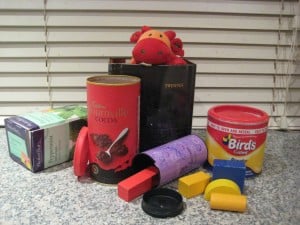 It's the half term holiday for us this week and I'm off out and about with the girls, so I thought I'd share a favourite idea from our archive with you today. Using some things from your kitchen cupboards you can give your baby a lovely sensory play time.
Have you thought about how your baby uses their sense of smell as they explore the world? Babies love tubs and pots to put things in and out of and with our aromatherapy box play idea you can give them a smelly sensory experience too.
Our SUPERbaby play series focuses on simple, playful ideas you can use with the youngest of children to have fun and encourage them to develop important early learning skills. The emphasis is on ideas you can easily fit into a busy week, using materials you'll have around your home. View all our SUPERbaby ideas here.