This week's Go Play! Showcase features the wonderful, creative ideas from Jude of Artful Adventures
Tell us about yourself
I am an artist and mum to two small boys. As long as I can remember, I have always loved drawing and making things. I studied Fine Art at university and have spent most of my career since then working in museums, galleries and historic houses, before giving it all up to look after my family. I am now trying to re-establish my artistic roots, and grow my business Artful Kids, which aims to create unique personalised wall-art by presenting children's own artwork at it's very best. My blog, Artful Adventures, started off life originally as a business blog, but has since developed something of an independent life of it's own. It is dedicated to children's art and includes creative projects, features, reviews and anything else which I think my readers might be interested in.
What's your play philosophy?
When it comes to creative play especially, (though I suppose most play might be described as being creative) I believe that you should never impose or interfere too much. Even though I love creative activities, if my 2 boys don't want to take part I don't push them to do so, though I do make sure I provide them with plenty of opportunities.
I believe that children should be encouraged to have their own ideas, to explore and experiment. Children should be allowed to take the lead as far as possible – adults are there to help, encourage and facilitate. In art especially there is no right or wrong, and everyone needs to find their own approach. It can be very tempting sometimes to interfere if a child is not doing something quite as you planned it, but it is an impulse that I think it's important to resist. I also think it's important not to be too afraid of mess. Messy play is good – just try and control it as much as possible for your own sanity.
Inspire us!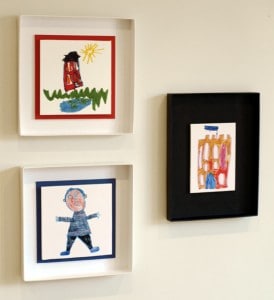 This is a simple way of displaying children's artwork, cheaply and effectively – it also means you can recycle some old boxes.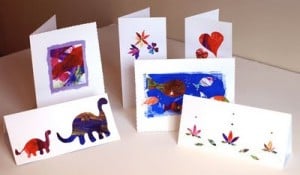 Valuing and Using Kids' Artwork
Easy ways of re-using some of the piles of children's artwork that you collect if, like me, you find it difficult to throw away!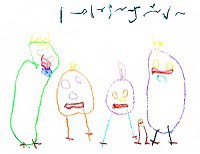 A post which looks into some of the research behind the interpretation of children's drawings, and what they can reveal about your child's personality.
Are you passionate about children's play and crafts? Would you like to have your blog or website featured here? E-mail me to say hi and tell me about your site: Cathy (at) nurturestore (dot) co (dot) uk for more details