This fun question marks lesson plan comes with free printables to help your children learn and remember when to use a question mark.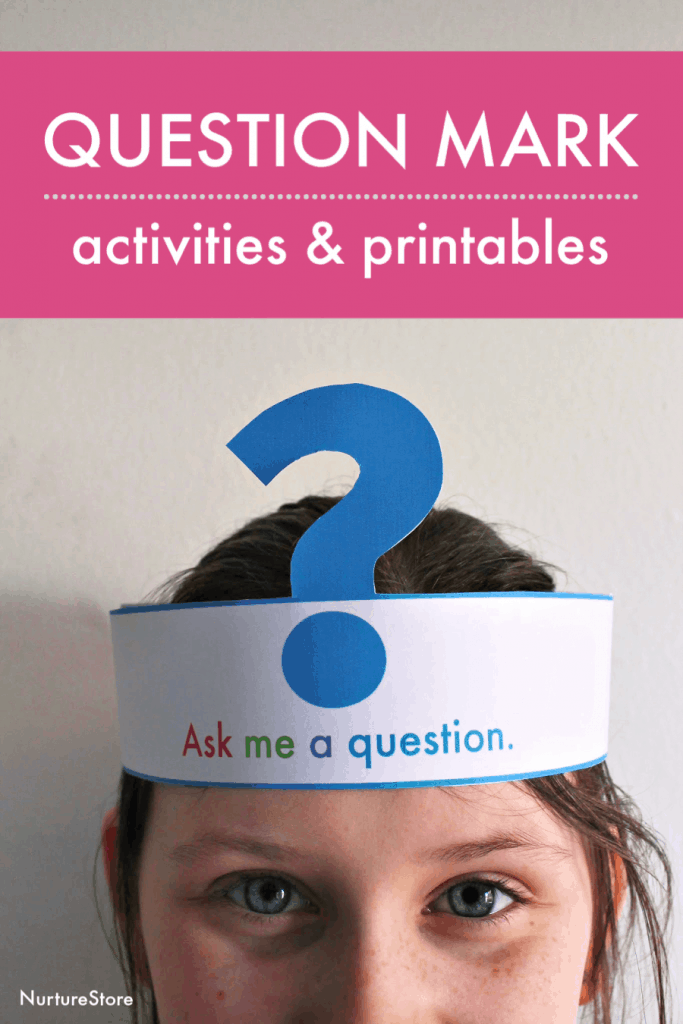 Fun question marks lesson plan with free printables
When lessons are fun, we remember them. That's why I like to have an interactive, maybe even a silly, component to lessons, especially when I'm introducing a new concept.
Teaching children about aspects of grammar can be very dry. It can be hard to get enthusiastic about commas!
With the help of my Ask Me A Question hat the introduction of question marks will be fun, memorable, and effective.
In this lesson children can:
:: be introduced to question marks: what they look like, when we use them
:: learn about question words, supported by a printable anchor chart poster
:: practice asking and answering questions
:: make and play with an Ask Me A Question hat
Materials needed
:: questions poster printable – see below
:: 'Ask Me A Question" hat printable – see below
:: scissors
:: sticky tape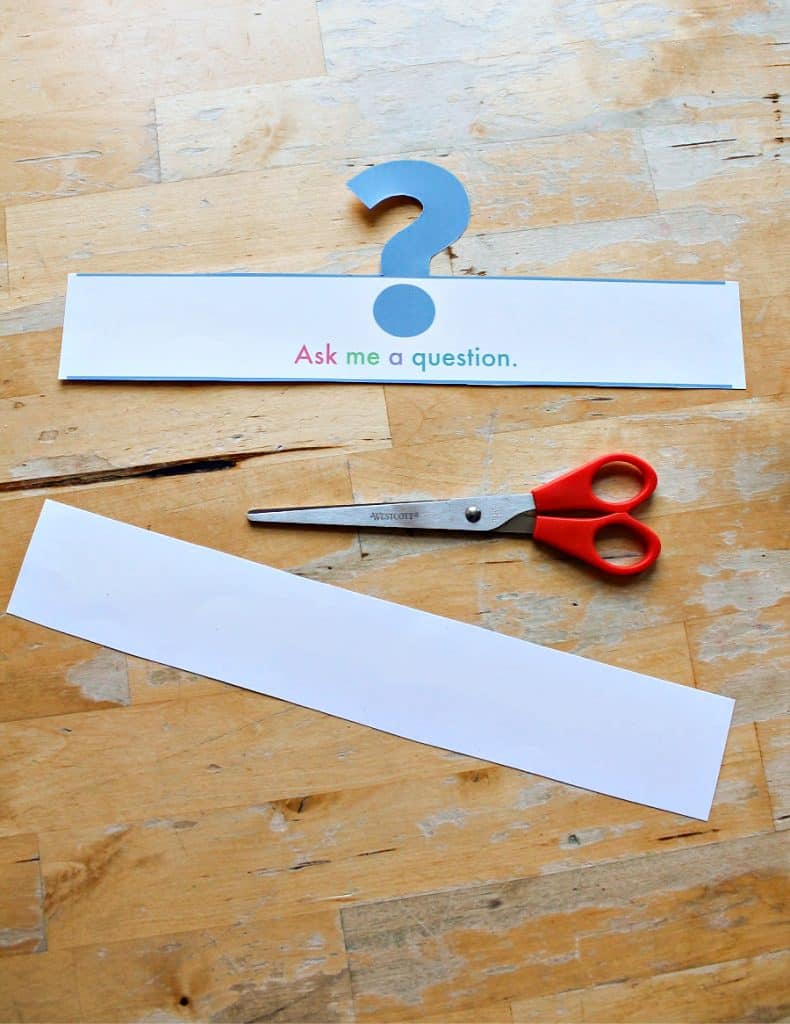 Print the Ask Me A Question hat onto card. See below for details of how to get the printable from NurtureStore's Free Printables Library.
Cut out a second strip of card to make the hat band the right size.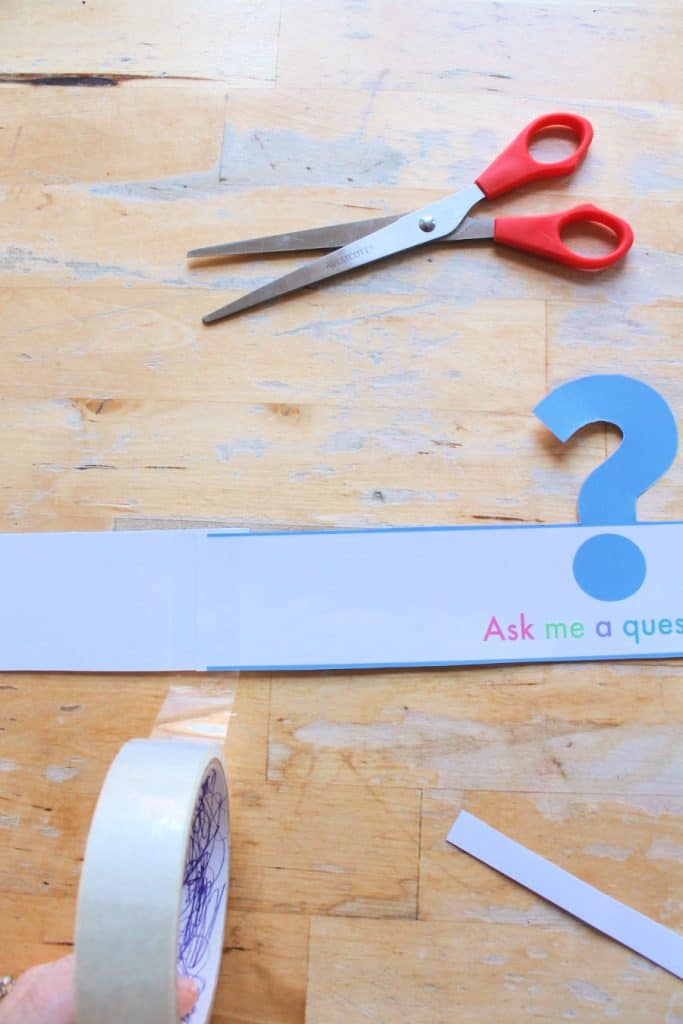 Use sticky tape to fix the hat band in place, making it the right size for your children to wear.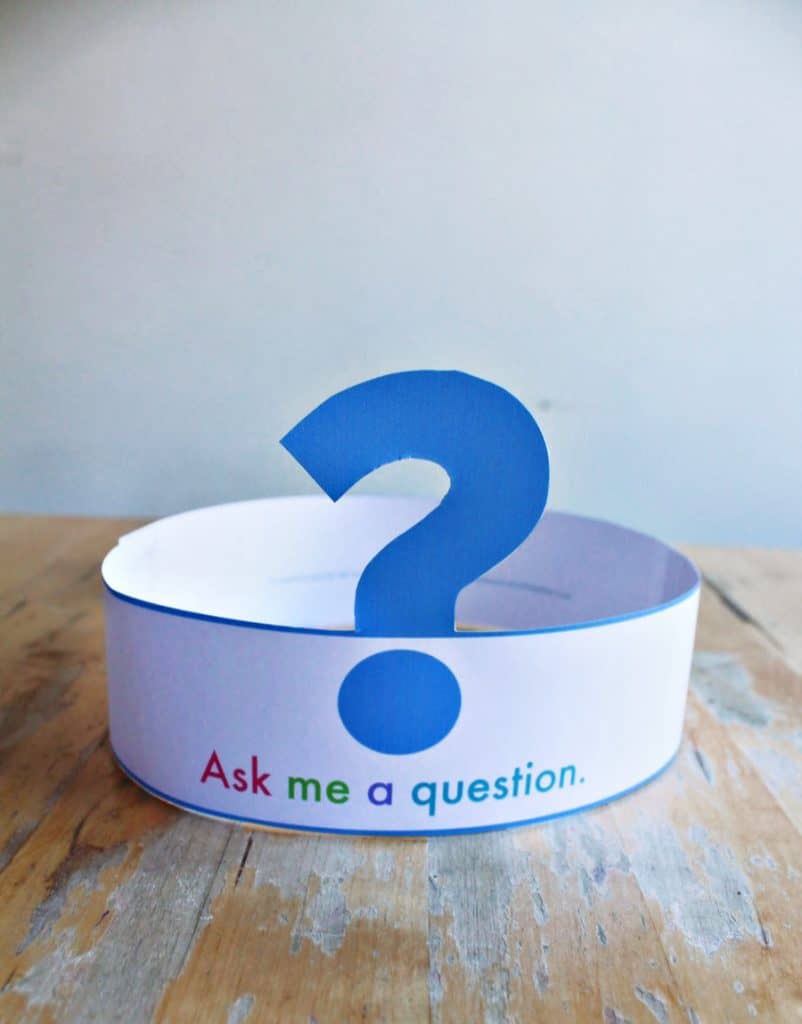 Ta-da! A fabulous Ask Me A Question hat!
Explain to your children that the curly symbol is a question mark, and is used instead of a full stop/period at the end of a question sentence.
Put the hat on your head and invite your children to ask you a question.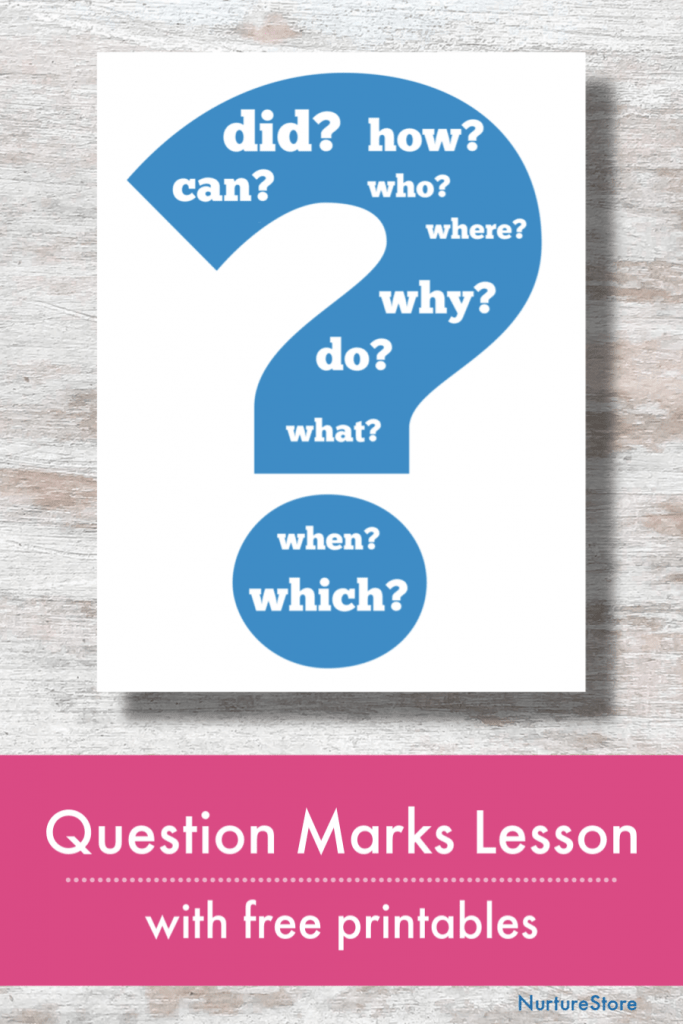 Refer to the Question Words anchor chart poster – which you can also print from NurtureStore's Free Printables Library.
This poster is a supportive visual prompt for children, to help them think of question sentences. It features a range of question words.
See if your children can ask you a question beginning with each of the question words.
You can write a few of the sentences they ask on the board, so they can see how the question is written using a question mark instead of a full stop/period.
I like to flip the questions back to the children too: whatever they ask me, I ask them back.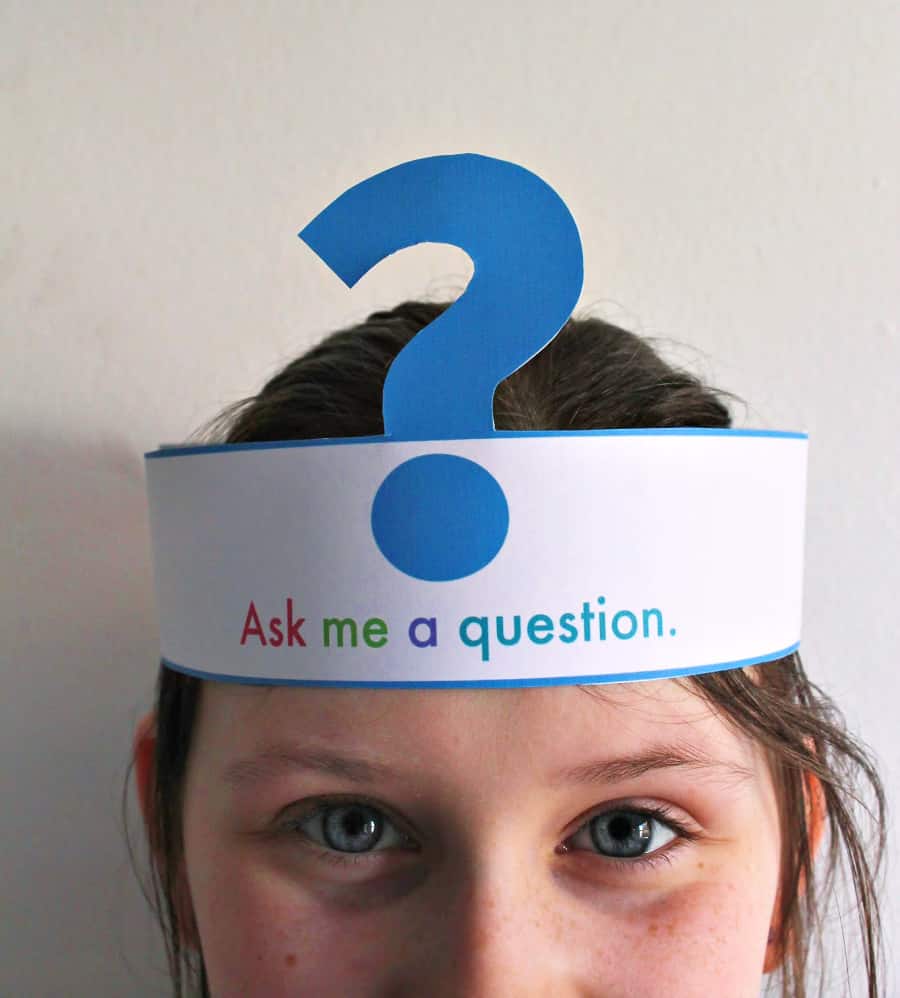 Then it's their turn to be in the hot seat.
Invite a child, who you know will be comfortable being the centre of attention for a while, to wear the hat. Have your children ask them more questions, and let the child wearing the hat answer them.
Again, use the Question Words poster as a visual prompt to generate lots of different question sentences.
You can do this as a whole class activity, work in a small group or have your children work in pairs, taking turns to wear the hat and ask / answer questions.

More literacy activities and printables
Make all your literacy lessons fun and memorable with these literacy activities and printables:
:: practical ways to build writing skills
:: simple recipe sequencing cards
:: write your own non-fiction book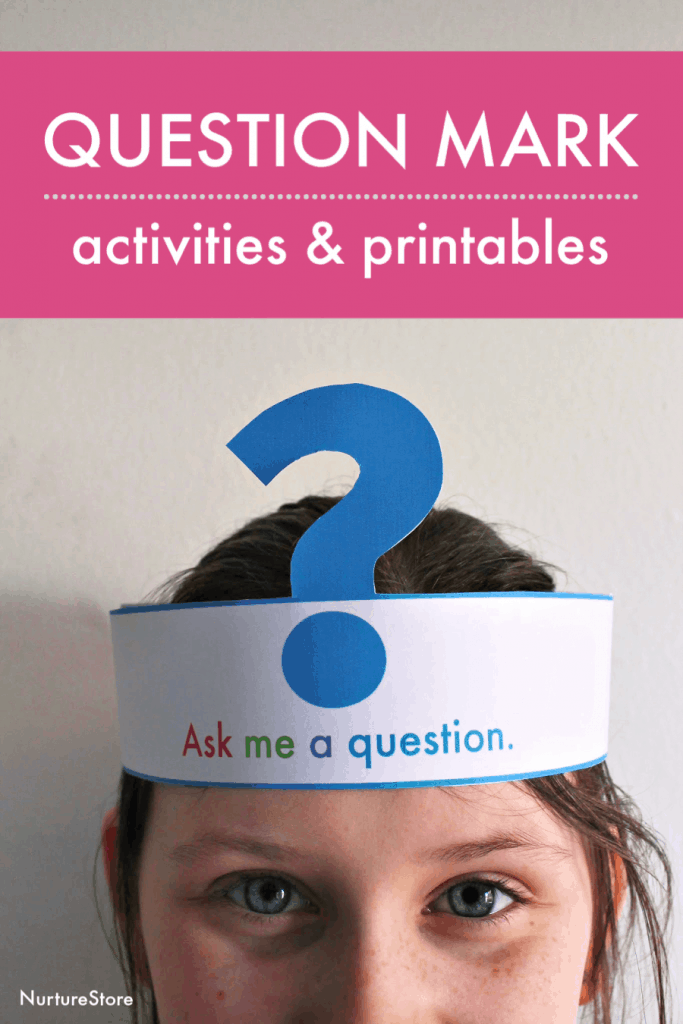 How to get our free printables
To download my free printables, you'll need to visit the NurtureStore Printables Library, which is available to all subscribers to my email list, and of course to Play Academy members.
Pop your email address in the form below and you'll get access to all my free printables, lesson plans, activity ideas, weekly newsletter, and a whole lot more!
After subscribing, be sure to check for the confirmation email. After you confirm your email subscription, we'll send you a welcome email which includes instructions for downloading our free printables.
If you're already subscribed to our email newsletter: check your email for the latest edition of the newsletter where you'll find a link to access our free printables library - the link is usually at the bottom of the email.
For help accessing our printables, click here.
---
By subscribing, you consent to our use of your personal data as per our Privacy Policy, which includes agreeing to receiving interest-based email from us.
---