Keep kids active and having fun with this printable indoor scavenger hunt sheet.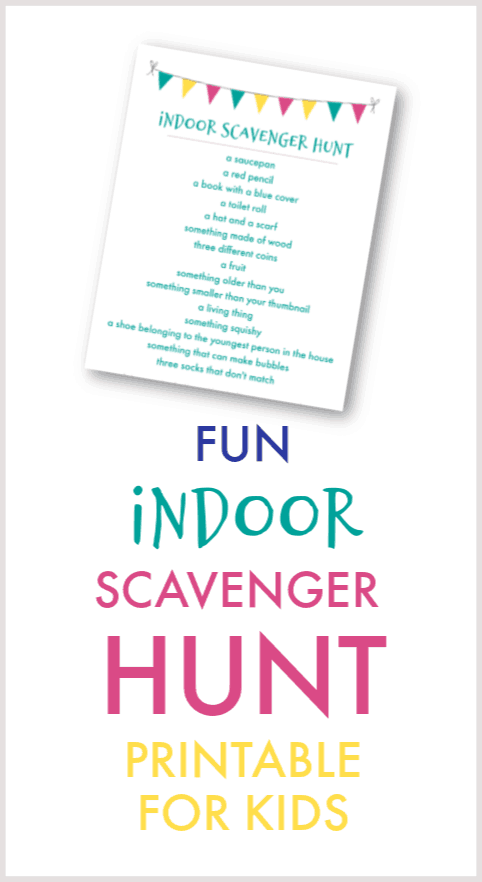 Free printable indoor scavenger hunt for kids
A scavenger hunt is a brilliant activity for a play date or birthday party.
If you're hosting your hunt outdoors you can use my nature scavenger hunt printable, but this printable is perfect for an indoor treasure hunt.
Maybe you're having a snow day, maybe it's raining. Maybe you're hosting a play date or party, or maybe you just want to get your kids running around enjoying some slightly-organised active play to let of steam get and the wiggles out. This indoor treasure hunt is perfect.
You can even do this scavenger hunt online, Facetiming and hanging out with friends, all in your own houses. You can use this scavenger hunt printable as a way to get kids connecting and having fun socializing online.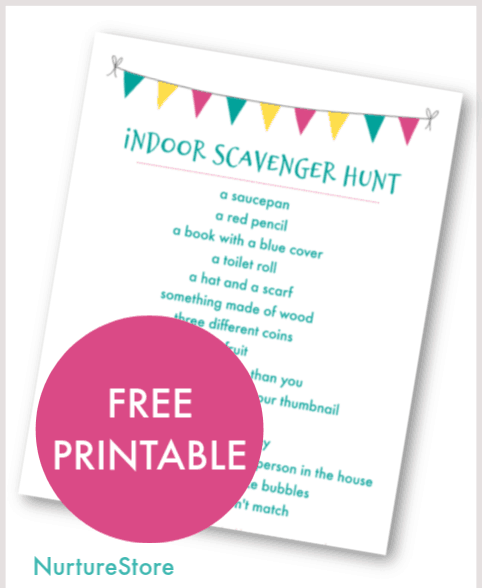 How to print the scavenger hunt sheet
You can print the indoor scavenger hunt sheet from NurtureStore's Free Printables Library – see the details at the end of this article on how to access the library.
How to organise a scavenger hunt indoors
Decide if each child is going to play solo or if you are going to play as teams.
Set any rules for the scavenger hunt, such as rooms they're not allowed to go in and things they're not allowed to touch.
If you don't want to have your children moving everything around the house, you can have them take photographs on their phone of each thing they find, rather than having them bring them back.
Use the scavenger hunt printable in one of two ways:
Version one
Have one person be in charge, reading out each thing on the list, one at a time. After an item is announced, all the children have to run off to find it and bring it back to show. Then read out the next item and have them run to find that, and so on until you have worked through the whole list.
Version two
Give each child/team their own copy of the list and let them head off to find everything at once. They can work through in any order, and you might get the chance to have a cuppa while they hunt!
Depending on whether you want to focus on collaboration or competition you can award prizes for:
:: finding all the items
:: quickest finish
:: most unusual item found
:: quickest team to tidy everything away neatly at the end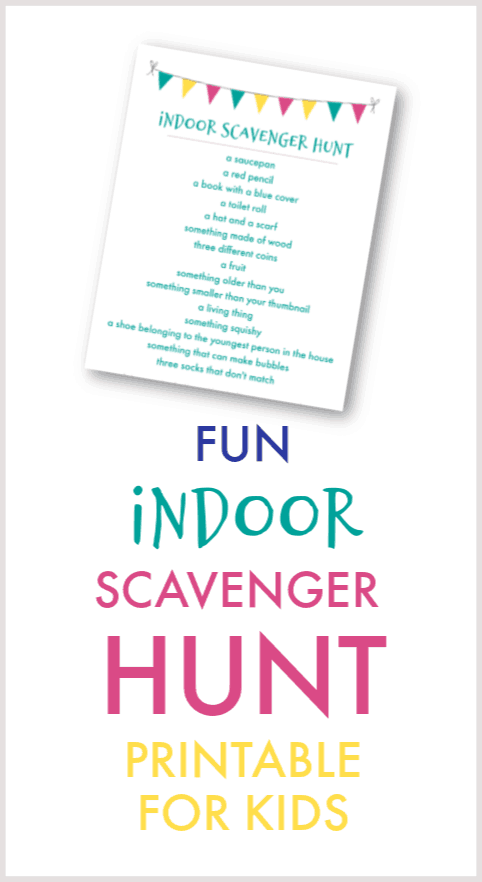 How to get our free printables
To download my free printables, you'll need to visit the NurtureStore Printables Library, which is available to all subscribers to my email list, and of course to Play Academy members.
Pop your email address in the form below and you'll get access to all my free printables, lesson plans, activity ideas, weekly newsletter, and a whole lot more!
After subscribing, be sure to check for the confirmation email. After you confirm your email subscription, we'll send you a welcome email which includes instructions for downloading our free printables.
If you're already subscribed to our email newsletter: check your email for the latest edition of the newsletter where you'll find a link to access our free printables library - the link is usually at the bottom of the email.
For help accessing our printables, click here.
---
By subscribing, you consent to our use of your personal data as per our Privacy Policy, which includes agreeing to receiving interest-based email from us.
---