All the family can join in with this fun and easy charades game for kids!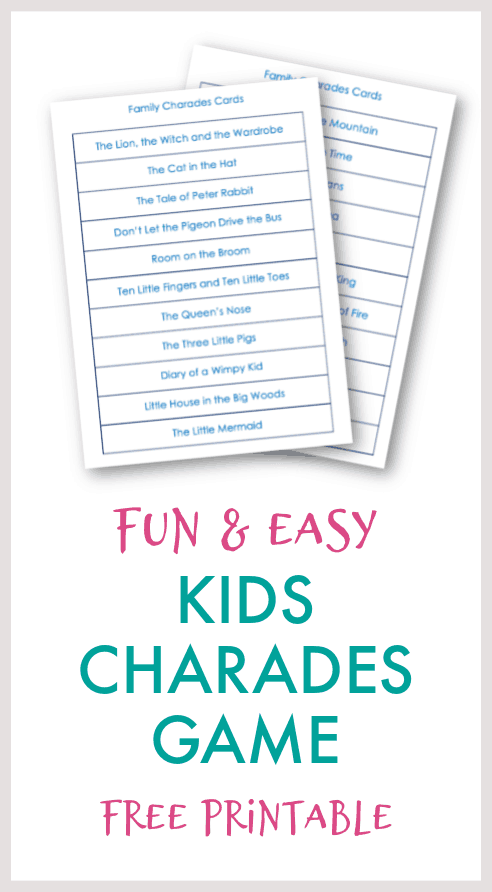 Free printable easy charades game for children
Charades is a great family game that build language skills, confidence, and gets everyone laughing.
It's a brilliant boredom buster and is an active game for kids that's easy to do indoors.
You can play this game as a family, at play dates, or at a party.
Charades is a fun indoor activity for classroom on rainy days.
You can even play it online with friends, hanging out on screen and acting out the clues.
A charades list for kids
This printable charades list for children includes book and film titles that most kids will be very familiar with.
They include classics and modern titles, and all have been chosen as easy ones for kids to act out – with a few fun challenge ones.
There are 33 books and films on the list, so everyone can have a few turns acting out a charade.
How to print the charades ideas list
You can print the kids charade ideas list from NurtureStore's Free Printables Library – see the details at the end of this article on how to access the library.
How to play charades
Print out the charades list and cut each sheet up, along the lines, into individual prompts. Fold up the pieces of paper and place them all in a bowl.
The first player picks one of the pieces of paper out of the bowl and has to act out the title of the film or book to everyone else, hoping they will be able to guess which film or book it is.
You can use your body to act out your title but you're not allowed to say or write anything.
Start by showing whether you're acting out a film, book, song, play etc. You can find a reminder of how to act out these charade clues here.
Then hold up enough fingers to show how many words are in your title.
Decide which word you are going to act out first and hold up fingers to show which number word you're doing.
Then use all your body language and acting skills to perform!
Hold up your fingers again to show which word you're acting out next and keep going until someone guesses which film or book title it is.
Then it's time for another player to come up and pick a title to act out.
You can decide whether you want to be very organised, playing in teams and keeping score, or if you just want to play informally for fun.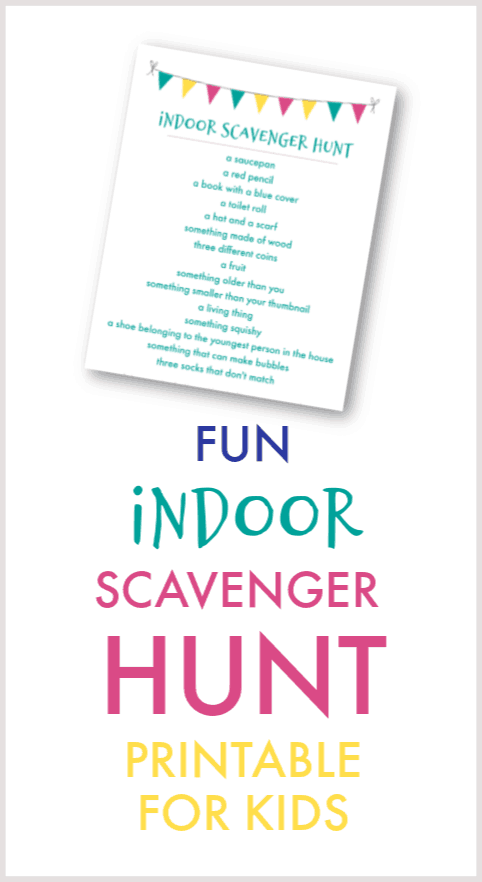 Indoor scavenger hunt printable
Need another great indoor play idea? Use my indoor scavenger hunt printable.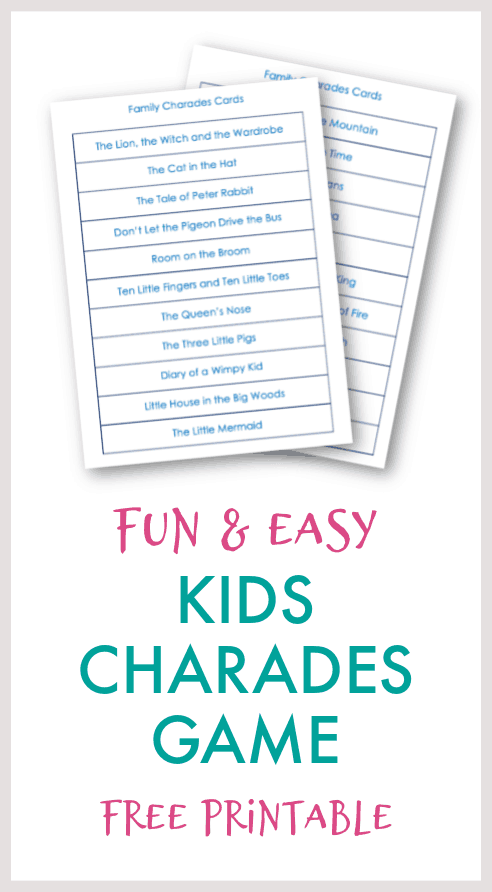 How to get our free printables
To download my free printables, you'll need to visit the NurtureStore Printables Library, which is available to all subscribers to my email list, and of course to Play Academy members.
Pop your email address in the form below and you'll get access to all my free printables, lesson plans, activity ideas, weekly newsletter, and a whole lot more!
After subscribing, be sure to check for the confirmation email. After you confirm your email subscription, we'll send you a welcome email which includes instructions for downloading our free printables.
If you're already subscribed to our email newsletter: check your email for the latest edition of the newsletter where you'll find a link to access our free printables library - the link is usually at the bottom of the email.
For help accessing our printables, click here.
---
By subscribing, you consent to our use of your personal data as per our Privacy Policy, which includes agreeing to receiving interest-based email from us.
---