Alex from The Kindergarten Connection joins our ABCs and 123s letter and numbers series today with a printable farm animal count and clip game.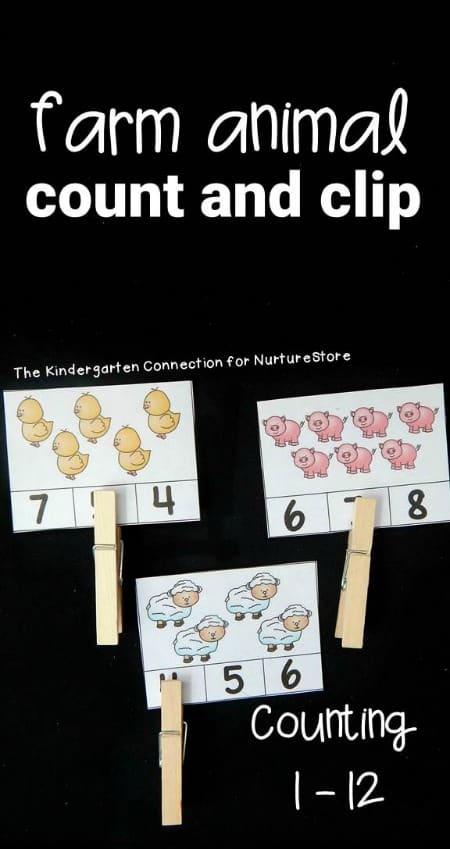 Farm Animal Count and Clip Cards
Learning to rote count is one thing, and is a huge accomplishment in and of itself. However, learning to count objects and to count with one to one correspondence is another thing and allows children to answer questions such as "how many?" We play tons of counting games and do tons of counting activities in kindergarten. One of our favorite activities involves counting, number recognition, and fine motor through the use of clip cards. These farm animal themed clip cards are a favorite of ours, and are sure to be a hit with your children as well!
Materials Needed
Getting ready to use the count and clip cards is simple. Just print the download and grab some clothespins! I recommend laminating the cards as well before you cut them out, as this lets you use them over and over again.
Counting the Farm Animals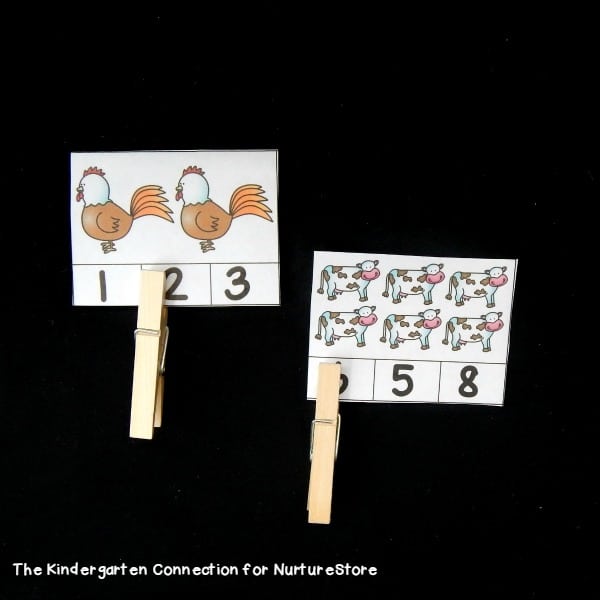 After laminating and cutting the cards, lay them out face up, or put them in a small basket with clothespins. If you are playing alongside your child the first time, you can work together to grab a card, count the farm animals, and clip the correct number.
This activity works not only on counting and number recognition, but builds fine motor as well through the squeezing of the clothespins. This works on strengthening your child's writing muscles in their fingers.
To make this activity independent and self-checking, you could print on cardstock (so that the cards aren't see through) and then dot the correct answer on the back with a black marker. Then, after your child clips their choice, they can check on their own to see if they were correct.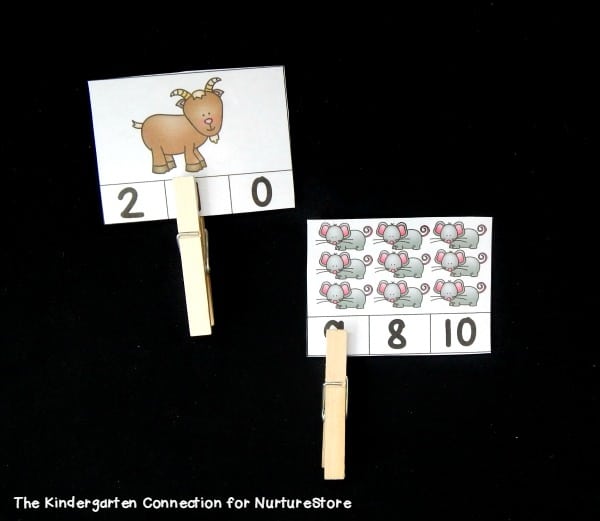 Other Ways to Play
You can use these cards in other ways as well. Don't have clothespins on hand? You can use a coin, button, or any other object as a marker to cover the answer.
To give your kids more of a challenge, spread the cards out face up, call out a number, and have your child find the correct card.
Or, you can combine cards together and work on beginning addition – there are many possibilities!
More Count and Clip Activities
Ready to keep working on one to one correspondence, while having a bit of fun too? For more count and clip activities, check out our popular Dinosaur Counting Cards, or count up to 20 with our bug themed counting cards. Just add clothespins!
Alex is an early childhood educator with a passion for making learning fun and engaging. She is the founder of The Kindergarten Connection, where you will find ideas and inspiration for preschool, kindergarten, and first grade. Get fun learning activities and exclusive free resources to use with your children in the TKC newsletter.