Please welcome Barbara from Art Bar who is sharing a beautiful way to combine art and math: making shape collages.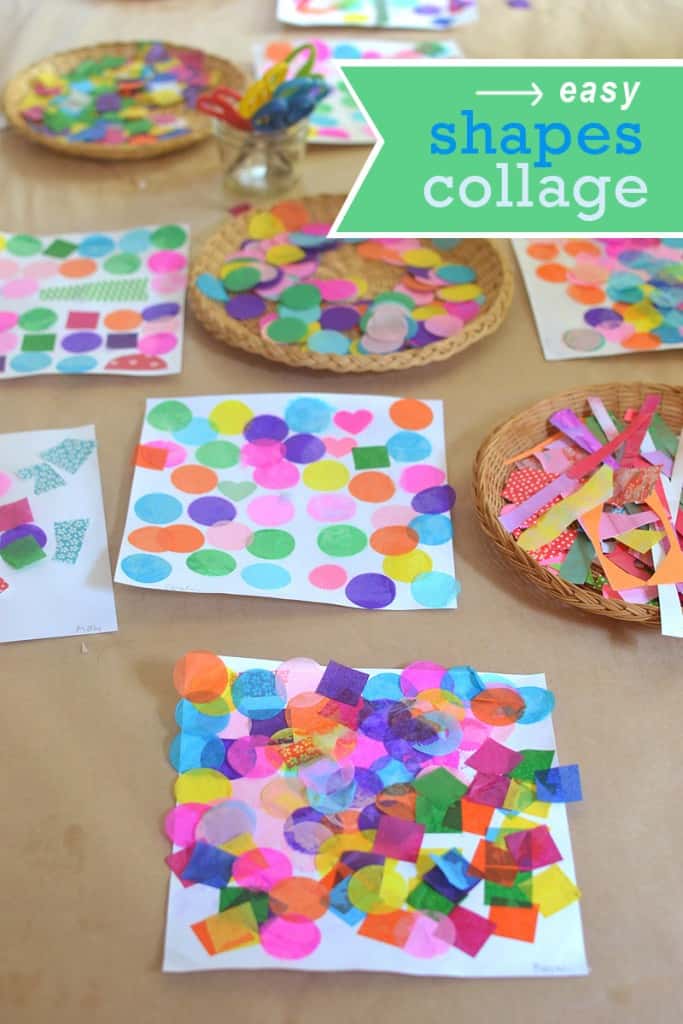 Easy shapes collage math and art activity
---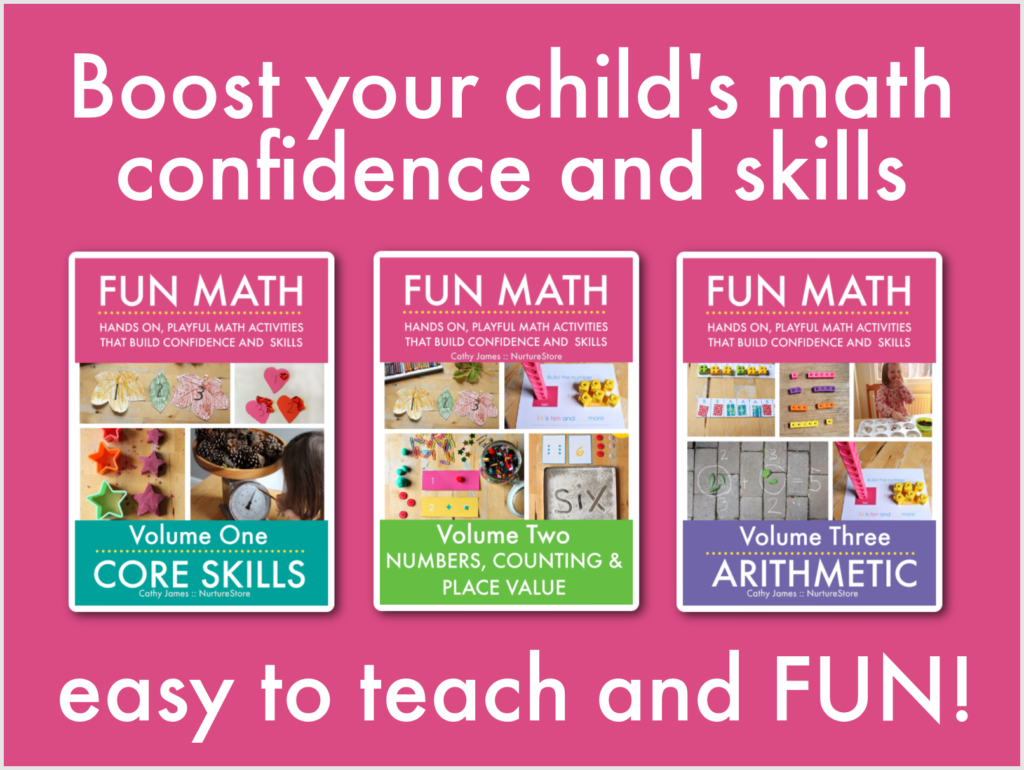 Magic Fun Math lessons!
Fun Math is an easy to teach, highly effective math curriculum based on play and hands-on learning.
All the lessons are designed to be fun and memorable, so children enjoy their lessons and feel confident.
The lessons are easy for teachers and parents to use, in class or at home.
These are the magic lessons where children really see, understand, and can apply math concepts. They are especially suited to children who don't like math, lack confidence, don't understand math the way they are currently being taught, or just want to play.
SEE MORE AND TRANSFORM YOUR MATH TEACHING HERE.
---
I have always loved a good collage project. As a child I think it was the excitement of using glue that drew me in! But then as I moved on to art school, I really just loved the opportunity to work on composition and balance.
An easy way to introduce collage to your child is to start with a few baskets of basic paper shapes in lots of different colors, and let your child explore. Let me tell you how to set up your table and the simple supplies you will need…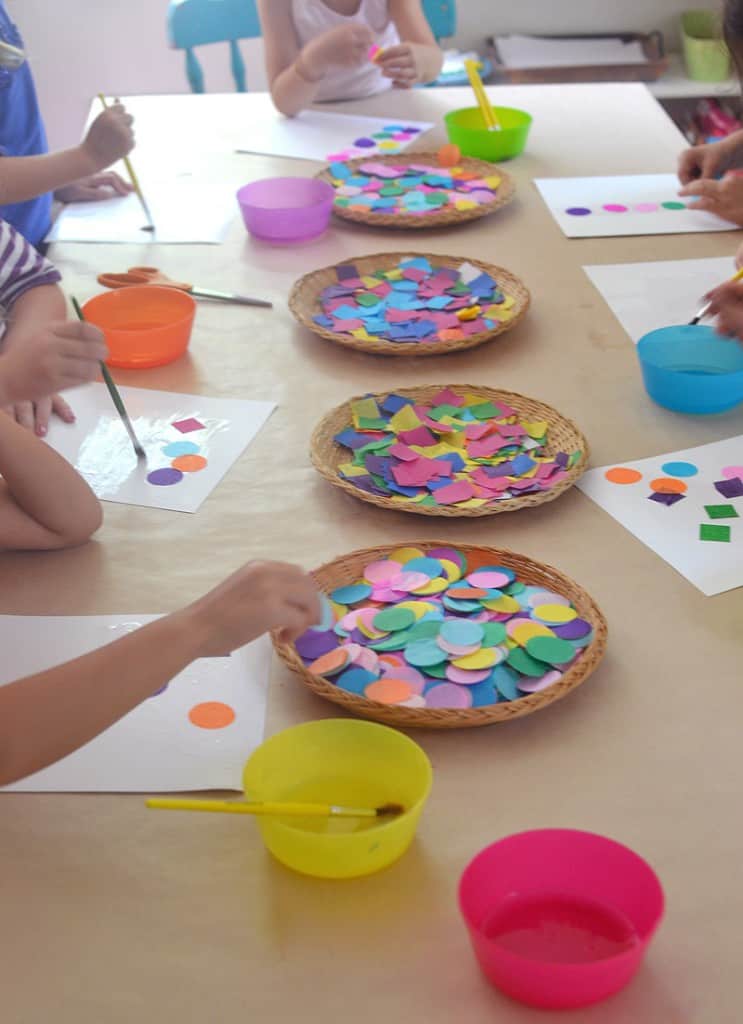 Supplies needed:
Tissue paper (circles and squares)
Old art or paper scraps
Scissors
Cardstock
Clear glue or white glue
Bowls
Brushes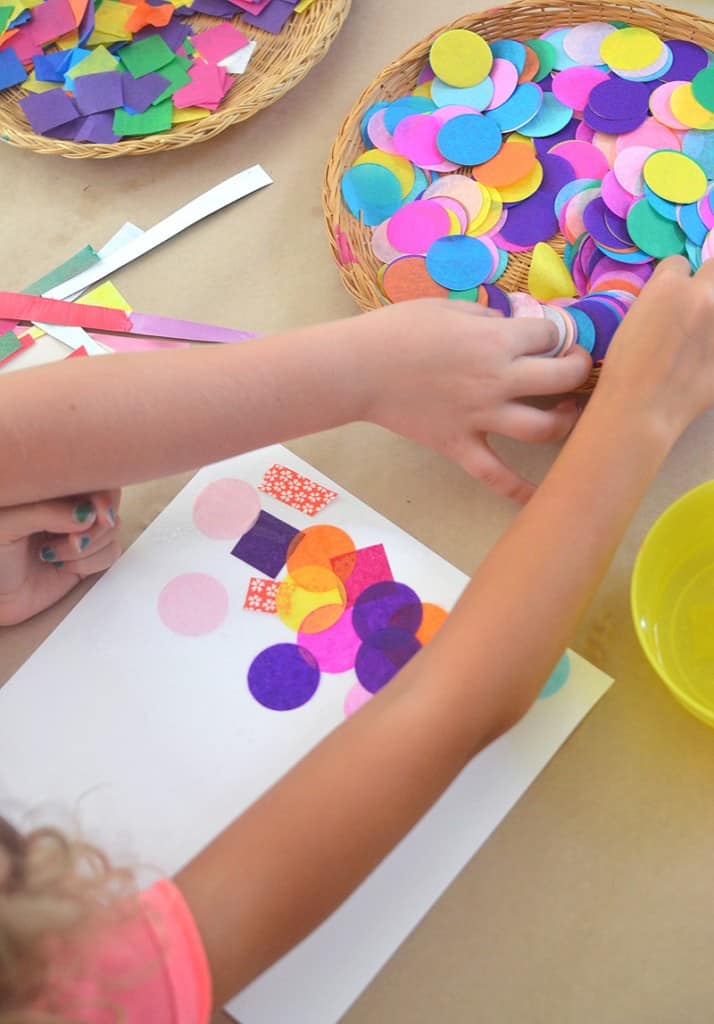 Process:
Depending on the time you have or the interest of your child, you can either set out some pre-cut shapes, or you can let you child cut their own shapes. I presented the children in my art class with both options.
I put the glue in bowls and placed an inexpensive brush in each bowl (I save the brushes that come in paint sets for working with glue). I find that when the glue is in a bowl with a brush then the children will be less likely to squeeze too much glue on their paper.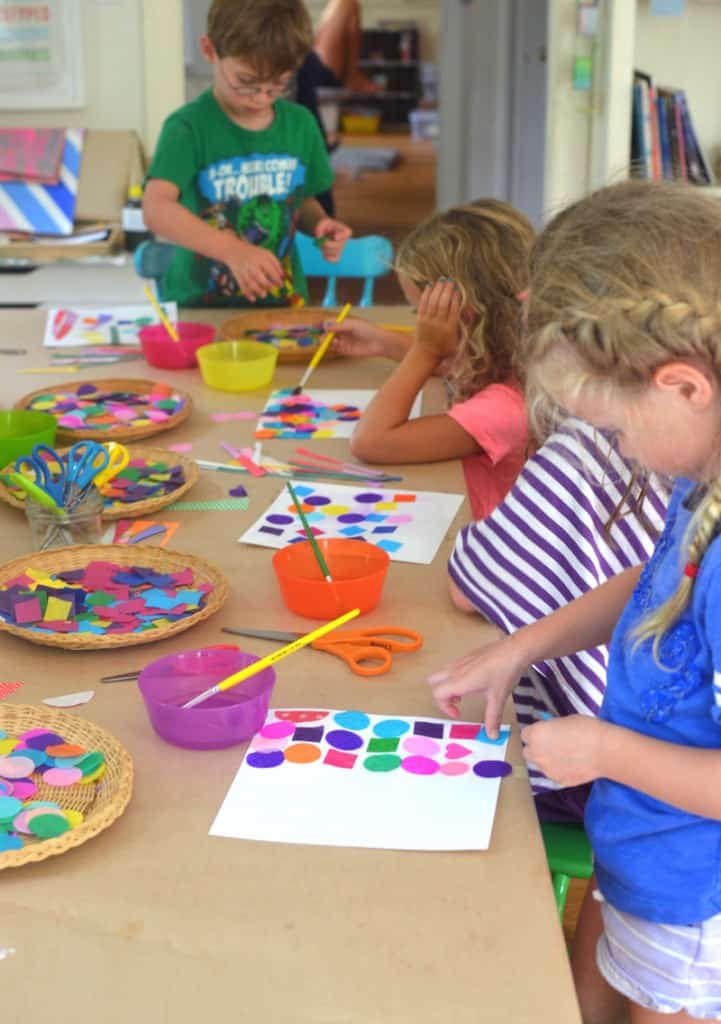 After setting the table with the materials and giving each child a piece of white paper, I just stand aside and let them work. As a teacher I am much like I would be as a parent – I am there to answer questions or lend a hand if asked, but not be involved in the child's creative process. It's magical to watch them work and create art from their heart.
I always make sure to have a damp cloth handy for sticky fingers. Some children really don't like that feeling, and of course there are some who really do! To encourage the ones who don't like to get messy, I make clean-up easy and close-by.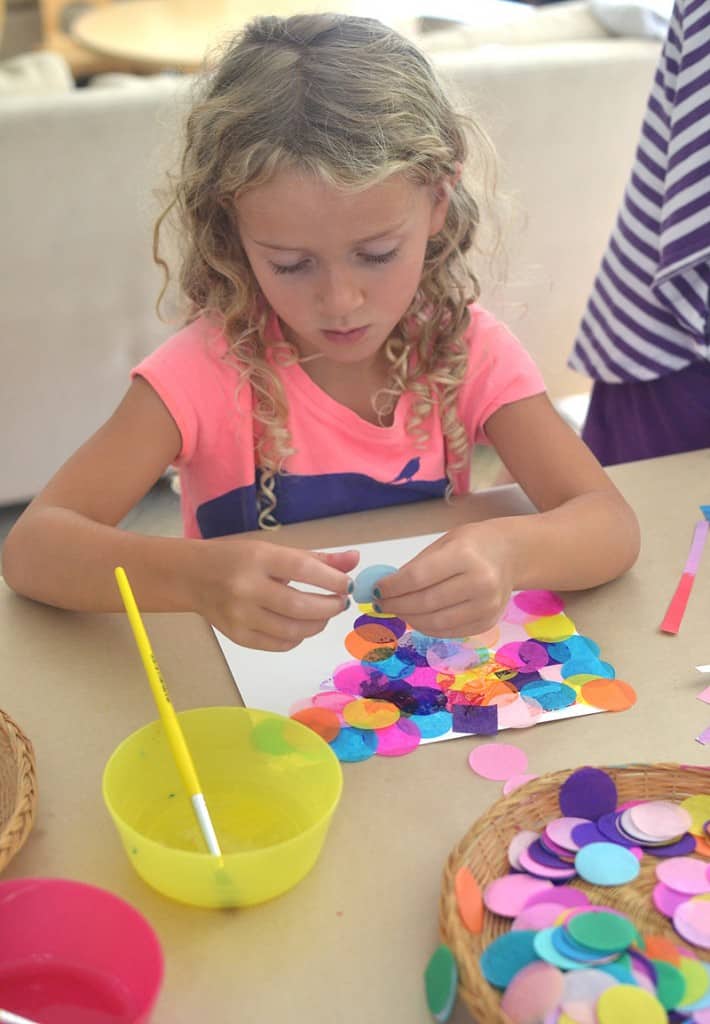 Each child's artwork is unique and reflects their personality. I love how one child overlapped her tissue and created new colors. Another child was keen to keep everything very orderly. And another barely used any pre-cut shapes and instead, used the scissors like Matisse and cut his own shapes.
With an open-ended art project like this one, there are so many benefits to the child:
By making their own choices about color and composition, they are practicing their critical thinking skills and learning to take risks in a non-judgmental setting.
They are exploring basic shapes and abstract shapes while creatively putting together an image. This gives them an opportunity to associate shapes with real life objects.
When using the tissue paper, they are learning about transparency, and how colors can mix and overlap to make new colors.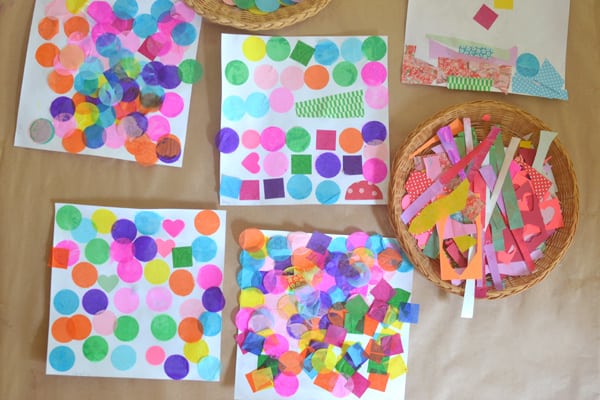 Here are some variations to try for next time:
If you have more than one child, or if your child has a friend or two over, they can make a collaborative collage on a bigger piece of paper or a big piece of cardboard.
Introduce other items for your child to collage, such as fabric scraps, feathers, pom-poms, buttons, leaves, or any found material.
Cut out the shape of an animal or perhaps the shape of a house for your child to collage.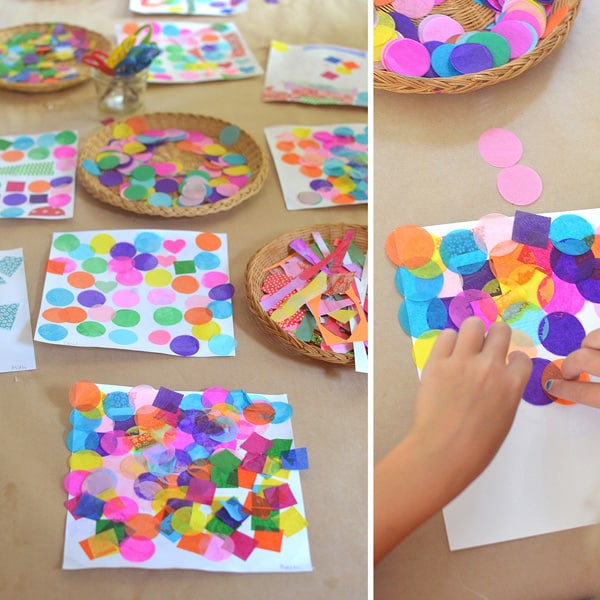 If you liked this post, you might really like these from my blog:
Matisse Collage: Painting with Scissors
Creativity is Messy: Let them Explore!
I hope you enjoyed this post! Please come visit me at Art Bar Blog, a happy place full of creative ideas for kids. And follow me on Facebook where I share lots of art projects for kids, DIYs, inspirational quotes, helpful articles, and much more from all over the world!
About Barbara Rucci:
Bar is a graphic designer, art teacher, and mom of three living in Connecticut. She loves to make stuff with her kids and write about it on Art Bar Blog.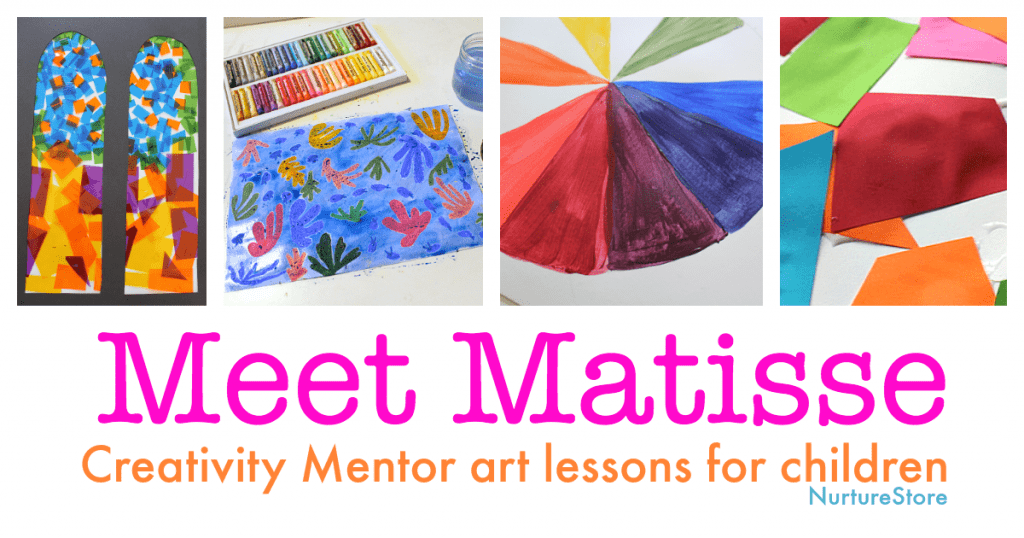 Creativity Mentors :: Meet Matisse art lessons for children
Colourful, creative, inspiring, innovative, brilliant and bold! Come and Meet Matisse and try out four art projects inspired by his work in my online workshop.
This Creativity Mentor workshop gives you great Matisse art lessons for children that you can use at home or in school. Click here for more details and to access all the resources

---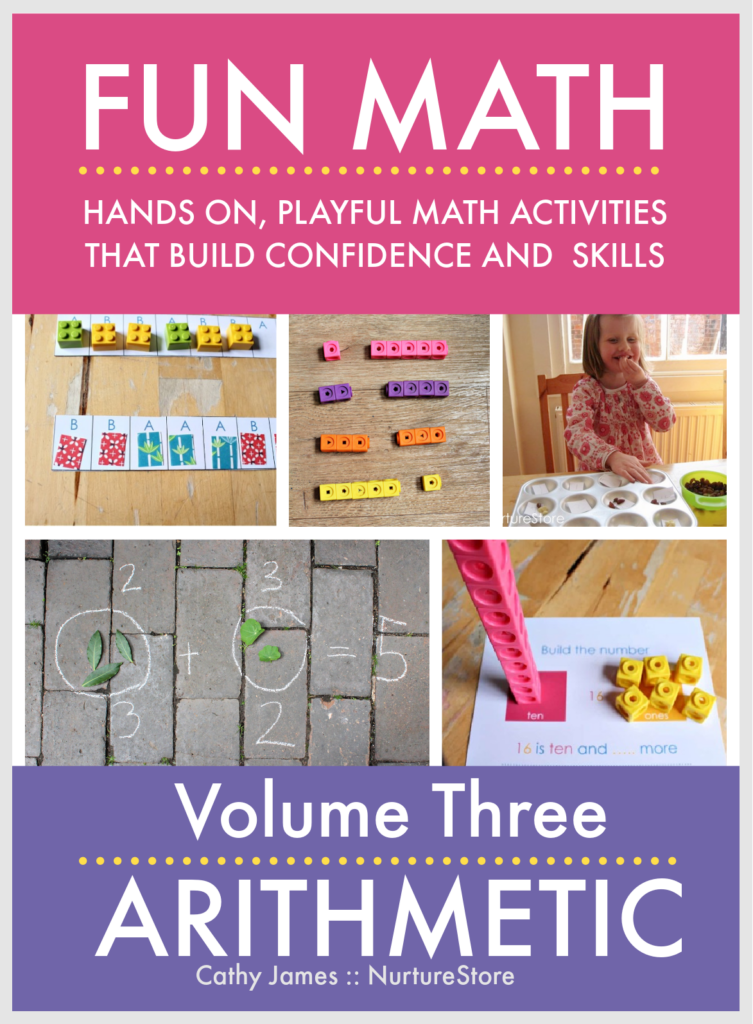 Transform your teaching with Fun Math
The Fun Math series gives you a math curriculum that is easy to teach and highly effective.
Children love these lessons because they are engaging and fun.
You'll have a clear set of ready-made math lessons and activities that are simple to lead using our step-by-step lesson guides, and which children really understand.
Be the best math teacher and boost your children's confidence and skills with Fun Math.
See more and transform your teaching here.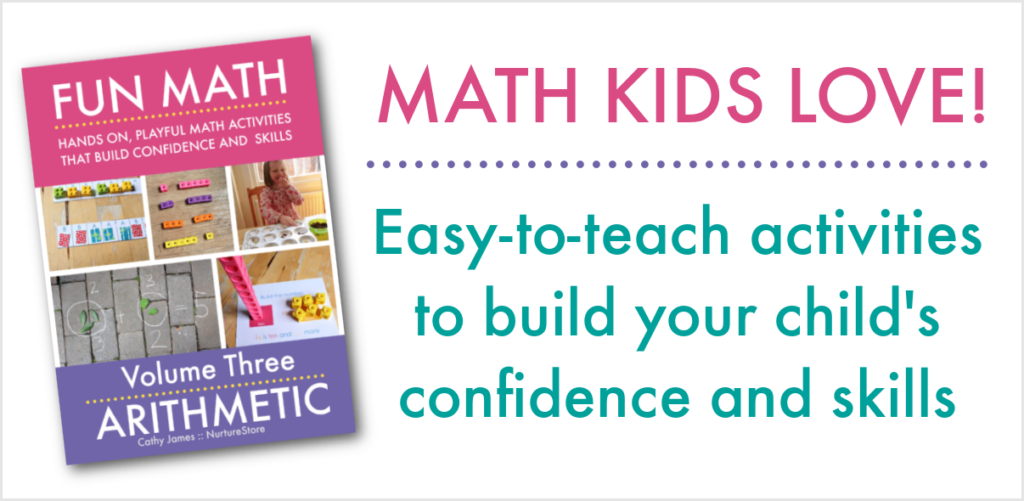 ---