Here's a gorgeous collection of easy daffodil crafts and fund daffodil themed activities you can use with your children to celebrate St. David's day.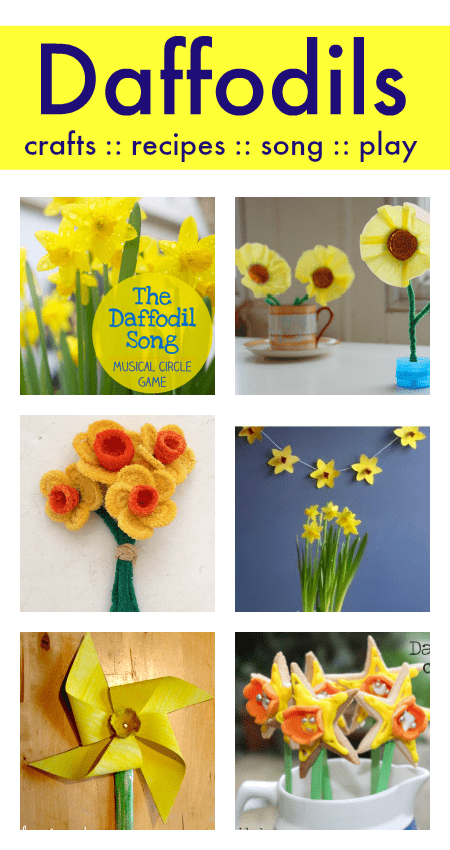 Daffodil crafts and St. David's Day recipes
Whether you're celebrating St. David's Day on 1st March, or just looking forward to welcoming spring, daffodils are in! They're one of my favourite flowers, and always make me smile when I see them as I know spring is on the way.
Here's a collection of lovely daffodil crafts, made from all sorts of materials, and with ideas that you can make with your children.
You'll find flowers, bunting, daffodil windmills, and even daffodils you can eat! I've thrown in some Welsh cakes, leeks and a fun dragon too.
Dydd Gwyl Dewi hapus!
Daffodil crafts for children to make
There are lots of ways you can make some pretty daffodils.
:: Try bottle top flowers
:: How about some super cute daffodil head boppers!
:: Make daffodil bunting
:: Or a daffodil windmill
:: Or make footprint and handprint daffodils
Daffodil themed activities for children
:: Teach your child a daffodil song
:: Make a Welsh dragon – but make sure it's red not green!
:: This is my Nain's favourite recipe for Welsh cakes
:: Or you could bake these pretty daffodil cookies
Get free resources for your children!
Did you know you can receive free weekly activity ideas, seasonal resources, free printables and extra bonuses from Nurturestore? You'll have creative learning ides for your children all year round!
Sign up in the box below and we'll send you your freebies!
---
* By subscribing, you consent to our use of your personal data as per our Privacy Policy, which includes agreeing to receiving interest-based email from us.
---