A colour tree for inside or outside looks beautiful and helps children learn their colours.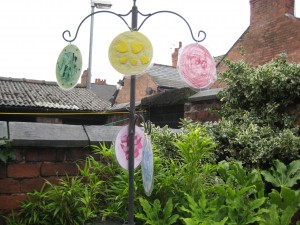 You will need:
A base circle of card ( we used a paper plate) for each colour you want on your tree
Lots of collage materials – different shades of each colour
Glue
Sticky back plastic (the sort used to cover books) or a laminating machine -if you're making an outside tree
Hole punch
String or wool
We coloured both sides of a paper plate with red wax crayon and then covered it with all different shades of red collage materials.
We then repeated this to get a blue plate , yellow plate and so on. We put each plate through a laminating machine to weather proof it – or you could coat each side in sticky back plastic.  Use a hole punch on each plate to make a hole, thread through the wool/ string and then tie your plate up on your tree. We used a bird feeder, but you could use a real tree in the garden or some  large twigs in a vase inside. Stand back and admire!