Did I mention I love autumn? I think I prefer autumn crafts even to Christmas and Halloween. Why not be inspired by the beauty of the season and get creating this week? You could try…
Making a tree collage with all the leaves you collect on an autumn walk. A forest of these make a great mural.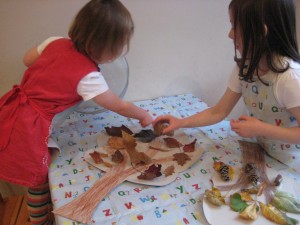 Or an alternative tree collage using sugar paper: perfect if you have a child who loves tearing up paper. Even toddlers can try this one and produce a beautiful picture.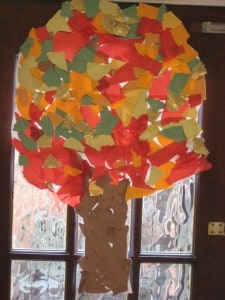 Abby at Little Red Buttons has a beautiful idea to make a necklace from conkers – you have to go see!
Deb shows us how to make an autumn mobile over at Ready for Ten. I like the idea of adding some seeds and nuts to it to turn it into a bird feeder.
And Valerie's idea for falling leaves wrapping paper is lovely.
What autumn crafts are you making this week? Hope you'll stop by on Friday and share with the Play Academy link-up.
happily shared with Works For Me Wednesday @ wearethatfamily