Welcome to a brand new feature on NurtureStore! I'm thrilled to be joined by a group of fabulous guest writers, who will be bringing us their take on fun play ideas. I've invited some of my favourite bloggers over to share with us ideas their children love. There will be a whole mix of activity ideas in the series, so please read along, enjoy the ideas, and hop over their blogs to discover more.
Starting off our new series, we have Asia, with a fun messy play idea :: a dragon small world!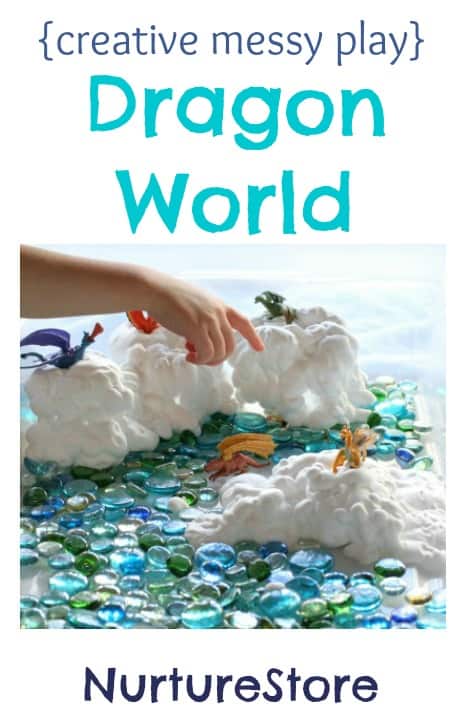 Dragon small world :: messy play
Hello everyone!  I'm Asia and I write over at 
Fun at Home with Kids
.  I have two little ones: a daughter, S, who is almost 4 and a son, X, who just turned 1 in April.  We like to dabble in a little bit of everything – art, sensory, small worlds, and science – with a focus on easy open-ended play that is also budget friendly!
With a little one to care for, it's often hard to find the time to set up elaborate small worlds for S.  This was the inspiration behind my series "Simple Small Worlds".  I use mainly easy to find or repeated items and design the worlds such that they take 5 minutes or less to set up.
S loves dragons, so on this day I surprised her with a new
set of miniature dragons
.  To create Dragon World, I used my favorite blue gems (they also make an appearance in our
Fizzing Hidden Ocean World
and
Frog World
) to make a sky and turned some cups upside down and covered them with shaving cream to make clouds for the dragons to sit on.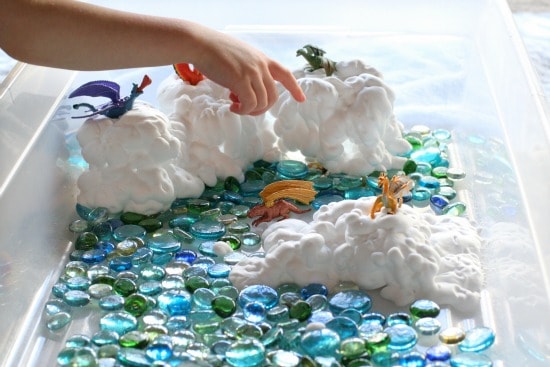 It's always a surprise to see how S will play with the worlds I've set up.  On this day, she decided to cover the dragons in clouds.  She was thoroughly engrossed in this when she stopped and chirped, "but Mama, where is the lake?"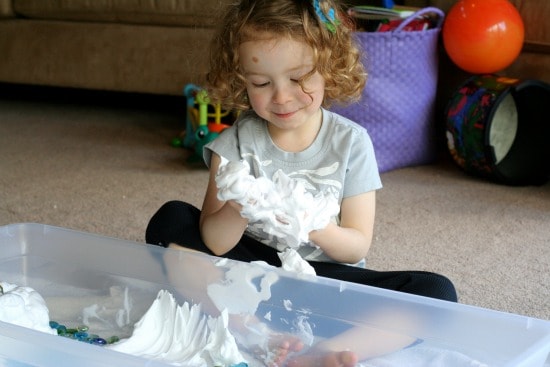 She was totally right!  Dragon World was missing a lake.  So I grabbed a clear bowl, filled it with water, added just a touch of blue-green liquid watercolor, and voila!  Dragon Lake was created.  And like a good Dragon Lake, it gave off an almost other-worldly glow!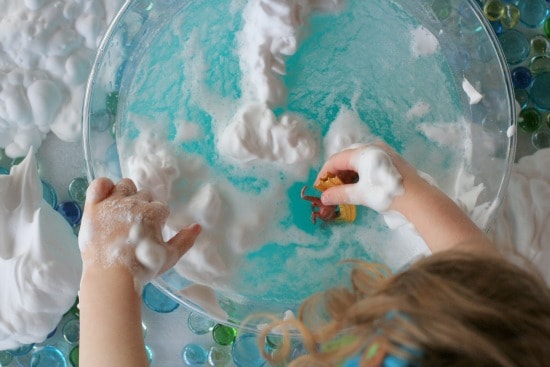 S had a great time flying the dragons back into the clouds, cleaning them in the lake, and so on and so forth until the clouds were all used up and the dragons were mighty clean.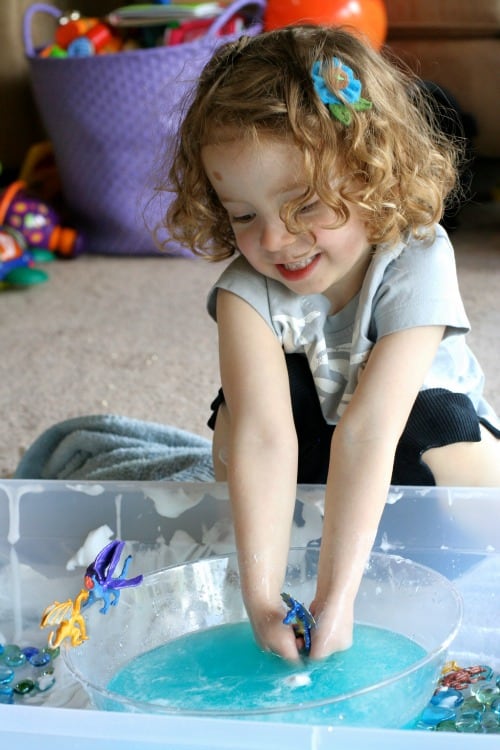 More small world play ideas
If you enjoyed this easy small world set up, you can find links to the rest of them
here
.  I'm adding a new world to the series about every week or so!
| | |
| --- | --- |
| | Asia Citro is a former classroom teacher with an M. Ed. who is now a full time SAHM to little X (one year old) and his big sister S (3.5 years old).  She tries to focus on activities that are easy to put together that encourage children's natural curiosity and creativity.  You can find more of our activities on our blog, our Facebook page, Google+, and Pinterest! |