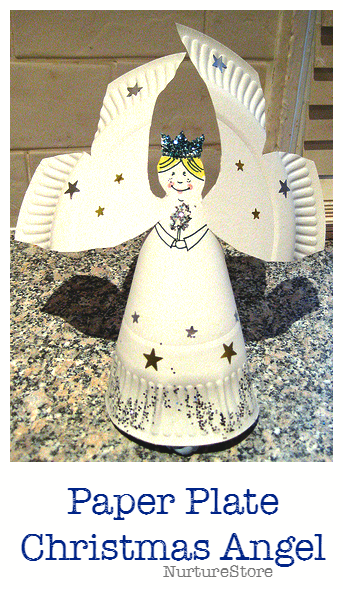 This paper plate Christmas angel is one of our special Advent Activities.
How to make a paper plate Christmas angel
Isn't she pretty? Just what you need to grace the top of your Christmas tree -and easy-peasy to make. All you need is:
a paper plate
pencil
scissors
stapler
stickers / pens to decorate
glue and glitter for added sparkle
How to make your paper plate angel
1. Draw the outline shown below on your paper plate (on the side you'd put the food).
2. Cut along the lines.
3. On the reverse side draw on a face and arms and decorate as you wish.
4. Fold back the body part and staple at the back.
5. If you want your angel to stand on a flat surface you can weight the front with a little blue tac – or she can take her place at the top of the tree.

Here are the children's masterpieces – aren't they beautiful?

Christmas crafts and activities
See all our Christmas crafts and activities here.