Here's a simple Halloween craft :: apple print pumpkins.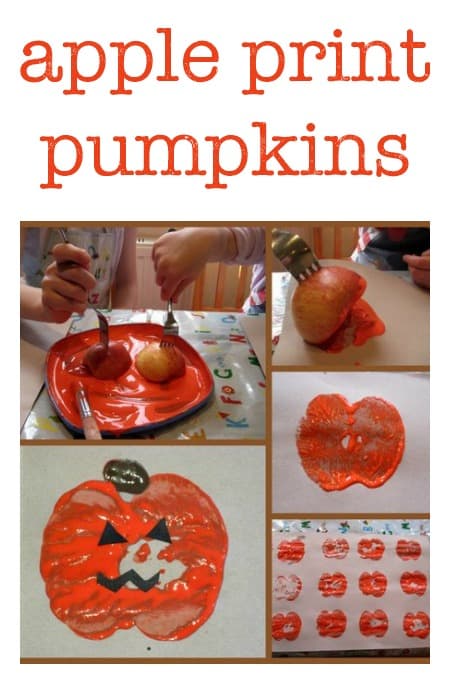 Apple print pumpkins
It's the season for apple printing: around the blog world this week I've seen some lovely apple trees and apple wreaths. We decided to get started our our Halloween decorations and turn our apple prints into pumpkins.
The apple halves can be a little tricky to grasp hold off, so we used a fork as a handle. We cut out our pumpkin eyes and faces from black sugar paper and stuck them on while the paint was wet – no glue needed.
Once they are dry you can cut out your pumpkins, glue on a lollypop stick and you have some cute Halloween bookmarks. We're also going to use the rest of ours to update our number line.
Super Sensory Invitations to Play

Ready for a whole year of exploring through the senses? Super Sensory Invitations to Play is a delightful resource that encourages your children to explore the five senses through the year, using a wide variety of sensory materials. It includes 52 invitations to play, linked to the festivals and seasons of the year, and including water, ice, dough, rice, paints, sand, sensory tubs, and more.
They are easy, simple, and fun ideas that you can use right now to give a multi-sensory boost to your play and learning. It comes with a printable recipe book featuring all our favourite recipes for play. Come and see more here.