Let's have a giggle while we learn the parts of a sentence with this silly sentences printable.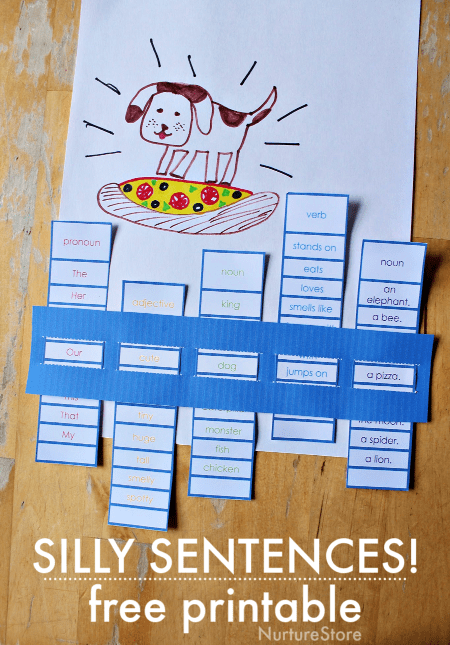 Writing silly sentences! Parts of a sentence printables
This Silly Sentences activity is a fun way to introduce the parts of a sentence to children. We all learn better when we're having fun and this sentence printable is sure to make them giggle.
In this lesson children can:
:: Learn about the parts of a sentence including capital letters, full stops, pronouns, nouns, adjectives, and verbs.
:: Have fun making up silly sentences using an interactive printable.
:: Illustrate sentences they have created.
:: Write sentences of their own.
Materials needed
:: Silly Sentences printable from the Literacy section of NurtureStore's Free Printables Library – see details below for how to access the library
:: scissors
:: ruler
:: craft knife
:: writing paper
:: pens / pencils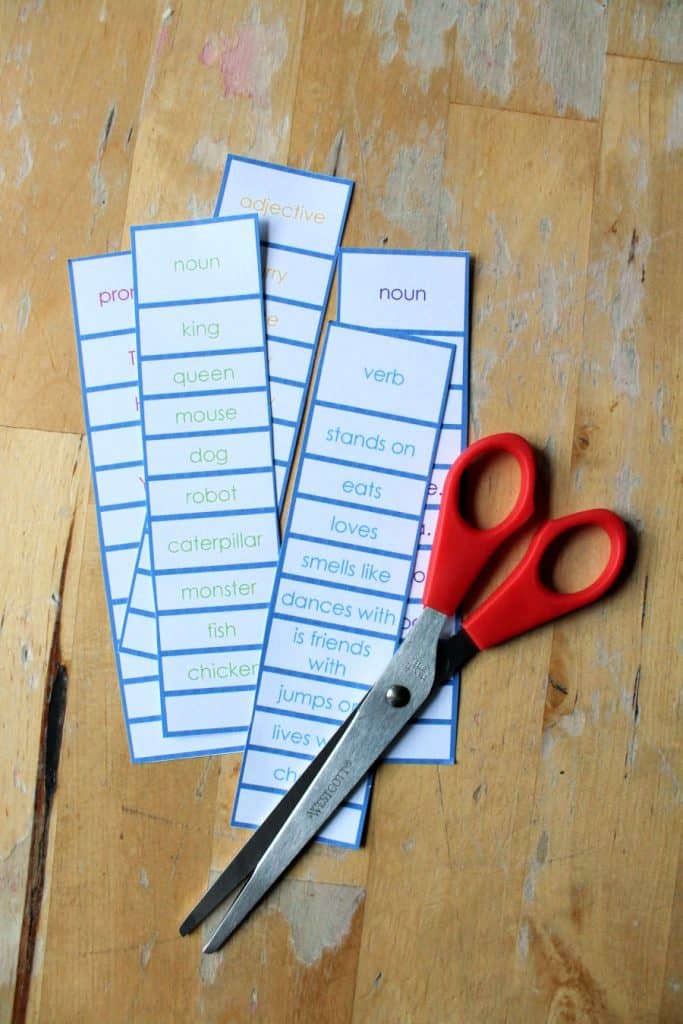 How to assemble the Silly Sentences printable
Print the Silly Sentences printable on card.
Cut out the word strips vertically to give lists of pronouns, adjectives, nouns, verbs, and a final noun with the full stop.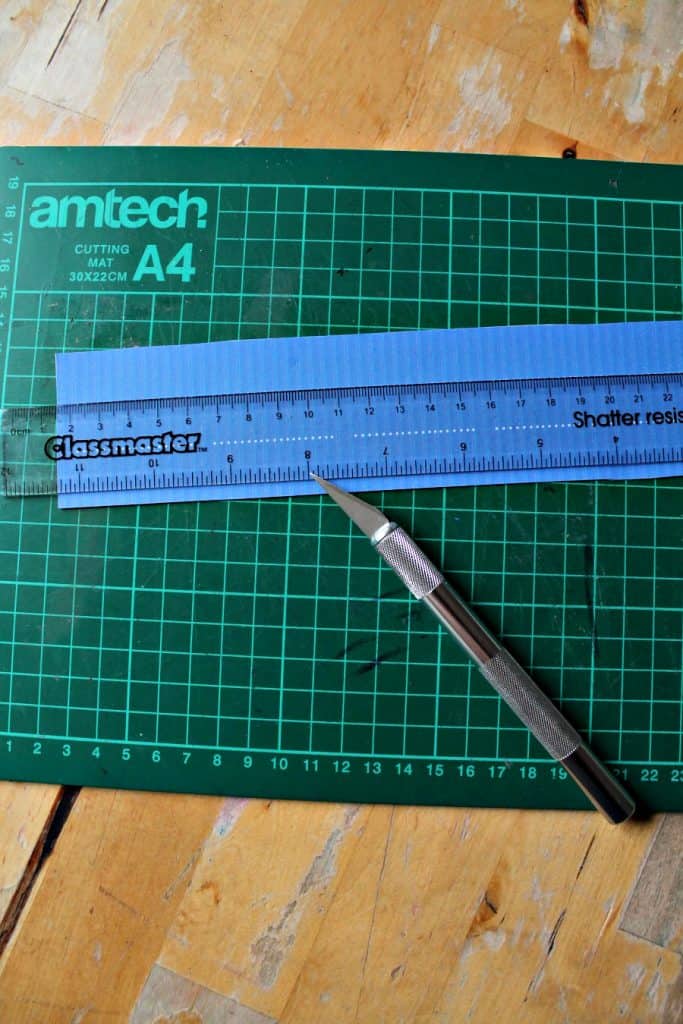 Cut around the outside of the blue slider.
Then use a craft knife to cut along the dotted lines of the slider to make slots to insert the word cards.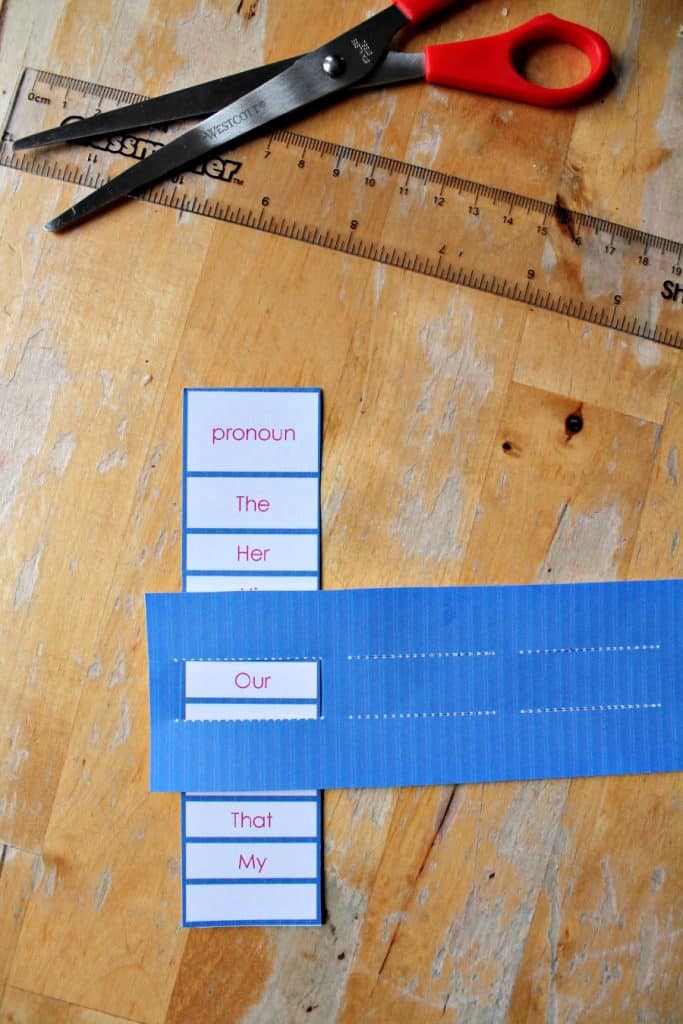 Insert the word lists into the slots, in order to create sentences:
:: Pronoun with a capital letter
:: Adjective
:: Noun
:: Verb
:: Noun with a full stop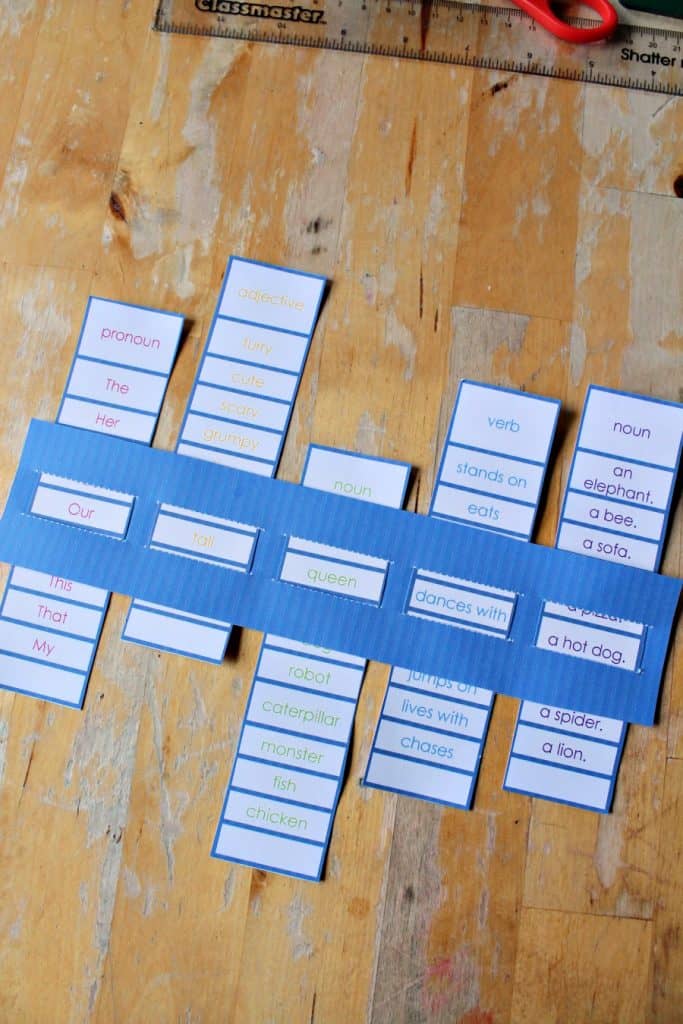 How to use the Silly Sentence slider
Ask your children what they know about sentences.
Show them the slider and read out one of the sentence combinations: Our tall queen dances with a hot dog. Ask them why they think the queen is doing that and what would it look like.
Introduce the idea that there are different types of words that we use to make up a complete sentence including:
:: nouns, like queen and hot dog that tell us what people or things the sentence is talking about
:: pronouns, like our to show which queen we are talking about
:: adjectives like tall to describe the queen
:: verbs like dances to tell us what the queen is doing
All these words work together in order, to make a complete sentence.
We always show that a new sentence is starting by having a capital letter at the beginning, and we show a sentence is ending by having a punctuation mark like a full stop (period), question mark or an exclamation mark at the very end.
Invite your children to slide the word lists up and down to make their own sentences. Then ask questions to re-cap what you've learned:
Can you point to the capital letter?
Can you point to the full stop?
Which words are the nouns in the sentence – the people or things?
Which adjective is describing something in your sentence?
Who can spot the verb: what is the person doing?
Spend a little time making different sentences and reading them out loud. There are lots of funny combinations you can make. Maybe you can act some out?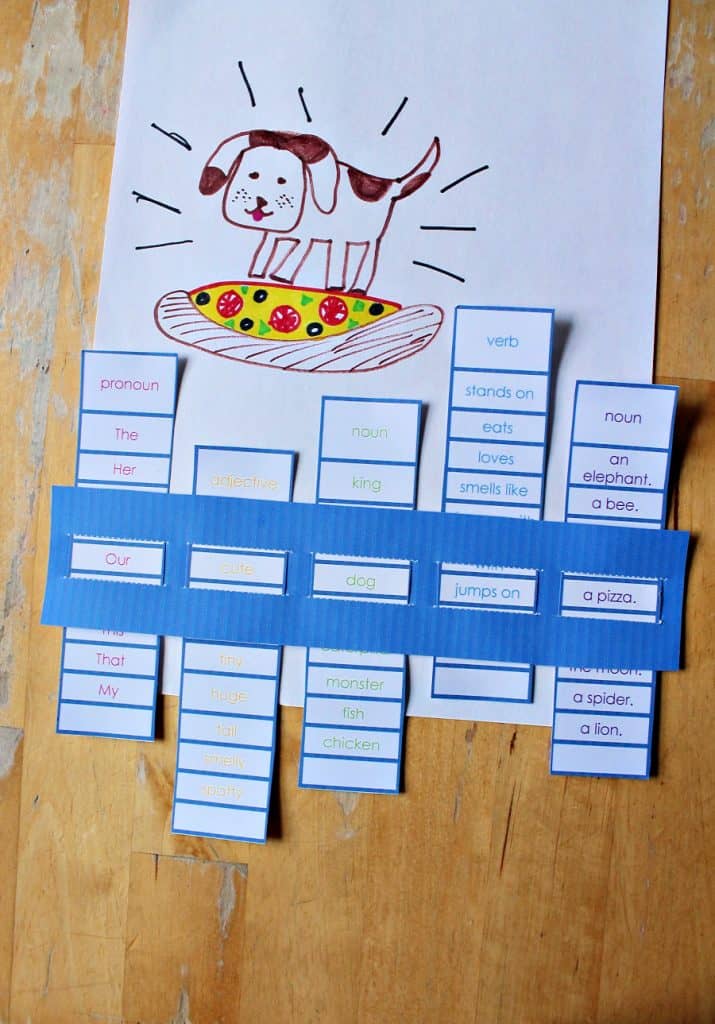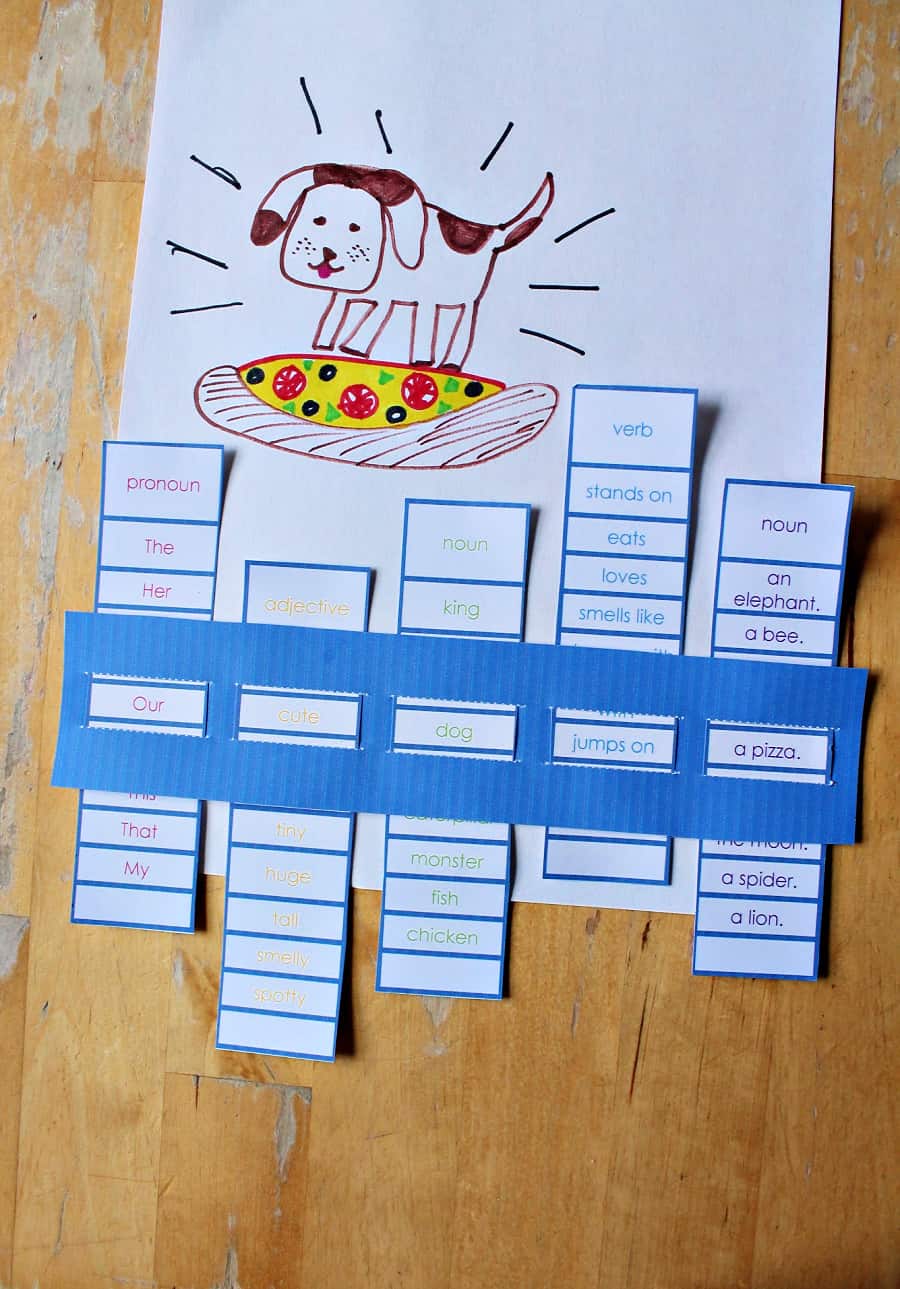 Adding in writing
Extend the activity by adding in writing.
Set out paper and pens or pencils and invite your children to illustrate one of the silly sentences.
Have them copy out the sentence underneath. You might like to have them write the pronoun / adjective / noun / verb / noun / full stop in different colours to highlight them.
Ask them to make up a very silly sentence of their own, not using the words on the slider but instead coming up with their own sentence.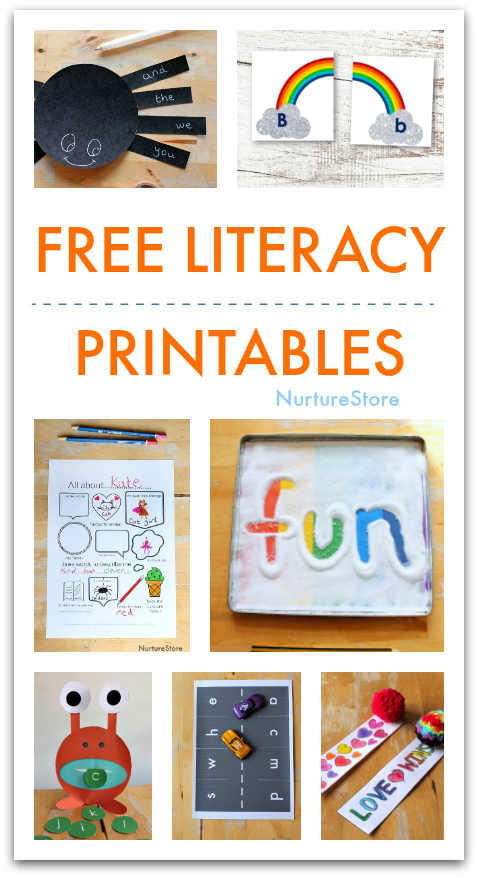 How to get our free printables
To download my free printables, you'll need to visit the NurtureStore Printables Library, which is available to all subscribers to my email list, and of course to Play Academy members.
Pop your email address in the form below and you'll get access to all my free printables, lesson plans, activity ideas, weekly newsletter, and a whole lot more!
After subscribing, be sure to check for the confirmation email. After you confirm your email subscription, we'll send you a welcome email which includes instructions for downloading our free printables.
If you're already subscribed to our email newsletter: check your email for the latest edition of the newsletter where you'll find a link to access our free printables library - the link is usually at the bottom of the email.
For help accessing our printables, click here.
---
By subscribing, you consent to our use of your personal data as per our Privacy Policy, which includes agreeing to receiving interest-based email from us.
---