Learn these fun wolf facts for children and download the printable wolf information sheet for your nature journal. Plus make your own wolf model using our cut-out printable puppets of forest animals.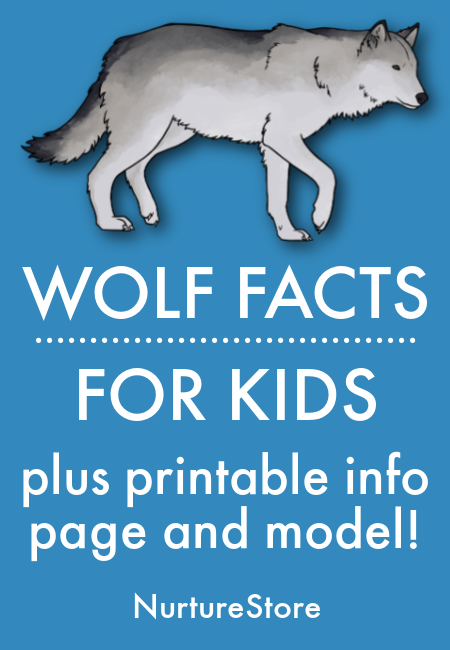 Wolf facts for children
Develop your knowledge of forest animals by reading and learning about the grey wolf. This is a great animal study to accompany your forest school activities.
In this article, you can:
:: learn about the grey wolf: it's appearance, habitat, feeding pattern, and how wolves communicate
:: develop reading comprehension skills and extend your vocabulary
:: see how to access all our printable animal information sheets and forest nature journal pages
:: find out how to get your forest animal puppets set to cut-out, colour and play with – including forest animals and bugs!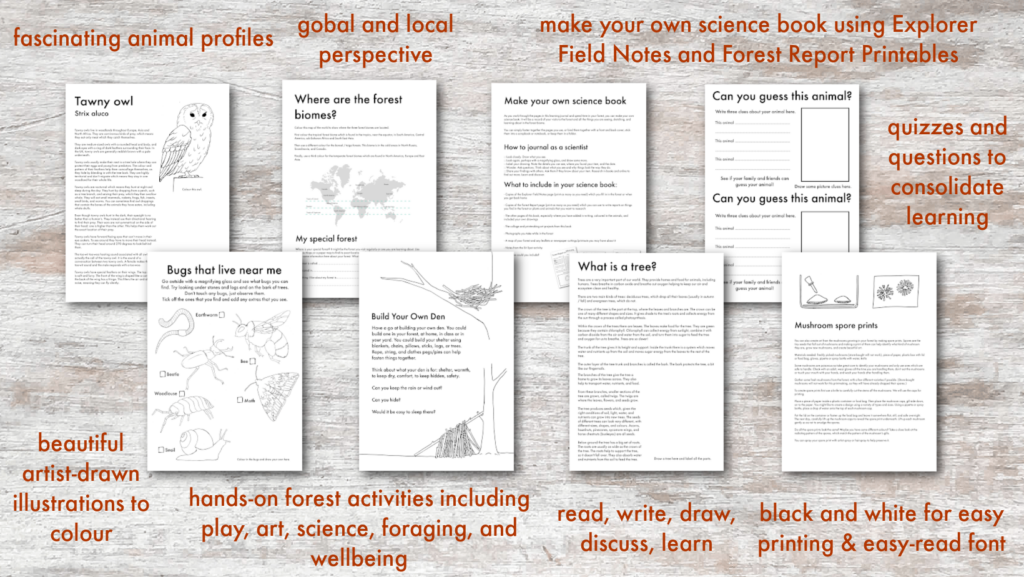 Download your complete Nature Journal kit
This activity is taken from our Nature Explorers: Forest nature journal kit. This is the perfect nature curriculum for children who have a special interest in animals, love drawing, being outdoors, and being active.
Every page of the Nature Explorers journal gives your children something interesting to read, draw, colour, write or make. You can use the whole book in the given order or mix-and-match to suit you alongside your time outdoors. You'll know your children are developing their reading and writing fluency and their science knowledge, while still spending a childhood outdoors in the fresh air.
The journal is full of special animal feature pages, activity ideas, and art projects to try in the forest, plus quizzes and questions to consolidate their learning. And your kids will love the two sets of animal cut-out models that are included: forest animals and bugs! They can colour them in, cut them out, and easily assemble them for play or to create model forest dioramas.
See more and get your copy of Nature Explorers: Forest here.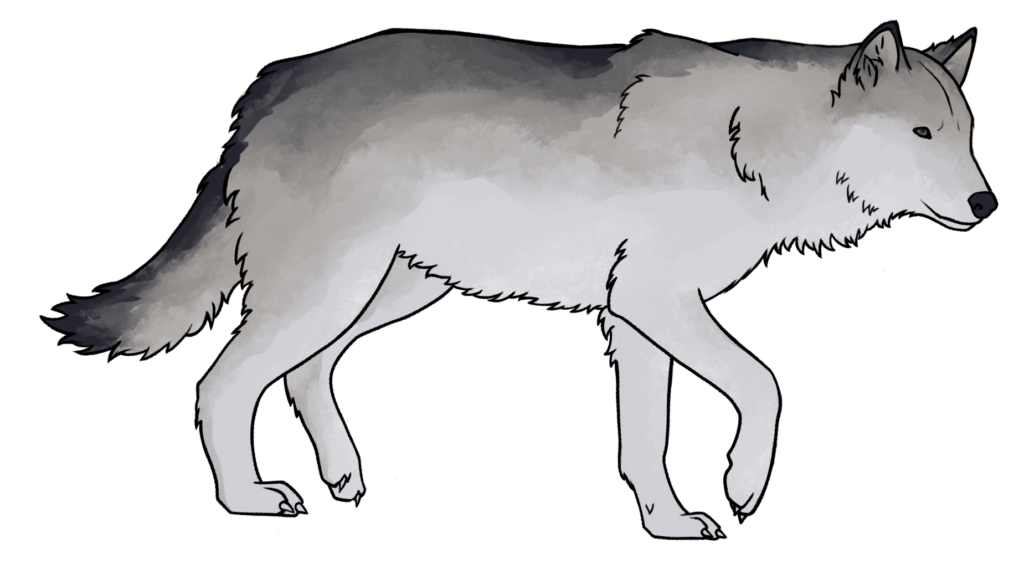 Grey wolf information for children
Start by talking about what you already know about wolves. Do you know where they live? What they eat? How do they live? What else would you like to learn about wolves?
Now read on to learn more about grey wolves.
Grey wolves are large canines, in the same scientific family as dogs and foxes. Their fur is a mix of grey, brown and black, with a lighter underside. They have thick, bushy tails, often with a black tip.
The average size of a wolf's body is 1 to 1.5m / 3 – 5 ft long and their tails are usually 30 – 60cm / 1 – 2 ft long. Females wolves typically weigh 25 – 45kg/ 60 to 100 lbs, and males weigh 70 to 145lbs.
They live in Europe, Asia, and North America in forests, grasslands and mountains. Wolves are pack animals, living together in a family group to raise their children and hunt for food. Packs usually have around 7 wolves in them and they are led by the mother and father.
The family digs a den in the summer that their puppies are born in. When the puppies are old enough they will go off by themselves to try and form their own pack.
Wolves are territorial and will claim an area of land for their pack to hunt in. The pack will spend its time roaming this territory in search of prey.
There can often be a conflict between the needs of humans and the needs of wolves. Humans are often fearful of wolves as wolves could hurt people and their animals. People have hunted them and the numbers of wolves has reduced by many, and the size of their habitat is now only a third of what it used to be.
Wolves are carnivores, meaning they eat meat. They hunt lots of different animals from large hoofed animals like elk, deer, bison, and moose, to rodents and other smaller animals when bigger prey is unavailable. They have been known to eat fruit and vegetables.
Wolves use sound and body language to communicate with their family group, to strengthen the bonds between the pack. They also howl loudly so they can be heard over long distances to warn other packs to stay away from their territory. 
Recap your knowledge about wolves
What have you learned about grey wolves?
What do you think is the most interesting thing about this animal?
What else would you like to find out about wolves?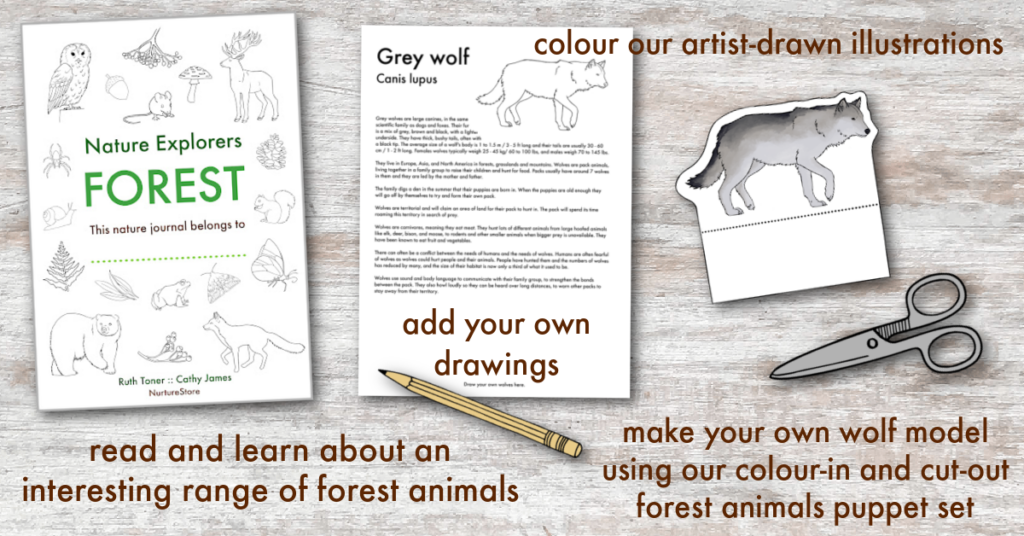 More forest animal facts for kids
Download all our animal fact sheets from our Nature Explorers: Forest nature journal. Each animal feature page teaches you about the animals appearance, habitat, feeding pattern, and lifestyle.
You can colour in our artist-drawn realistic animal illustrations, and there's space to add your own drawings too. Collect all the Nature Explorers: Forest pages to make your own science book.
Alongside our printable wolf information page you'll find feature pages about more temperate forest animals including the gray squirrel, great spotted woodpecker, red deer, red fox, tawny owl, wood louse and the boreal forest dweller, the Siberian tiger.
Plus, colour in and cut out our forest animals puppet set to make your own diorama or to play with.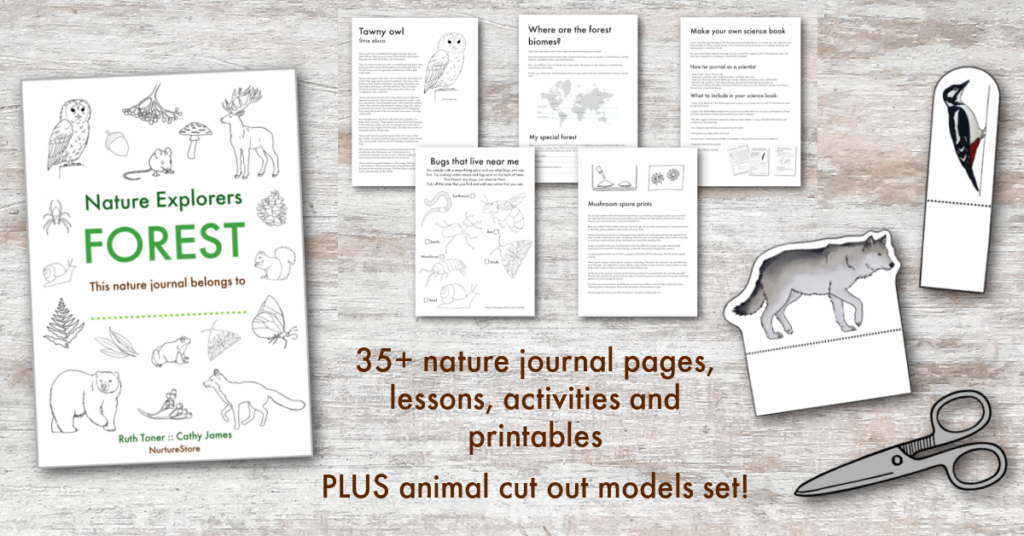 Get your copy of Nature Explorers: Forest – the interactive nature journal for children
Nature Explorers: Forest is the perfect way to add reading, writing, drawing and science to your forest adventures.
This interactive nature journal will get your children reading, writing, drawing and learning as they create a unique science book about their own forest.
The Nature Explorers: Forest learning journal is the ideal bridge between a classroom curriculum and the great outdoors. Your children will love learning the amazing animal facts, drawing, and playing with the animal cut-out models, while you will know the important early academics of reading fluency, comprehension, expanding vocabulary and writing skills are being developed alongside science, geography and art knowledge.
Nature Explorers: Forest is suitable for parents, teachers, and forest school leaders with children aged 5 to 10, to learn in a forest, school nature area, local park or your own backyard.
See more and get your copy of Nature Explorers: Forest here.