FAMOUS ART INSPIRATION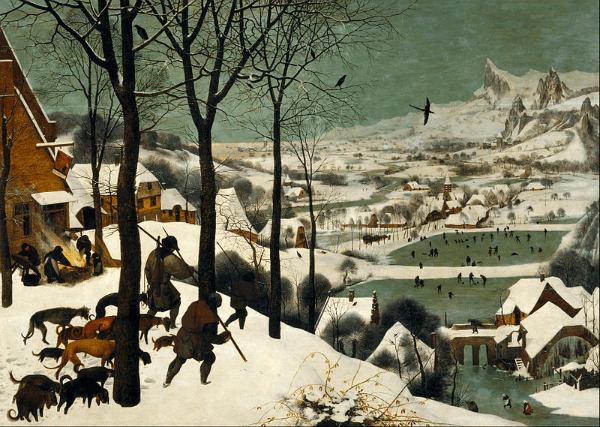 Let's being by looking at some famous art for inspiration. Click the links below to see each picture and as you take a look, talk about:
:: What do you see?
:: How do you think the artist created this painting?
:: How does the painting make you feel?
Hunters in the Snow :: Pieter Bruegel the Elder, 1565 is one of the most famous winter landscapes. Think about how hard winters were in the 1500s and notice how the people in the town are preparing for winter.
A Winter's Landscape :: Giuseppe de Nittis, 1875
Snow at Louveciennes :: Alfred Sisley, 1878
The Magpie :: Claude Monet, 1868-9
These painting are all from the same period. Notice the impressionist style, the perspective of each painting, and the sunlight. (I think Monet's capture of the light is extraordinary.)
The Drum Bridge at Meguro and Sunset Hill :: Hiroshige, 1857
This painting from Japan is from around the same time as the Impressionist paintings, but how different! And yet we see the same dark skeleton branches and contrasting sky.
Winter Landscape :: Wassily Kandinsky, 1911
A totally different interpretation of a winter landscape. Did this one surprise you? Kandinsky had a condition called synesthesia which allowed him to hear colours. Can you imagine what that is like? Perhaps you hear / see in the same way?
You can also take a look at photographs of trees. Notice how their trunks and branches relate to one another, and what forms they create.
This workshop combines really well with a nature walk where you go tree-spotting and take photographs of the ones you like, or you can use my photographs below for reference.