Please give a warm welcome to The Fairy and the Frog, who is joining us today to share a lovely idea that combines creative and imaginary play with construction skills:  weaving a den!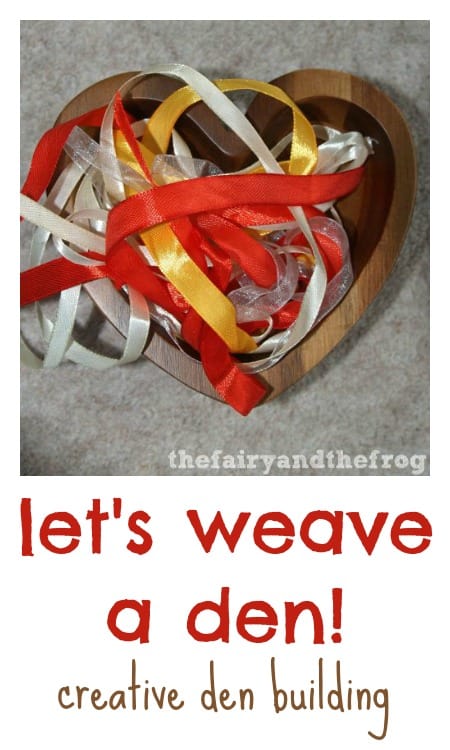 Weaving a den for imaginary play
Making dens is a lovely activity to do with children. They can provide a starting place for imaginative play or a cosy spot to share a story. In a preschool or daycare setting they can also provide a calm space for children to feel safe and secure.

Recently the Fairy requested to make another 'ribbony den' (we had previously done this activity in the summer). I convinced her that due to the rain and the wind it might be better to build one inside. We love fall crafts so I suggested to the Fairy we make an 'autumn den'. We hunted through our 'making box' to find some fall / autumnal coloured ribbon to reflect the season. We had lots left over after making our ribbon streamers.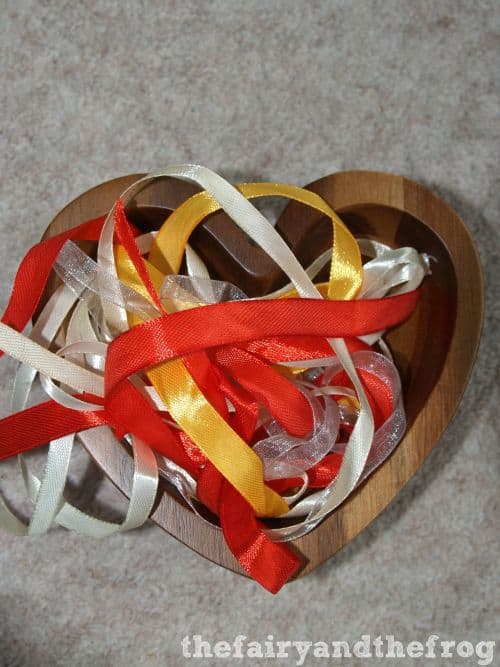 I tied some garden stakes (canes) to provide a secure wigwam base. She then set to work carefully weaving. Weaving is great for developing motor coordination, concentration and problem solving skills.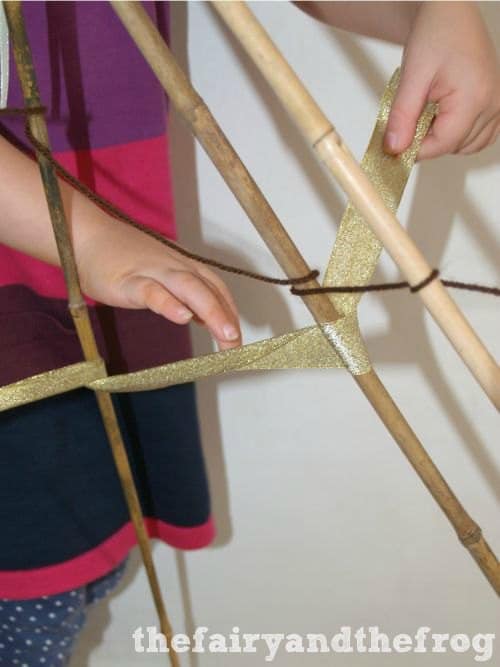 I started by tying a knot so it didn't slip as she wove. She soon asked if she could tie a knot herself. I sometimes find it tricky sitting back and waiting if I think a task is too hard for her or she is struggling. I recently read a quote on the internet from Maria Montessori that said "Never help a child with a task at which he feels he can succeed". As I watched the Fairy I remembered this quote, so I sat and waited (despite wanting to jump in and help her). It took her sometime but she did manage to tie a knot. She was so proud of herself – it was worth the waiting!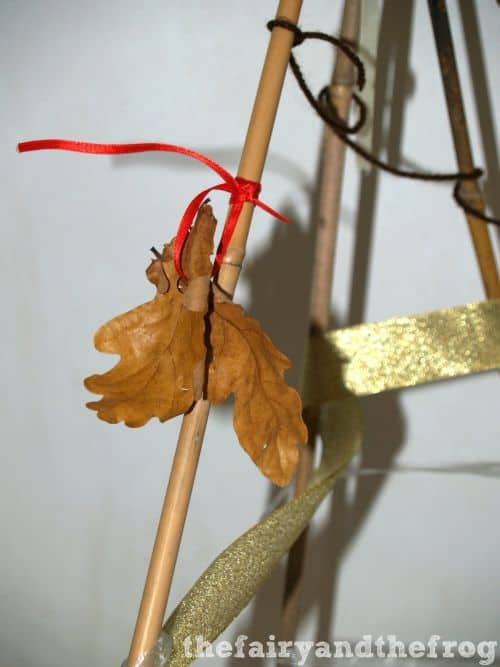 Later the Fairy asked if we could make the den more 'autumny'. So we hunted through our nature collection to find things we could attach. Hole punching and threading leaves also works on developing motor control. We all loved our 'rustic' fall den, bringing the outside in.

This post is brought to you by The Fairy and The Frog. The Fairy and The Frog's mum wears many hats, as well as being a mum of 2, an avid coffee drinker and keen (but not always successful) gardener, she is also a paediatric Speech and Language Therapist (Pathologist) and blogger.  The Fairy and The Frog is packed full of play based learning, tips for developing language, craft and family friendly activities. You can also find us on Twitter, Facebook, Pinterest and Google +.