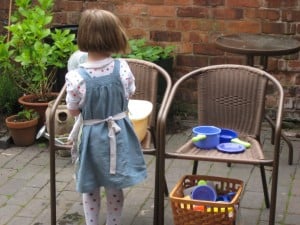 Sometimes the simplest ideas turn out to be just the most fun. Little asked if she could do the washing up yesterday 'like a grown-up'. Two minutes to set up, all for free, and it kept her busy for an hour. I think she enjoyed it so much because she was using 'real' adult things rather than 'toys': washing up liquid, our washing up bowl and one of 'Mummy's' scrubbing pads.
As you can see we set her up outside so there was no need to worry about any splashes. However this has turned out to be so much fun, she's been playing again today when it's been rather chilly so she's been in the kitchen. I put a big bath towel on the floor as a precautionary measure but she's been very grown up and sensible so there's hardly any spills.
I only wish I still found doing the dishes so much fun.