If you know a child who loves trucks and cars, try these super transport activities.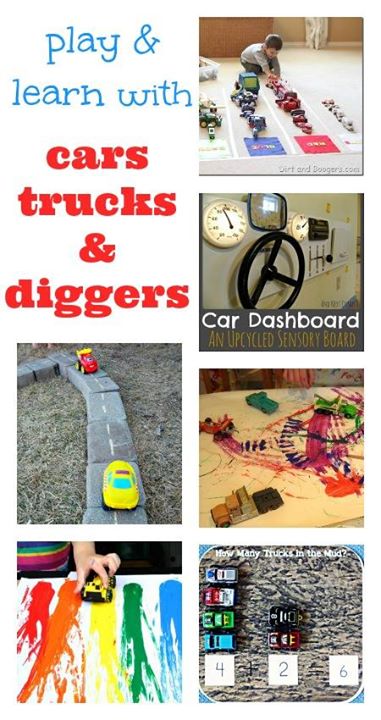 Transport activities for preschool
I love to take something my child loves to play with and use it in lots of different ways. This can encourage them to try different ways to play, and lets them learn important skills by doing something they love.
Playing with cars is a wonderful invitation to children to role-play everyday situations and stretch their imaginations and a play scene is easy to set up for them. Try one of these ideas!
Transport play ideas for children
:: You could combine soil and tubes to create a super monster truck play area
:: You could cereal box city
:: Try this idea for diy outdoor roads
:: I love this muddy car wash set-up – the ramp makes it even more fun!
:: You could try this DIY car dashboard idea so your child can 'learn to drive'
:: How about using cars to introduce some maths ideas? You could try car colour sorting
:: Or use cars for sums
Car-themed art ideas
:: For art, my girls love this technique for painting with cars
:: and they would love this idea for drawing with cars
:: A ramp makes for a colourful car painting
Get free resources for your children!
Did you know you can receive free weekly activity ideas, seasonal resources, free printables and extra bonuses from Nurturestore? You'll have creative learning ides for your children all year round!
Sign up in the box below and we'll send you your freebies!
---
* By subscribing, you consent to our use of your personal data as per our Privacy Policy, which includes agreeing to receiving interest-based email from us.
---