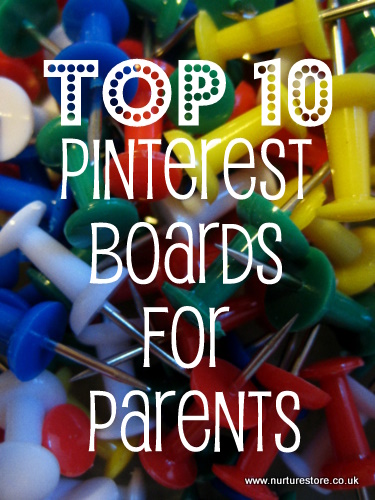 Are you hooked on Pinterest yet? I find it a fun and practical way to get inspiration and collate my favourite ideas for things to try with the kids.
Whether you're looking for art and crafts, healthy recipes or tips to get your kids reading, Pinterest has them all. But how do you find the best stuff? Here's my guide to my Top Ten Pinterest boards for parents
Top 10 Pinterest boards for parents
1. NurtureStore has a great selections of kids boards, with new ideas pinned regularly to bring you lots of seasonal ideas. Follow all the boards and I'll bring you a mix of play ideas including maths, writing, science and crafts
2. The We learn through PLAY! board is my favourite for a great mix of kids ideas.
3. With spring on the way now's the time to stock up of lots of outdoor and garden play ideas, so check out The Garden Classroom board for inspiration
4. Regular readers will know we're hooked on playdough so this Playdough board is one of our go-to places
5. The Kid Blogger Network Activities and Crafts board, set up by Play Dr Mom and based on the network founded by Jamie at Hands On As We Grow, brings together the best selection of play ideas from over  100 bloggers in the network
6. For the coolest parenting ideas and lots of interesting discussion follow The Parent Watercooler, which is a collaborative board founded by Zina of Let's Lasso The Moon and delivers the topics everyone's talking about
7. The Reading and Writing Readiness board, brought to you by Allie from No Time For Flashcards and many others, is full of creative and playful ideas to encourage your children on their way to making their mark
8. Debbie from Rainbows Within Reach has a glorious Children's Art board which is full of inspiration and with a focus on enjoying the process of creating
9. And don't forget the grownups! The Creative Mamas Inspiration Cafe is a collective board founded by Alissa from Creative With Kids and has gorgeous ideas to inspire parents to be as creative as their kids
10. Your turn now – what's in your Top Ten Pinterest Boards for Parents? Leave a comment and share your favourite