In today's instalment of our ABCs and 123s letter and math series, please welcome Meredith from Homegrown Friends, who is sharing a super sensory art and math idea, exploring texture and shape through collage.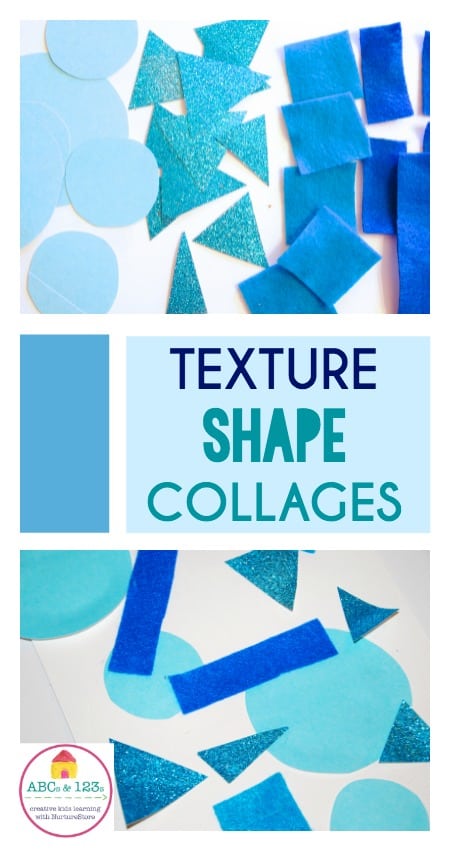 Texture Shape Art Collages
I love creating activities for children that combine multiple areas of study. These Texture Shape Art Collages are a fun, tactile way to explore simple shapes with children. This process-based art activity is a perfect introductory mathematical exploration for children.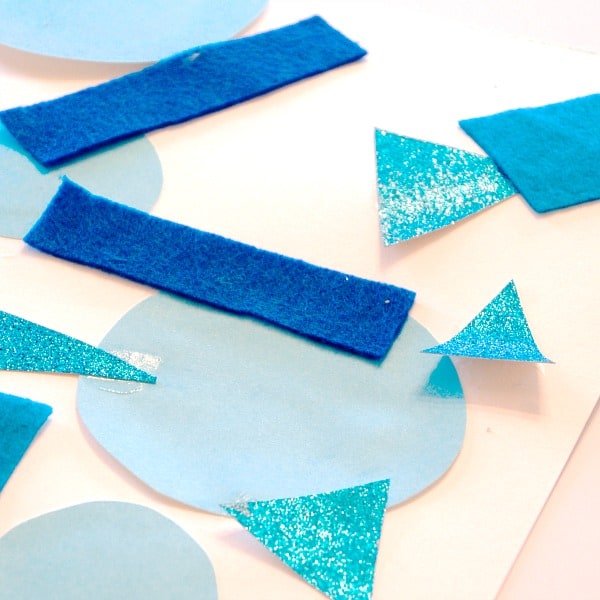 Areas of Development
mathematics (shape exploration, counting)
sensory exploration (describing and feeling different textures)
language exploration (discussing shapes)
What You Need For The Texture Shape Art Collages
different textured papers cut into a variety of shapes (I used rough, glitter paper, soft felt and smooth card stock)
glue
thick paper or cardboard for the collage base (I used watercolor paper)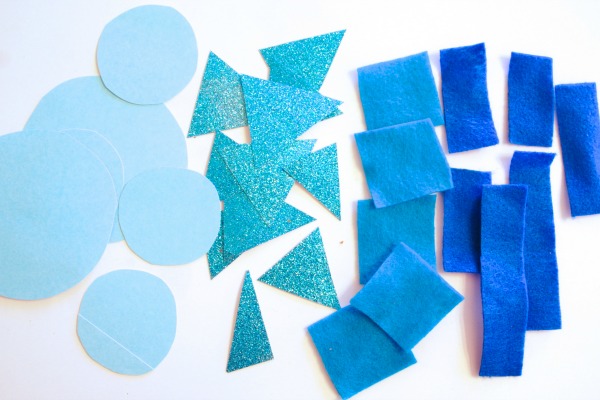 How To Introduce The Texture Shape Art Collages
Prior to introducing the activity cut out shapes of varying textures and sizes. Because I wanted the focus of this activity to be on shapes and textures I made all of the paper varying shades of blue. When cutting the shapes I wanted them to be a variety of different types of triangles and rectangles and different sized circles and squares.
Each child received a sheet of watercolor paper, a small dish of white glue and a brush (you could also use a glue bottle, but I find a brush helps control the large pools of glue that can happen) and access to the various shapes.
This is a process-based art activity so the emphasis should be on what the children are doing versus the end result. While the children work focus the language on what you see. "Look at the way the edge of your triangle is curling up." "I notice your large circle is half way off your paper." Give children ample time to explore the materials in their own way. "How many triangles are you using?" "How does the rectangle feel?"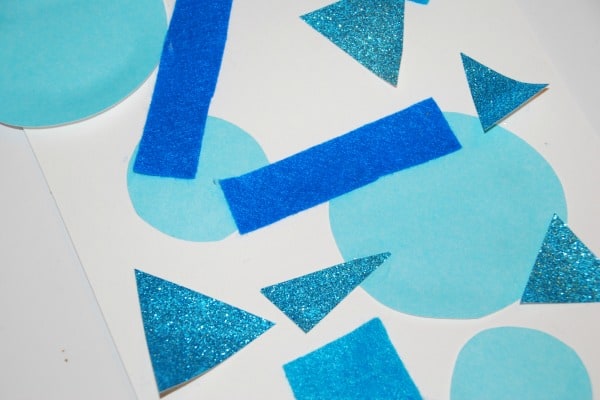 At the end of the art experience you can explore the children's work together as a group. Give children the option of describing their own work. As an extension to the Texture Shape Art Collages you could have the children graph the number of different shapes they used. Who used the most triangles? Who used the least squares. Display the children's work in the classroom or home setting for further exploration and discussion.
More resources for playful math
Introduction to Block Building
Teaching Math Through Movement
Ways to Play with Plastic Cups
Meredith Magee Donnelly, MS, Ed is an Early Childhood Educator, mother of three and creator of the blog, Homegrown Friends, a site focused on play-based learning activities. Prior to becoming a mom Meredith taught Kindergarten in New York City and now focuses her attention on raising three energetic kids and sharing her love of hands-on learning. Stay connected by following Homegrown Friends on Facebook, Pinterest and Instagram.

 My guide to ABCs and 123s
Do you have a young child who is learning their ABCs and 123s, and do you want to make their learning fun? Our ABCs and 123s resource of mulitsensory, play-based letter and math activities is just what you need.See more here.