Yesterday, boredom and a well stocked craft box were the spring board for creativity and play. Today it was a story book which gave a play idea.
Shirley Hughes books are favourites in our house and The Big Alfie Out of Doors Storybook (Red Fox picture books)
is Little's favourite of them all. It's a collection of short stories and poems about outdoor play and adventures. One tells the story of Bonting, Alfie's treasured pebble – so of course Little now has a Bonting of her own which she carries with her in her coat pocket.  Today's story though was about Alfie's camping trip.  Little is in awe of Alfie going to sleep out at night in a real tent. Now, the weather is still a little chilly to get me in a real tent overnight, so it's forturnate she was satisfied with a play tent.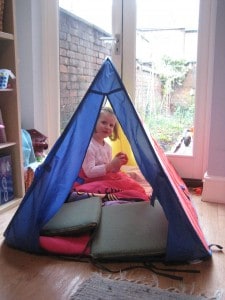 She knew from the story all the things she needed to take on her trip. Having said that, we have read the story several thousand times so she's had plenty of time to memorise the list!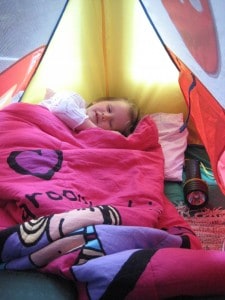 She even made a campfire to cook her breakfast on.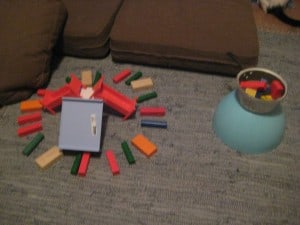 What's your child's favourite story? Could you bring it to life for them?
And if you love pretend play you might like these ideas for a role play shop and a role play hospital.
Come play at the Childhood 101 We Play link up for more play inspiration.