My new book Super Sensory Invitations to Play is going on tour! Follow along with us as some totally awesome kids' activities bloggers try out ideas from the book.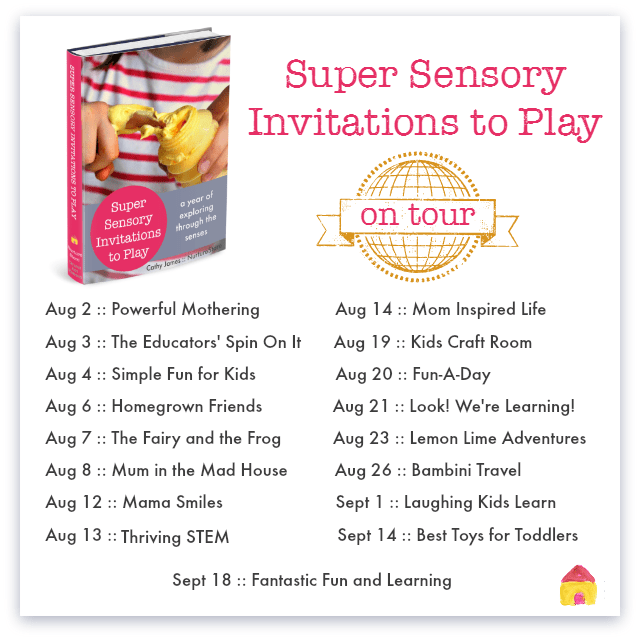 Super Sensory Invitations to Play on tour!
Use the links below to visit the blogs and you'll get to meet some great sites, and get to see more of what's included in Super Sensory Invitations to Play.
Aug 2 :: Powerful Mothering
Aug 3 :: The Educators' Spin On It
Aug 4 :: Simple Fun for Kids
Aug 6 :: Homegrown Friends
Aug 7 :: The Fairy and the Frog
Aug 8 :: Mum in The Made House
Aug 12 :: Mama Smiles
Aug 13 :: Thriving STEM
Aug 14 :: Mom Inspired Life
Aug 19 :: Kids Craft Room
Aug 20 :: Fun-A-Day
Aug 21 :: Look! We're Learning!
Aug 23 :: Lemon Lime Adventures
Aug 26 :: Bambini Travel
Sept 1 :: Laughing Kids Learn
Sept 14 :: Best Toys for Toddlers
Sept 18 :: Fantastic Fun and Learning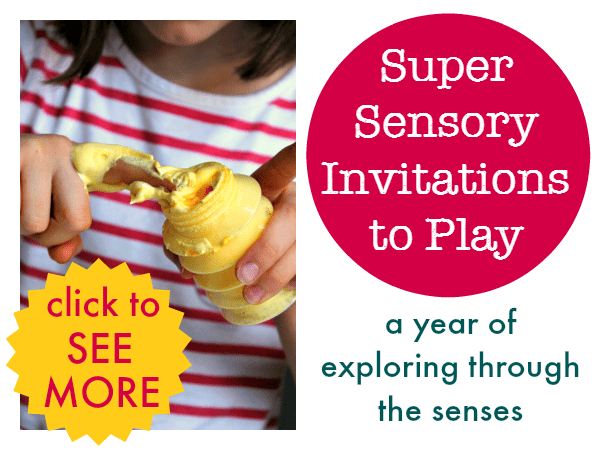 How to get your copy of Super Sensory Invitations to Play
Super Sensory Invitations to Play is a delightful resource that encourages your children to explore the five senses through the year, using a wide variety of sensory materials.
It includes 52 invitations to play, linked to the festivals and seasons of the year, and including water, ice, dough, rice, paints, sand, sensory tubs, and lots more.
It's packed with easy, simple, and fun ideas that you can use right now to give a multi-sensory boost to your play and learning.
And, it comes with a printable recipe book featuring all our favourite recipes for play.
You can buy the ebook now for just $14.99 – come and take a look at what's inside!