Nicola from Crafty Kids at Home is taking
our ABCs and 123s series
outdoors today with a great idea for math at the beach, making numbers stones.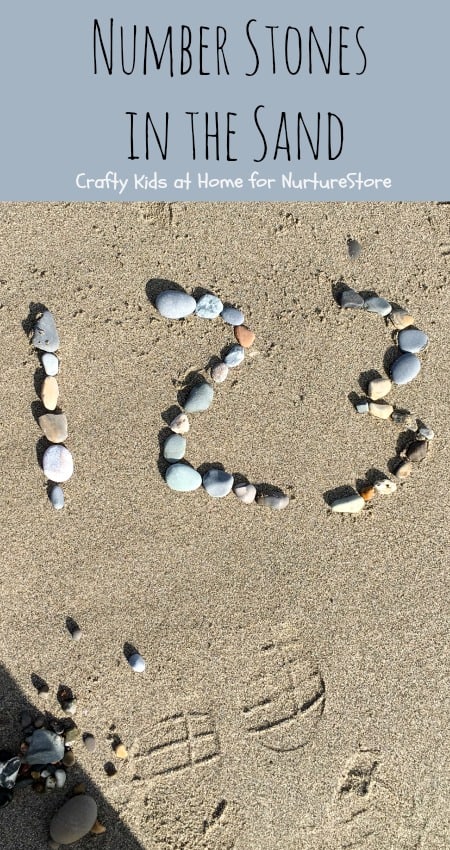 Number Stones math at the beach
Pack a picnic and head to the beach for a Preschool Number Recognition learning adventure.
Over here at Crafty Kids at Home we love to take our learning outdoors, well as much as the changeable Irish weather will let us. Stepping outside immediately adds an extra dimension of fun to an activity, so it almost doesn't feel like learning at all.
Going outdoors, also means getting hands on with an activity. By engaging several senses at the same time, you are creating a much deeper and more fulfilling learning experience, especially for busy preschoolers who find it hard to sit still.
Number recognition is high on our preschool agenda right now. My daughter turns 4 in just a few weeks and she still has a way to go with recognising the numbers 1-10, despite being a very competent counter. So with the help of her big brothers (she listens to them much more than she listens to me!) we packed up a bag and headed down to our favourite outdoor place to learn, the beach.
Supplies
A nice sandy beach
Lots of interesting stones, shells and pebbles
A picnic (essential)
We arrived to find the tide was very low, leaving us plenty of sand to use as our number canvas.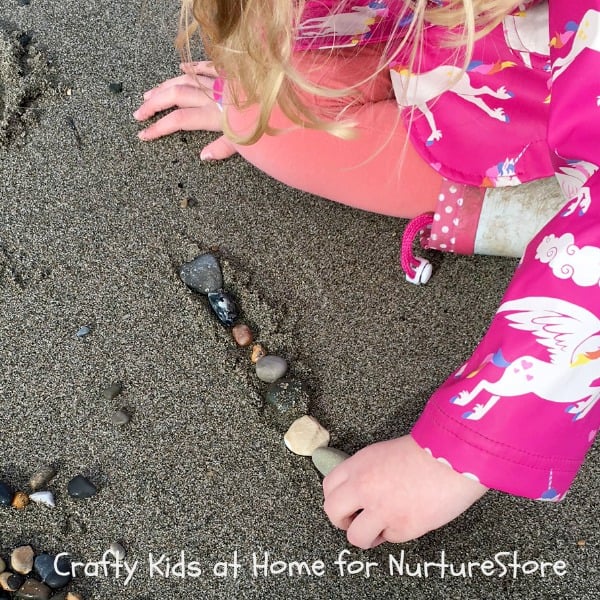 We started the activity with some simple tracing in the sand. Her big brothers relish helping their little sister (well most of the time) so they got down on their hands and knees to show her how to trace the numbers 1-10 in the sand.
She was a little reluctant to try herself, but was content to trace over her brothers numbers with her own fingers.
I then sent them all off to forage for cool stones, pebbles and shells to add over their tracings. They love to "hunt for treasure" on the beach together, so this part of the activity was greeted with much enthusiasm from each of them.
They came back with quite a haul and spent ages exploring the different textures and commenting over the different colours and shapes that they had found. Eventually they all set to work filling in the dents of their number tracings with their treasures.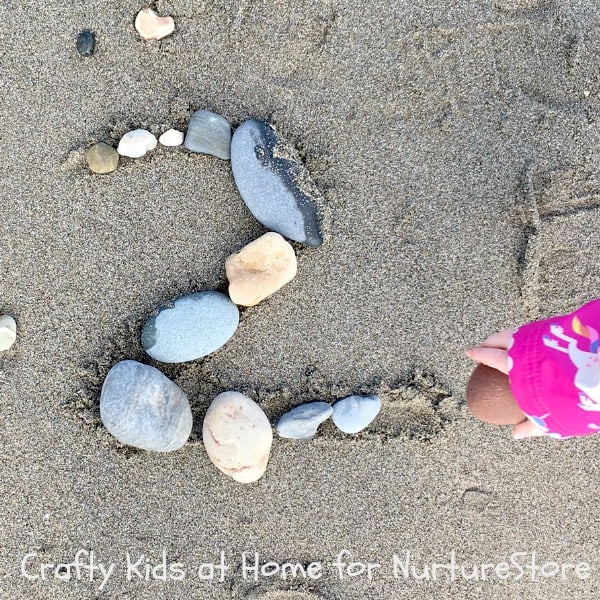 My daughter was well able for this and it was a great way to reinforce what she had already learnt, when she was tracing over the numbers at the start of the activity.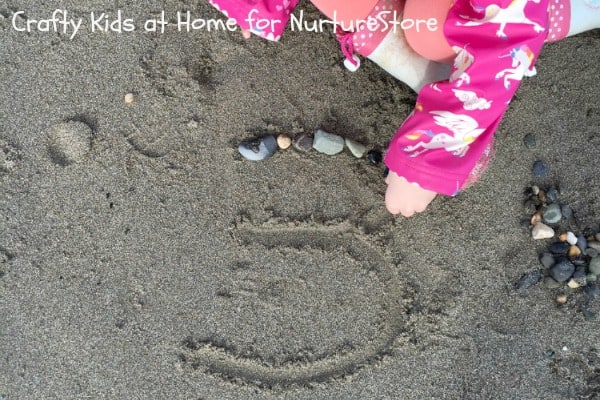 All the time they were working away on the numbers, we chatted to Bella about them, to keep reinforcing what she was learning.
Learning is hungry work, so we had to end the session with a well deserved picnic.
If you don't have a beach nearby, then why not make some cloud dough sand and collect pebbles from your garden instead?
For more Preschool Fun read our:
Invitation to Cut Fresh Flowers Activity
5 Little Ducks Play and Learn Number Fun
Former Librarian Nicola, blogs over at Crafty Kids at Home. Where she shares the Arts & Crafts, Learning Activities and Sensory Play ideas that she does at home with her 2 sons aged 6 and 8 and daughter aged 3. Check out her latest book Green, Crafty and Creative: Natural and Recycled Activities for Kids.


Free Forest School and Garden Classroom resources!
Join my weekly email service and I'll send you FREE printables, lesson plans, and activity ideas that you can use with your children in your forest school and garden classroom.
Seasons School is NurtureStore's year-round program of living and learning with nature. Our activities and resources focus on hands-on, nature-based learning that connects children with the natural environment.
If you're looking for nature study lessons, arts and craft projects, campfire recipes, foraging ideas, outdoor math and literacy activities, outdoor games, and ways to explore forests, gardens, and outdoor spaces - think of NurtureStore as your forest fairy godmother!
Whether you're in a forest school or outdoor classroom, running a school gardening club, bringing nature lessons into your class, home educating with nature, or wanting to connect with the great outdoors at the weekend, you will love the Seasons School ideas.
Pop your email address into the box below and I'll send you your free resources.
---
* By subscribing, you consent to our use of your personal data as per our Privacy Policy, which includes agreeing to receiving interest-based email from us.
---