Bring on the autumn! There's not much better to lift your spirits than jumping through a big pile of crunchy leaves with your kids. While you're out and about enjoying the new season, collect up some leaves and bring them home to play these seasonal letter and maths games.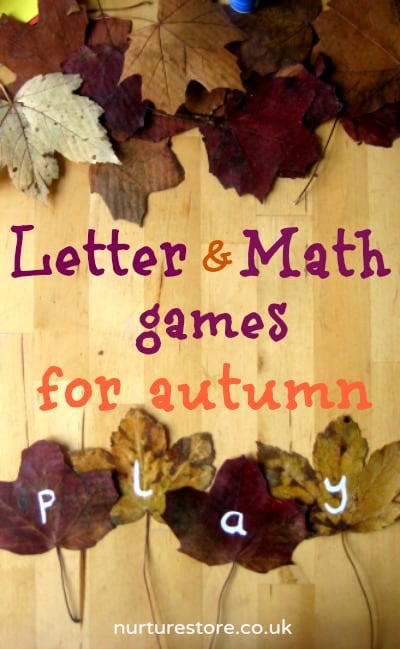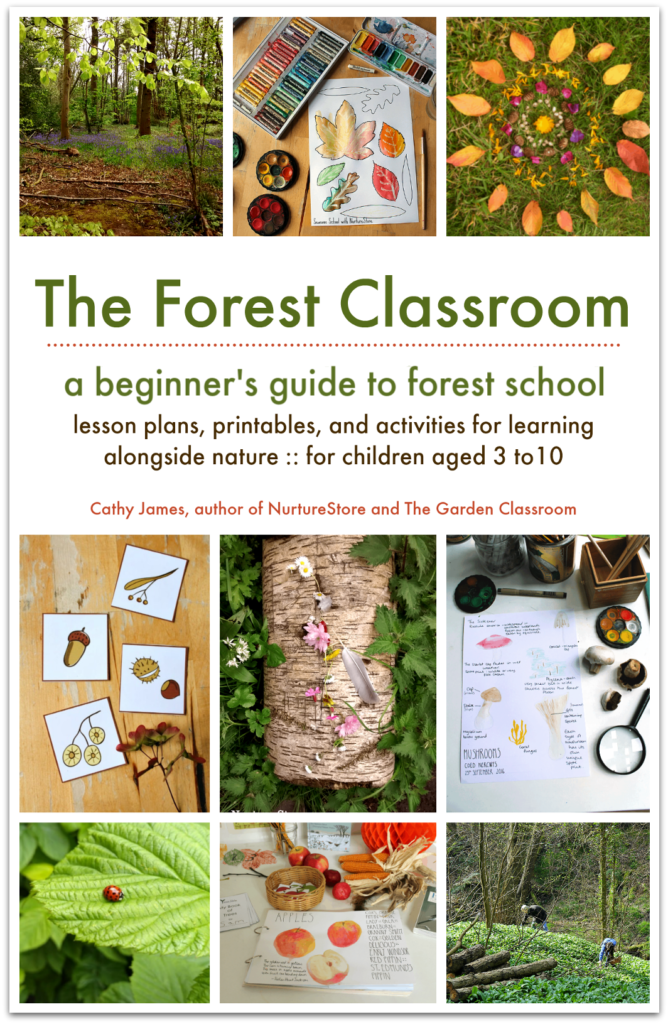 Ready-made forest school lesson plans
Have you got your copy of The Forest Classroom yet? It is the perfect beginner's guide to running a successful forest school. Download your forest school guide here.
A forest classroom is a place of adventure, discovery, and imagination. It can also be a wonderful place to learn about math and science, explore art and crafts, and develop language and social skills.
The Forest Classroom is a practical guide which will show you how to engage your children in fun and educational forest-school activities.
These ready-made forest school lesson plans are suitable for forest school leaders, teachers, childcarers and parents with children aged 4 to 10, to learn in a forest, school nature area, local park or your own backyard.
Get your copy of The Forest Classroom here and you'll be ready to head straight outdoors and enjoy teaching, using our ready-made lesson plans.
---
Maths games for autumn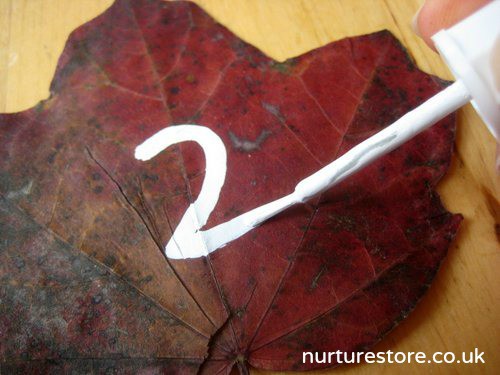 You can transform a pile of autumn leaves in to learning resources by painting on some numbers and letters. We used correction fluid but a permanent marker or acrylic paint could do the job just as well. You could laminate the leaves or cover them in contact paper/sticky backed plastic to help them last a little longer as you play.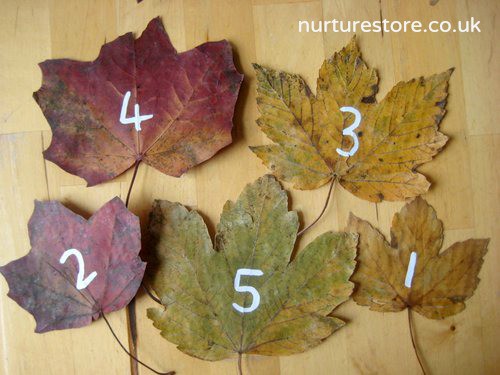 Lay out a jumble of number leaves and try these maths games – depending on the age and stage of your children:
1. Spot the number that matches your age
2. Point to each number and say its name out loud
3. Arrange the numbers in order: getting bigger or getting smaller (if you organise your leaves when you're adding the numbers you can correspond ascending numbers on leaves that are increasing in size.)
4. Make some repeating patterns with the colours and shapes of your leaves:
one green, one brown, one green, one brown…
one green, two brown, three yellow, one green, two brown, three yellow…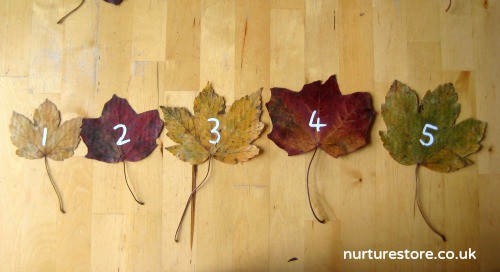 Letter games for autumn
Make a set of leaves with letters (perhaps on the reverse side to your numbers) and you can play some letter games too.
1. Lay out the leaves in a jumble and see which letters you recognise.
2. Find the letters in your own name.
3. Layout the letters from a word your child knows, or a spelling they're trying to learn, and see if they can unscramble them.
4. Add some of the leaves to a sensory tub and hunt out all the letters.
5. Hide the leaves around the house or garden and go on a letter treasure trail. Can you find the whole alphabet?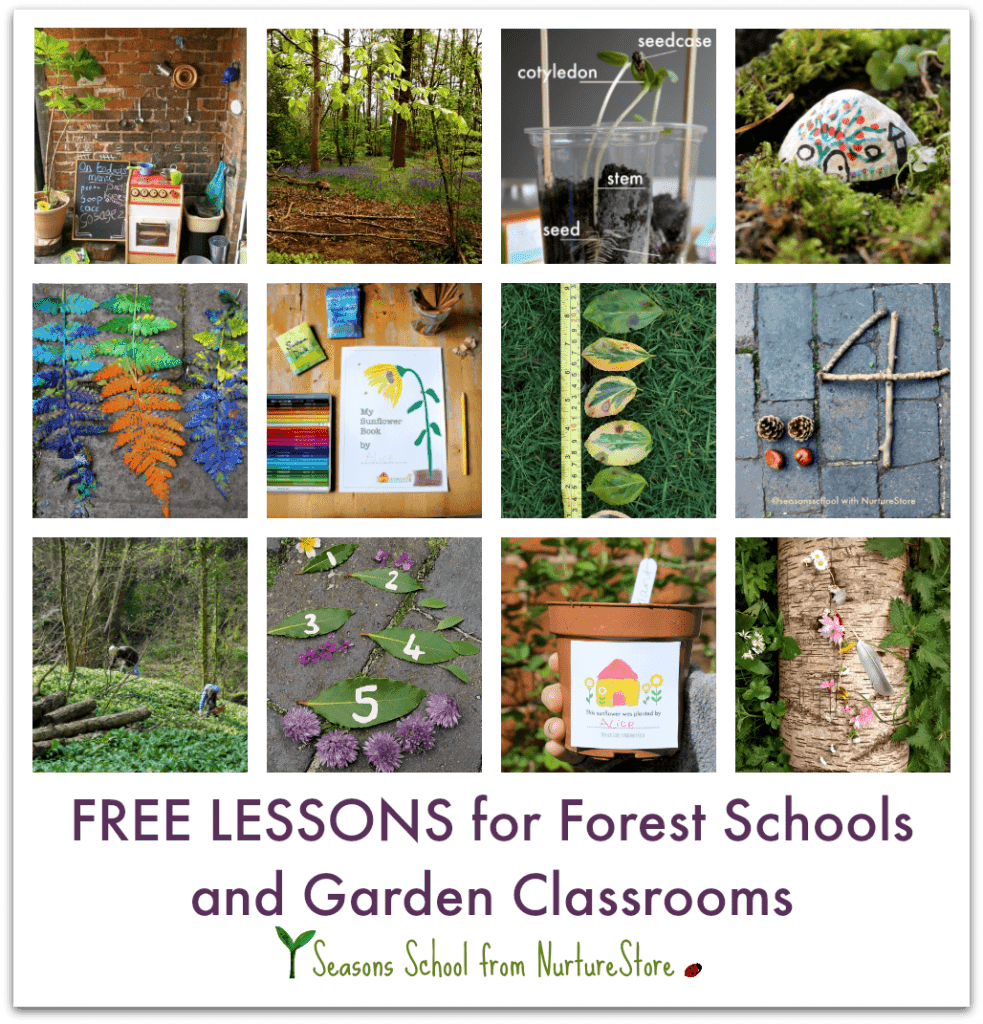 Free Forest School and Garden Classroom resources!
Join my weekly email service and I'll send you FREE printables, lesson plans, and activity ideas that you can use with your children in your forest school and garden classroom.
Seasons School is NurtureStore's year-round program of living and learning with nature. Our activities and resources focus on hands-on, nature-based learning that connects children with the natural environment.
If you're looking for nature study lessons, arts and craft projects, campfire recipes, foraging ideas, outdoor math and literacy activities, outdoor games, and ways to explore forests, gardens, and outdoor spaces - think of NurtureStore as your forest fairy godmother!
Whether you're in a forest school or outdoor classroom, running a school gardening club, bringing nature lessons into your class, home educating with nature, or wanting to connect with the great outdoors at the weekend, you will love the Seasons School ideas.
Pop your email address into the box below and I'll send you your free resources.
---
By subscribing, you consent to our use of your personal data as per our Privacy Policy, which includes agreeing to receiving interest-based email from us.
---